Transformation Tuesday: Marci Lost 70 Pounds with Brazil Butt Lift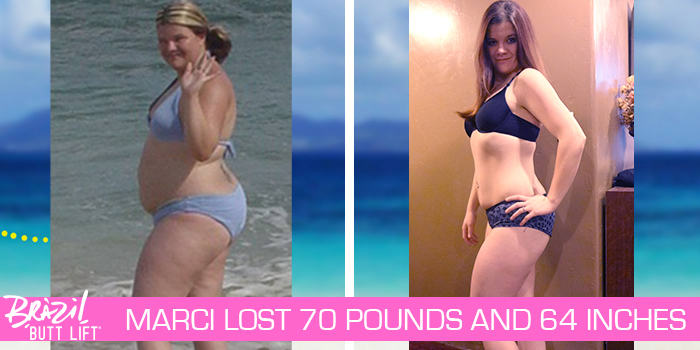 Marci had gained a lot of weight after having her first child, and she wanted to get back in shape so she could keep up with her active family. She tried Brazil Butt Lift and lost 70 pounds and 64 inches in just 7 months! Read her awesome story in her own words below:
My daughter was born and I wanted to be able to keep up with her and not hold her back. I felt I was holding back my husband, who loves to be active but wasn't because of me. I tried to go hiking and biking with my husband but could never do it or get very far. I also hated any event with pictures of swimsuits – but I love the water. I also had two back surgeries, so I didn't want to hurt my back.
Brazil Butt Lift started it all for me! I didn't want a program that would give me a heart attack and I used to dance, so my friend and coach suggested Brazil Butt Lift because of the lower impact exercises and dancing. The Tummy Tuck workout is amazing, and Cardio Axe is fun. Leandro is always so fun and outgoing. You just want to dance with him! He builds your confidence.
 I have surpassed all my expectations with health and fitness but now I know I can do even more!  It's a reward in itself doing activities with my hubby and daughter! Before Brazil Butt Lift, I was disgusted and embarrassed by myself. I hated pictures and being around a lot of people-  I became very introverted. Now, I feel amazing like I can take on any challenge and do anything I set my mind to.
My friends and family love my transformation! It's great to get hugs because they can wrap their arms around me now. I now go hiking, biking, run in marathons, love going swimming and I don't mind it when the cameras come out anymore.
---
You can change your life, too. Take the Beachbody Challenge for the tools you need to Decide, Commit, and Succeed! Complete any Beachbody program, and enter your results for a free gift and a chance to win cash and prizes.