See the Transform :20 Results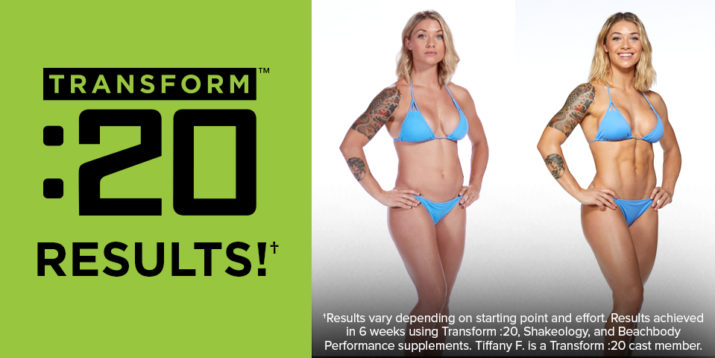 Transform :20, Shaun T's latest program for Beachbody On Demand, is a step workout program — but this isn't your mother's step aerobics. No leg warmers or headbands here.
Transform :20 workouts are 20 minutes of fast, intense, hard work that will help sculpt your glutes, chisel your abs, strengthen and define your upper body, and burn fat all over.
Don't think you can get results in 20 minutes a day?
Then take a look at the amazing "before" and "after" photos from the Transform :20 test group!
Jessica Lost 15 Pounds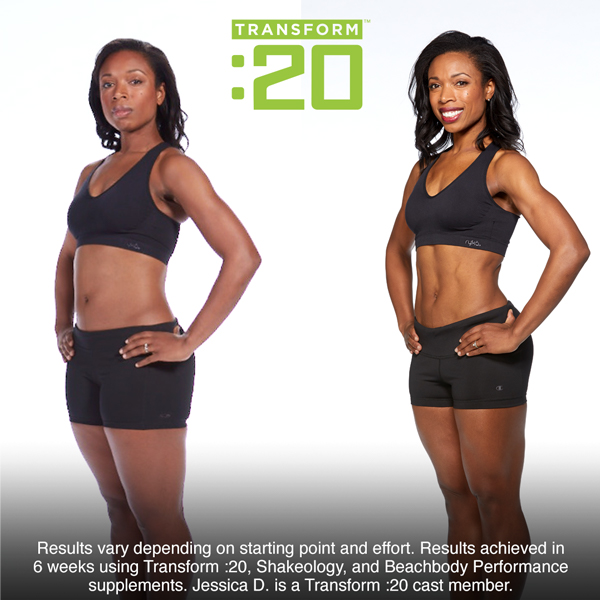 "I was surprised at how much of a positive impact 20-minute workouts had on my body. If anyone was skeptical about getting results in such a short amount of time, I'd just show them my "before" and "after" photos!
The Step and Shaun T's choreography added a surprising amount of versatility to the workouts.
Physically, I feel light, strong, and beautiful; mentally, I feel confident, driven, and grateful after completing Transform :20."
Patricia Lost 7.9 Pounds and 10 Inches
"My waist is smaller and my butt is lifted! I never thought my legs and upper body would have so much progress without weights.
It was challenging from day one — I didn't find one single workout that was not challenging — but everything was doable and the modifier helped me understand many of the moves."
Tiffany Lost 7.4 Pounds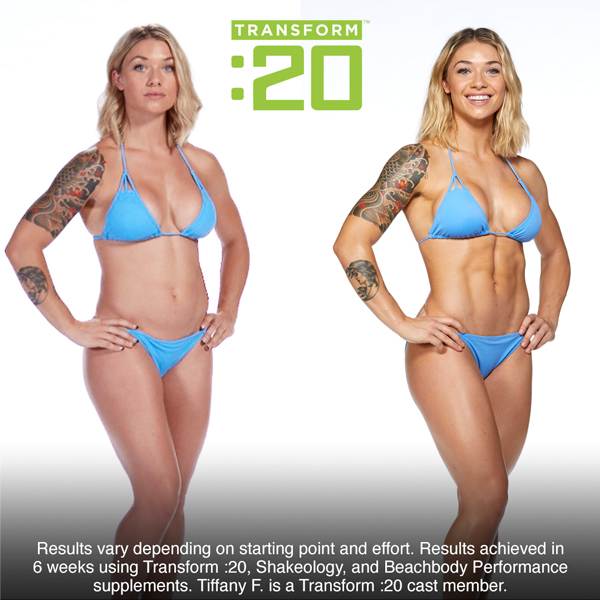 "What surprised me most was how hard the workouts were with the Step — in a good way. The Step made a lot of the moves more challenging, and also fun."
Josh Lost 6 Pounds and 9.25 Inches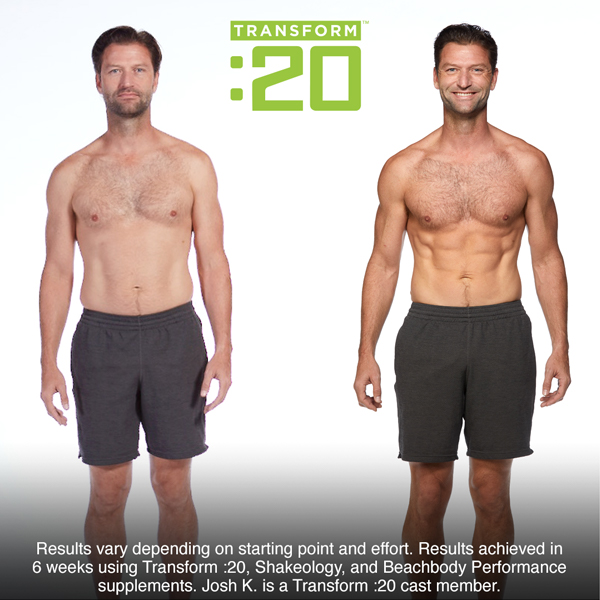 "Honestly, I was surprised by the change in six weeks. Everyone I've showed my "before" and "after" photos to is genuinely shocked by my change in that short amount of time."
Camille Lost 8.6 Pounds and 8.75 Inches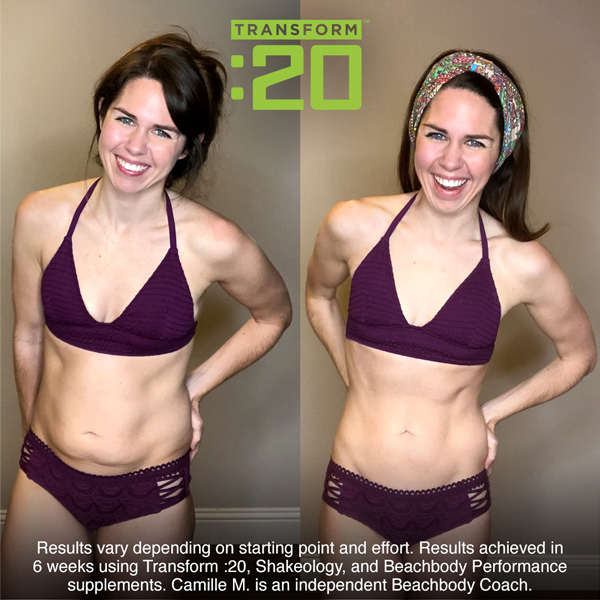 "My arms have NEVER looked this good. They are so lean and strong — it's almost a shame that winter is coming because all I want to wear right now is tank tops!
I also have abs for the first time ever! Never in a million years did I think I would I feel this confident in a swimsuit — especially after having two babies back-to-back!"
I feel lean, I feel strong, but most importantly, I feel like I can finally conquer any program set in front of me if I just put my mind to it and really focus on the end goal. I've never completed a Shaun T program from start to finish, and ever since I quit FOCUS T25 a few years ago, I've been bothered by it.
I decided on day one to go all-in and completed all six weeks of the program despite getting sick with a terrible cold, traveling for a wedding, celebrating a birthday, and having a stomach bug during the final week!"
John Lost 29.4 Pounds
"It was really challenging, but I feel that the modifiers make this good for anyone. Also, I loved how it was really about challenging yourself.
Shaun was the first trainer to change me mentally, even though I had pretty good weight loss before.
The best workouts are the ones you can do consistently, and because [each workout] is 20 minutes, it really cuts down on the "no time" excuse, so I feel more people will be consistent."
Ashley Lost 14 Pounds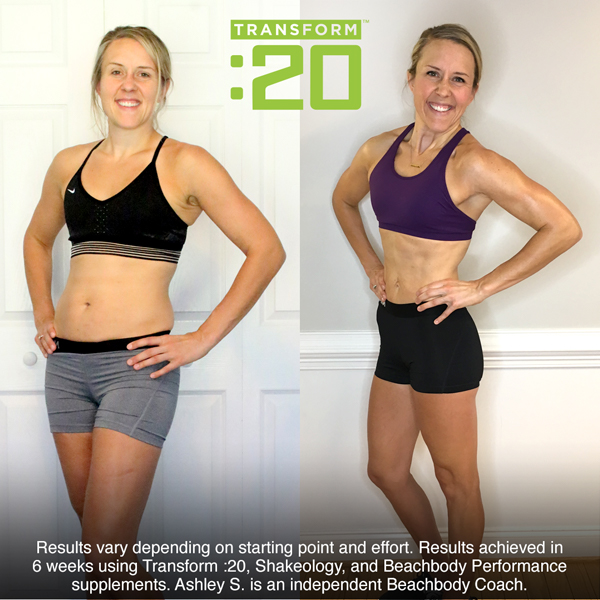 "I have tried so hard in my life to get abs! Now after having a baby and becoming a mom, I have abs for the first time. I am in the BEST shape of my life!
I started home workout programs because I wanted more time with my son. I fell in love with INSANITY MAX:30. I fell in LOVE with Shaun's approach to fitness.
I knew 20 minutes with Shaun would be nothing short of amazing, and I was right!
After completing Transform :20, I feel alive and full of life. I have completely overcome many mental and physical barriers. I truly believe that I can achieve anything I set my mind to."
Audrey Lost 12 Pounds and 15.5 Inches
"Everyone can find 20 minutes in a day to move. When you see the results that are possible from moving just 20 minutes a day, it's really motivating.
My thighs are thinner and stronger. My waistline has shrunk considerably. I feel good, I feel strong, and I am really proud of myself!"