This Monthly Winner Lost 80 Pounds in 120 Days with INSANITY MAX:30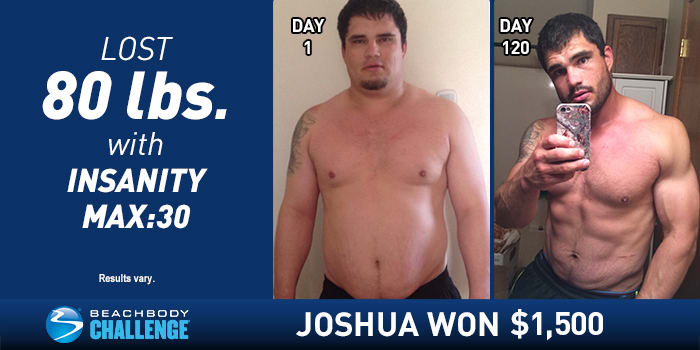 Joshua Kruc, age 27, lost 80 lbs. in 120 days with INSANITY MAX:30. He entered his results into the Beachbody Challenge, and won $1,500!
Tell us about your life before you started the program. How did you feel about yourself and your body?
I struggled with depression. I ate from waking up, and was full all day until I fell asleep. I was eating all my pain, stress, and anxiety away. I had a job that was mostly sedentary and didn't do much. I hated how unhealthy I was getting. In high school, I had been a super fit, three-sport athlete for all four years. Trying to do some of the things that I used to do when I was fit was embarrassing.
What inspired you to change your life and begin your transformation journey?
A friend had introduced me to INSANITY, so I played with it a little and didn't take it very seriously. I really needed to make a change. What really inspired me was the show "Extreme Weight Loss." I had these INSANITY DVDs sitting on my shelf, and a little inspiration led to making goals and getting rid of excuses. Looking at results from INSANITY inspired me as well.
What is the greatest challenge you faced before beginning the program? How did the program and Beachbody help you overcome that challenge?
The biggest challenge was finding time. Beachbody products made it super easy, because I could do it in my own home on my own time.
What in particular did you like about the program you chose?
INSANITY and INSANITY MAX:30 were my main programs. I loved the feeling I got after completing a workout. It reminded me of wrestling workouts in high school. I loved that the workouts didn't take long and that they were so insane that it kicked my butt. I loved Shaun T's encouraging words throughout the workout.
Describe the results you achieved with your Beachbody program. Which achievements are you proud of?
I am proud of the weight loss and the fat loss. I love looking in the mirror now; before, I hated it. I hated taking my shirt off, but I am getting better every week about it.
How has your life changed since completing your Beachbody program?
I live a super healthy, fit lifestyle now. I am happier. I have more energy to play with my kids, and I am able to share my story with people. People are always asking me how I did it, and I love to tell them it was all Beachbody.
How did your Team Beachbody Coach support you on your journey?
Joe was always encouraging me. We even had a competition of how many miles we could run in a month. He checked on me daily to see where I was at and always had encouraging words for me.
How did a Beachbody supplement, nutritional product, or program (such as Shakeology or Beachbody Ultimate Reset) support your transformation? What are the greatest benefits you gained? Did you see benefits to your energy, sleep, mood/mental clarity, or digestion/regularity?
I love Shakeology. That was my favorite meal first thing in the morning mixed with oatmeal. I loved the E&E for my pre-workout. I'm now trying Fuel Shot, Hardcore Base Shake, and M.A.X. Creatine.
You can change your life, too. Take the Beachbody Challenge for the tools you need to Decide, Commit, and Succeed! Complete any Beachbody program, and enter your results for a free gift and a chance to win cash and prizes.

*Results vary depending on starting point, goals, and effort.