This Mom Lost 54 Pounds and Won $1,500!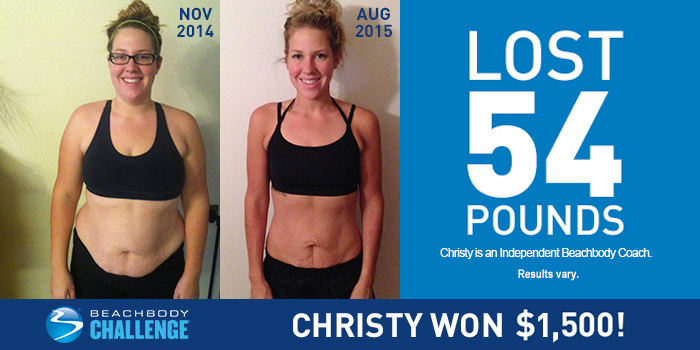 Christy Rankin lost 54 lbs. with 21 Day Fix, INSANITY, INSANITY MAX:30, 21 Day Fix EXTREME, and P90X3. She entered her results into the Beachbody Challenge, and won $1,500!
Tell us about your life before you started the program. How did you feel about yourself and your body?
I have always struggled with my weight, and it was on an anniversary trip with my husband in October 2014 that I really hit rock bottom. I didn't even want to leave our hotel, because I was so ashamed of how I looked. When we got back in town, I knew I had to make a change.
What inspired you to change your life and begin your transformation journey?
I wanted to get healthier and set a better example for my 2-year-old son. I felt that my husband deserved better, and I deserved better. I had followed posts from a friend who was a Beachbody Coach. I finally reached out to her and started this journey!
What is the greatest challenge you faced before beginning the program? How did the program and Beachbody help you overcome that challenge?
I always felt like this was just how my life was going to be; I would be heavy forever. Now I am just starting P90X3 On Demand, and I am feeling like anything is possible!
What in particular did you like about the program you chose?
I loved that not only was it like I had a personal trainer in my home, it was like there was a nutritionist too, teaching me how to portion and what to eat!
Describe the results you achieved with your Beachbody program. Which achievements are you proud of?
I thought going into this that all I wanted was to lose weight. But then, as I saw results and began to get stronger, I realized how proud I was of what my body was accomplishing! I realized I wanted to be strong too!
How has your life changed since completing your Beachbody program?
There are almost too many ways in which my life has changed to explain. I am so much happier, healthier, and confident! I have since become a Coach, and am so excited about helping others reach their goals!
How did participating in a Challenge Group help you reach your goals? How did your group support you and keep you accountable?
I didn't realize at the time how much the Challenge Group would impact my life. But I couldn't have stuck with it without the support, encouragement, and fun that the group provided!
How did your Team Beachbody Coach support you on your journey?
She was always there to answer my questions (even the silly ones), and pat me on the back for even the smallest of victories!
How  did a Beachbody supplement, nutritional product, or program (such as Shakeology or Beachbody Ultimate Reset) support your transformation? What are the greatest benefits you gained? Did you see benefits to your energy, sleep, mood/mental clarity, or digestion/regularity?
Shakeology has done so much for my energy, mood, and overall health that I recommend it to everyone I know now!1
You can change your life, too. Take the Beachbody Challenge for the tools you need to Decide, Commit, and Succeed! Complete any Beachbody program, and enter your results for a free gift and a chance to win cash and prizes.

*Results vary depending on starting point, goals, and effort.
1These statements have not been evaluated by the Food and Drug Administration. This product is not intended to diagnose, treat, cure, or prevent any disease.