This Busy Mom of Three Lost 40 Pounds with PiYo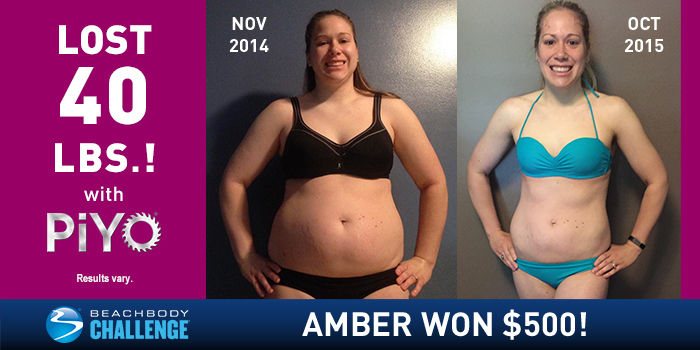 Amber Kelly lost 40 lbs. with PiYo and Shakeology. She entered her results into the Beachbody Challenge, and won the $500 Daily Prize for January 21st!
Amber is an independent Beachbody Coach.
Tell us about your life before you started the program. How did you feel about yourself and your body?
I struggled with my body image, and felt hopeless about ever losing the weight I gained from my three pregnancies.
What inspired you to change your life and begin your transformation journey?
I wanted to feel good about myself for my family. I wanted to set and be the example for my three daughters.
What is the greatest challenge you faced before beginning the program? How did the program and Beachbody help you overcome that challenge?
My biggest challenge before beginning the program was my lack of energy. I was able to overcome that by following the program's workout calendar and meal plan!
What in particular did you like about the program you chose?
I liked the length of the workouts. Time is hard to come by when you have three young kids. The 30-minute workouts fit great into my busy schedule!
Describe the results you achieved with your Beachbody program. Which achievements are you proud of?
I have toning all over my body! I can see muscles in my legs, stomach, arms, and even in my back! I feel confident in my body image now that I can actually enjoying shopping for new clothes!
How has your life changed since completing your Beachbody program?
I feel happier. My friends and family can see that I've found my passion in life, and they love seeing me do what makes me happy! I love inspiring and being the healthy example!
You can change your life, too. Take the Beachbody Challenge for the tools you need to Decide, Commit, and Succeed! Complete any Beachbody program, and enter your results for a free gift and a chance to win cash and prizes.

*Results vary depending on starting point, goals, and effort.