The SHIFT SHOP Nutrition Plan, Explained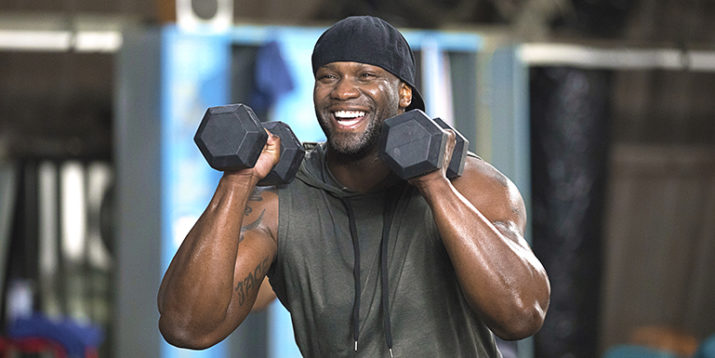 "I treat diet the same way I treat exercise. I do this because food is more of a crutch for most people. So if you can get past that, if you can cut out the carb cravings, you can achieve anything — including even the hardest workout." — Chris Downing
When Chris wants to get into peak form, he puts himself through one heck of a boot camp — and we're talking both fitness and nutrition. So it only made sense that when he created the SHIFT SHOP, he put a little dietary hurt on.
The Simple Shift plan features a moderate calorie deficit and keeps things super clean, progressively eliminating grains, legumes, and some of the more decadent carbs, so that by Week 3, you're working hard on a protein-leaning, minimalist diet designed to keep you fueled and fit.
Most of us tend to "live to eat." With the Simple Shift nutrition plan, you "eat to live."
Don't worry. It's not all that bad. You'll still get everything required to fuel your workouts and build muscle — including Shakeology to support your nutrition goals and help ward off any hankerings for foods not on the plan.
"The idea is to get past junk cravings," explains Chris, "so you can give the body what it truly needs to perform."
Pro tip: Chris is bringing you four brand-new workouts to take the "shift" to a whole new level! Mark these dates on your calendar:
October 1, 2018: New SHIFT SHOP Challenge Packs and Accessories Bundles available on TeamBeachbody.com, plus the two new Quick Shift workouts on Beachbody On Demand.
October 22, 2018: The two new Proving Grounds workouts available on Beachbody On Demand.
How The Shift Shop Nutrition Plan Works
The Simple Shift nutrition plan is straightforward and simple to figure out: You take a quick quiz to find your calorie level, then find the corresponding plan that tells you how much to eat from a series of color-coded food lists.
While the Simple Shift isn't technically a Portion Fix program, it can work with the Beachbody Portion-Control Container System if you already have the containers.
If you don't, we strongly recommend getting them — they'll make this easy-to-understand plan even easier.
WEEK 1: The first week features a fairly standard balance of macronutrients with a moderate amount of starches and legumes (beans and peas).
WEEK 2: The second week cuts back the starches and increases the protein.
WEEK 3: Now it's time to get serious.You're eating starch- and legume-free so that all your carbs come from veggies and fruit. Comfort foods are gone.
It's NOT a Low-Carb Diet
Keep in mind that the SHIFT SHOP nutrition plan is not a low-carb diet. At the start of the program, carbohydrates make up 40 percent of your daily diet, dipping down to 30 percent by Week 3.
It's also not a ketosis diet, where carbs dip down to 10 percent of your diet. Ketosis diets also feature reduced protein, so as to force your body to utilize fat stores.
Given protein is important in helping with muscle growth and recovery, the SHIFT SHOP doesn't take that route.
If you had to align the Simple Shift with any diet trend, it's not far off from Paleo eating, thanks to the progressive elimination of grains and legumes.
The exception is the inclusion of dairy, but thanks to the extensive list of choices in the protein food list, those foods can easily be left out.
Of course, the nutrition in Simple Shift is rock-solid, created to give you results while maximizing performance, but what it's really about is motivation.
It's a hard plan — Chris sees it as a journey — intended to inspire you to push yourself further. So are you ready to make a shift?
Chris thinks you are.
Want Support While Doing The SHIFT SHOP?
If you have questions, our friendly advice staff are waiting for you in the Beachbody On Demand Community Boards "Expert Advice" section.
There you'll find registered dietitians, certified fitness professionals, and other experts ready to tackle the trickiest fitness and nutrition questions.
And if you're looking to connect with others who are also doing the SHIFT SHOP, head on over to the SHIFT SHOP community boards!