THE 20s Trainer Spotlight: Meet Joe!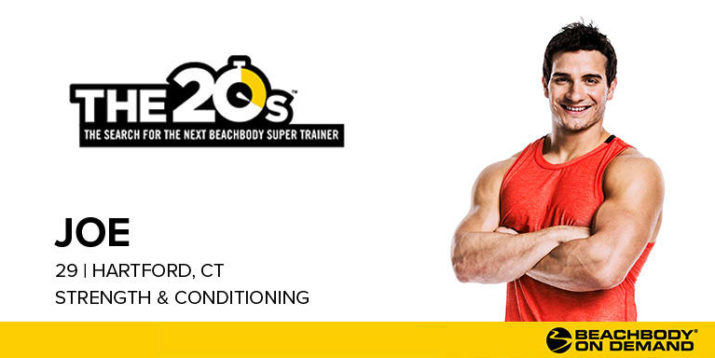 THE 20s has kicked off and we'll be spotlighting one trainer a week here on the Blog. They'll also be taking over the Beachbody Facebook and Instagram channels, so make sure to tune into both!
Meet Joe. He's a 5'11" 29-year-old trainer who grew up near Hartford, Connecticut. After tearing his ACL three times and being told he'd never do run again, he began to develop a training regimen for himself that blends intense, low-impact cardio with mobility-based strength training. Watch new episodes of THE 20s on Beachbody On Demand every Monday to learn more and to support #TeamJoe!
Has fitness always been something you've been drawn to?
Yes. My mom wouldn't let me lift weights until high school, but I would watch Rocky movies and try and do my own montage with push-ups and sit-ups.
Was he your first fitness role model?
Yeah. That and any WWE wrestler. I was really quiet until I started to develop my body through bodyweight stuff in middle school. It gave me confidence. I was a horrible test taker. I took those state boards and they put me into the lower classes. I was called dumb and stupid and it lowered my self-confidence.
How did working out help?
I didn't think I would be able to do well in school but through exercise and building my body – even just push-ups and sit-ups at that time – it showed me that hard work pays off. I started to apply it to the classroom and ended up doing really well in school because of it.
Did you play sports?
Yeah. I'm a football and lacrosse athlete. I was a running back and outside linebacker but ended up tearing my ACL. One in lacrosse, one in football, and one in rehab.
In rehab?
I was doing single leg lateral hops and just came down and it popped. I loved fitness before because of how it made me feel, but after that, I saw how you can go where your muscle is nonexistent after surgery and through resistance training and through training it, it grows. It might sound stupid, but that process makes me fall in love with the training aspect of it.
How did you get into training?
Freshman year of college, my roommate and I were looking for jobs and he mentioned that his friend got certified as a personal trainer online. I did it the next day. I got a job on campus, started training, studied abroad in Australia, trained there, came home and trained. I just loved it.
How did you develop your style?
When I first got into fitness, I found that shorter workouts were more intense. But, with my knee injuries, my doctor told me I'll never run again, that I can't jump, all this stuff. So I always did body building and strength training but not traditional cardio. I started to gain weight and size, but I wasn't as lean. I didn't feel as good about myself. I had a lot of pain in my knees and some days I couldn't train at all. One of my mentors got me into mobility and mobilizing the joints in a functional way and how to combine that with body building and strength training. Function meets aesthetics. The program I'm doing here is basically that. It's cardio so your heart rate will be jacked up, but it's low-impact because I know there's a lot of people who have the ankle and hip issues.
Absolutely. Another important aspect of staying fit is nutrition. What's your diet these days?
I'm gluten-free 90% of the time. One year for my clients and I factored in mess up days that included holidays — where you know you're going to cheat — and it came down to 80% of the time you eat clean. So that's what I do – 80% of the time no gluten no lactose and a lot of fat for energy instead of carbohydrates.
Do you drink Shakeology?
I do! My favorite is Strawberry Vegan. If I work out later at night, I'll put it with the Digestive Boost and the Power Greens. And then I put in coconut water and berries. It's amazing.
Tune into THE 20s today to see the first episode and watch new ones every Monday! Who will become the Next Beachbody Super Trainer? You'll have to watch to find out! Don't have a subscription to Beachbody On Demand? Get started with a free 30-day membership and get access to hundreds of workouts and THE 20s now.