Tips to Spring Clean Your Life and Start Fresh
With winter over, days getting longer, and weather getting warmer — it's the perfect time to do some spring cleaning.
Whether that means cleaning up your eating and exercise habits, a new look, or a refreshed home that supports your new lifestyle is totally up to you.
To help you on your way, we've gathered together this list of ideas to help you get started.
Use it as your spring cleaning checklist any time of year!
Why Start Fresh?
Stepping into a new routine can help us reset and rediscover balance.
And possibly even embrace the life we've always wanted to live.
Psychology researcher Brooke Nicole Smith, Ph.D., says, "Sometimes an event that upends our habits and routines can make it easier to create lasting change. One of the reasons that New Year's resolutions often fail is that the old (undesired) habit is tethered to other patterns in our lives."
"For example, it's hard to start going to the gym in the morning when your workday, even social activities, and bedtime are all the same as they were before. We can use willpower to wake up early for a few days or weeks. But eventually, the evenings out and late bedtimes will nudge us back toward sleeping in, unless the evenings out and late bedtimes change, too," she adds.
When the pandemic hit, many people found themselves in completely different work and life environments.
"This makes it a perfect time to create some new habits and behavior patterns because we can intentionally design our new schedules around the changes we desire to create."
So, with that in mind, here are some spring cleaning checklist ideas to help you do just that.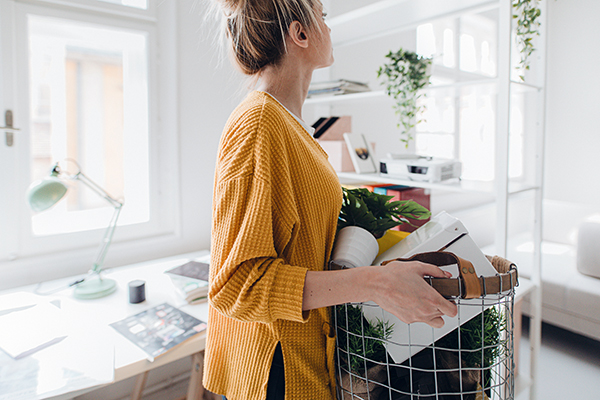 1. Declutter
Is this a general idea that you might have thought of already? Yes. Do you have piles of stuff taking up space on nearly every surface? Also yes.
But let's face it — it's hard to feel like you're ready to shine when you've got all sorts of random stuff weighing you down.
Therapist Dr. Roxanne Francis, M.S.W., R.S.W., explains, "It can be very helpful to begin by decluttering your living and working space. It generally gives one a sense of control, reduces anxiety, and increases optimism."
You don't have to clear out every single drawer, shelf, and closet in your home. Declutter the visible areas before doing a deep dive.
Start by putting things back where they belong, then focus on tossing things that you really don't need from all the surfaces in your home.
2. Make Your Garden Come Alive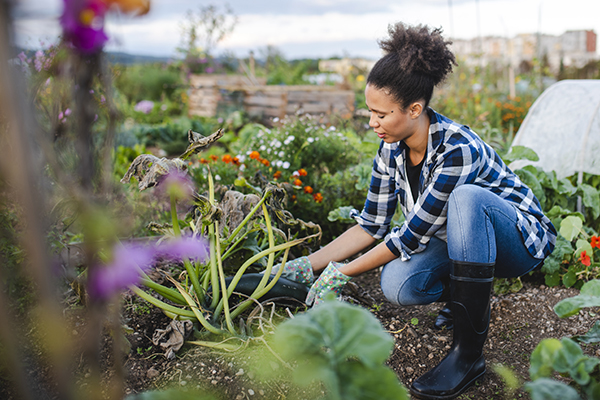 If you didn't plant when spring was here, that's OK!
There are still fruits and vegetables you can plant now that you'll get to enjoy in late summer and fall.
Weeding your garden or creating new beds from scratch can help you feel grounded (literally).
Dr. Francis says, "Gardening is an activity that has tremendous psychological benefits. It is a practice that is very mindful, allowing you to focus on the here and now, rather than the things that we don't have control over."
"There's often great joy derived from watching something grow that you have planted. Particularly during this time, it can replace the sense of agency that so many of us have lost," she adds.
Not sure what to plant?
Tomatoes, peppers, and squash all will grow fast in the summer.
And sweet potatoes take about 90 days to grow, so if you plant them today, they'll be ready just in time for fall.
3. Freshen Up Your Wardrobe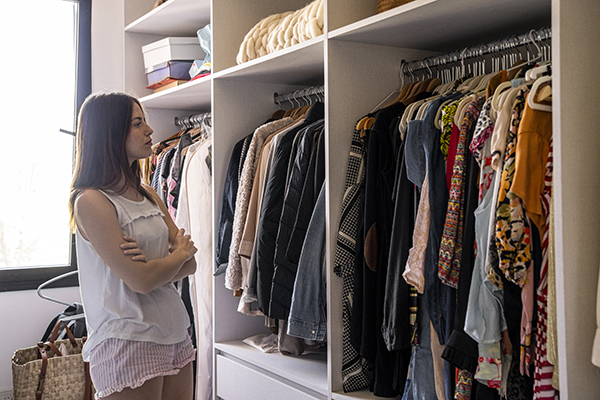 If the last time you wore (or bought) real pants was sometime back in early 2020, could it be time for a closet makeover?
Maybe it's time to add some color to your wardrobe or try an entirely new look now that you're going back to the office.
And, if you don't have to go back to the office, you get to decide: What do you want your WFH style to look like?
A redo doesn't need to be expensive or climate unfriendly.
Consider doing a clothing swap with friends of similar sizes who are also looking to change up their style.
Go online to Depop or Poshmark (or your local resale shop) to source some choice finds.
Gained or lost weight during the pandemic?
"Removing items and having a wardrobe with clothing that actually fit your body, in colors that you enjoy, can leave one feeling optimistic about returning to social connections in the future," says Francis.
4. Don't Reconnect With Toxic People
Most of us have been eager to hang out with our friends again.
But, if some of those friends are what you might describe as "toxic," this is a great time to not reengage with those people.
You'll leave room in your life for healthier relationships and time for more fulfilling hobbies than listening to them tell you what's wrong with you for the umpteenth time.
5. Start a Workout Program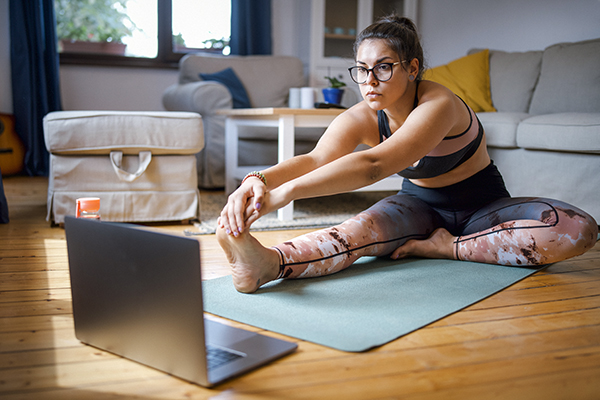 Nothing gets those "I feel awesome" feelings flowing than an endorphin-elevating sweat session.
Hop on your indoor bike, go for a run, or lift some weights to get the heart rate pumping and boost your mood.
Francis says, "There are multiple benefits to becoming active and starting a workout regimen."
Exercise can reduce stress, improve sleep, self-esteem, and brain function, and increase our "feel-good" hormones.
Added bonus: You might feel like you have more energy to accomplish the other things on the list!
6. Find Your Reset Button
Because the movement back to "normal" has been a slow shift instead of a sudden change, it may be difficult to recognize that "fresh start" feeling.
One way to help might be to create an event that makes the items on your spring cleaning checklist feel more like a milestone.
Consider hosting a small get-together at your house where you show off your new style (or that freshly planted garden).
Or take a short trip somewhere for a few days.
This kind of milestone can help give you that "reset" your mind needs to get going or recommit to your goals.
"It can have the effect of filling one with hope and a sense of newness and optimism. This activity grants one the opportunity to reflect on life as it has been and the next phase of life as it could be filled with many positive elements," Francis says.
But it's OK to take some time to look back, too.
"Be careful not to miss out on the chance to reflect on all the things that you have survived, how you have grown, the things that you have learned about yourself, and how these things can serve you well as you move forward," Francis adds.
7. Set Big Goals
"Setting big goals can help to elevate your confidence, reduce anxiety, and one's fear of the unknown," says Francis.
Not sure where to begin?
Try Brian Moran's 12-Week Year strategy or a similar approach:
Imagine your life a year from now. What do you want to have accomplished? What two or three major things would make you feel satisfied?
These might seem kind of daunting, but if you focus on these intentions and break these ideas down into what you can accomplish on each in 90 days, you'll be impressed how much progress you can make on each by staying focused.
Give yourself a few tasks to complete each week (but don't overload yourself), and watch them come together.
Then, once the 90 days are done, evaluate where you are and see if you want to continue working toward the same goal or adjust.
8. Evaluate Your Diet (and Your Pantry)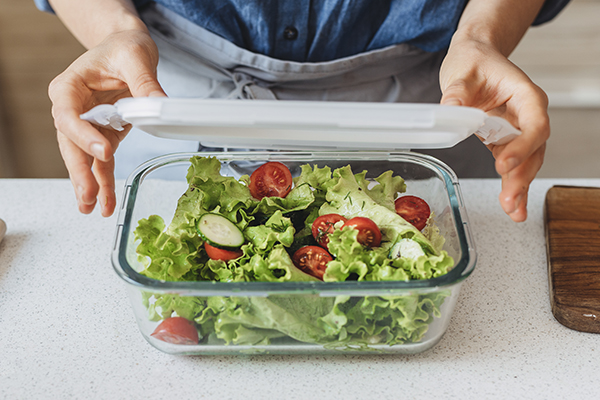 Now is a great time to reboot your diet, your pantry, and your fridge.
Sign up for a BODi nutrition program and learn how to cook healthy recipes created by registered dietitians and nutrition experts.
Get the glass storage containers you need for meal prep.
Toss the expired soups and stocks you bought at the beginning of the pandemic and didn't use.
9. Be Protective of Your Time
Dr. Smith shared this idea that we love: Evaluate where your time goes.
Notice how you spend your time and what you do in a day or week.
If something doesn't feel intrinsically fulfilling and isn't moving you closer to achieving a goal, consider limiting the amount of time you give it.
Give yourself permission to say "no, thanks" so you have room for the activities and people that bring you joy.