Soba Salad with Asian Vegetables and Golden Tofu
Total Time: 48 min.
Prep Time: 15 min.
Cooking Time: 18 min.
Yield: 6 servings
Ingredients for Salad Dressing:
2 Tbsp. reduced-sodium soy sauce
1 Tbsp. raw honey
2 Tbsp. 100% orange juice
3 Tbsp. rice wine vinegar
1-inch fresh ginger, peeled, finely chopped
1 Tbsp. sesame oil
Ingredients for Salad:
3 oz. dry soba noodles (or whole wheat spaghetti)
1 Tbsp. olive oil
1 lb. firm tofu, cut into bite-sized cubes
3 cups broccoli florets, steamed
1 cup frozen baby peas, cooked
1 (15-oz.) can baby corn, drained, chopped
1 (8-oz.) can sliced water chestnuts, drained
¼ cup sliced green onions
3 cups shredded red cabbage
Preparation for Salad Dressing:
1. Combine soy sauce, honey, orange juice, vinegar, ginger, and oil in a small bowl; whisk to blend. Set aside.
2. Heat oil in a medium nonstick skillet over medium heat.
3. Add tofu; cook, stirring frequently, for 5 minutes on each side, or until golden. Remove from heat.
4. Add tofu, broccoli, peas, corn, water chestnuts, cabbage, green onions, and dressing to noodles; toss gently to blend.
5. Divide evenly among six serving plates.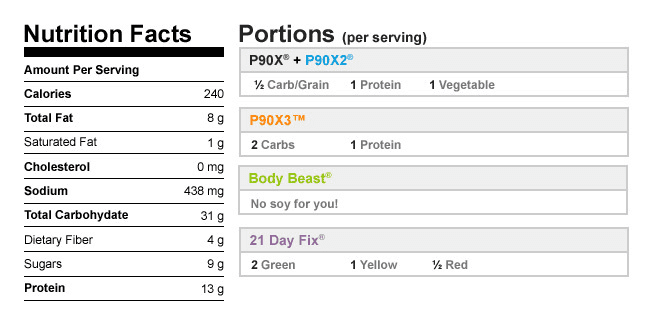 If you have questions about the portions, please click here to post a question in our forums so our experts can help. Please include a link to the recipe you're asking about.