Slow Cooker Chicken and Quinoa With Spring Vegetables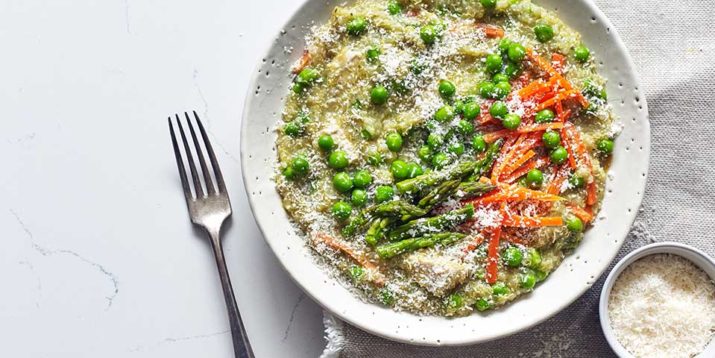 Slow cookers are a game-changer for braising meats and making hearty chilis during the long, cold months of winter, but don't pack yours away as soon as the weather warms up.
Even in warmer months, a slow cooker is still a great way to cook nearly effortless meals, and clean-up is a breeze.
In summer, the slow cooker is a lifesaver when it's too hot to turn on the oven or stand over a hot stove!
This slow cooker recipe for chicken with quinoa and spring vegetables is light and hearty.
As the chicken gently cooks for hours it becomes extremely tender and juicy, but it's the quinoa that's the real surprise in this dish.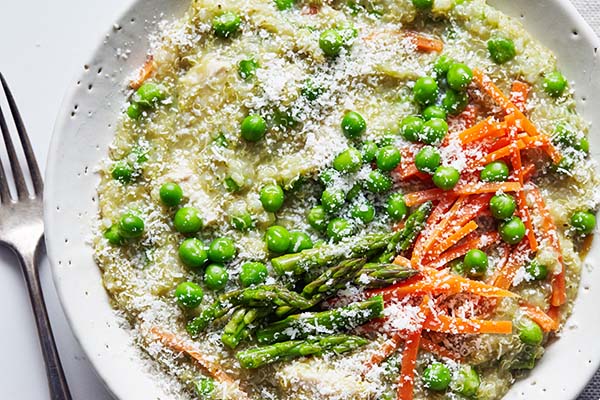 You might wonder why anyone would bother making quinoa in a slow cooker when it's so easy to make on the stove.
But then I cooked this dish and discovered how slow cooking the tiny pearls of quinoa with lots of broth brought out even more flavor.
When the cooking time is complete, the quinoa and chicken mixture will be sticky, as most of the liquid will have cooked off.
But when you stir in more chicken broth a little bit at a time, the mixture takes on a silky texture almost like a fine risotto.
You can adjust the amount of extra broth you add so that your finished dish is just the way you like it.
After you add the pesto (you can use prepared pesto, or make your own) and thawed frozen peas to the slow cooker, heat a pan over medium heat and sauté shredded carrots (I bought them shredded to save time) for two minutes, then add chopped asparagus and sauté for two more minutes.
Lightly cooking these spring vegetables on the stove keeps their flavors and colors bright.
After you plate your dish, add a sprinkling of Parmesan cheese on top of each to bring all of the flavors together with a little unexpected richness.
Pro tip: In a rush? Make this recipe in an Instant Pot — check out the instructions in the Recipe Notes!
(The nutritional information differs slightly from the slow cooker version.)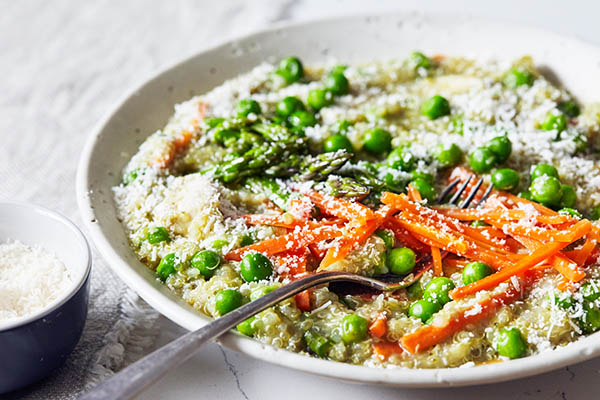 Watch the video below to see how easy it is to make this dish!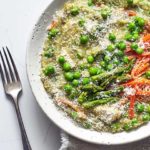 Slow Cooker Chicken and Quinoa with Spring Vegetables
This slow cooker recipe uses quinoa and spring vegetables to make a light but hearty dish that pops with color and flavor.
Prep Time 20 mins
Cook Time 3 hrs 36 mins
Total Time 3 hrs 56 mins
Servings 8 servings, about 1 cup each
Calories 320 kcal
Ingredients
1½ cups dry quinoa
1 lb. raw chicken breast, boneless, skinless, cut into 1-inch cubes
7 cups low-sodium organic chicken broth, divided use
4 cloves garlic, finely chopped
1 tsp. dried basil (or chives or parsley)
Sea salt (or Himalayan salt) and ground black pepper (to taste; optional)
6 tsp. prepared pesto sauce
3 cups fresh or frozen peas
1 Tbsp. fresh lemon juice
2 tsp. olive oil
2 cups shredded (or grated) carrots
1 bunch asparagus, cut into bite-sized pieces (about 2 cups)
½ cup grated Parmesan cheese
Instructions
Place quinoa, chicken, 4 cups broth, garlic, and basil in a 3-quart slow cooker. Season with salt and pepper if desired. Mix well and cover; cook on low for 3 to 3½ hours, or until chicken is not pink and quinoa is tender. The mixture will be very thick and sticky.

Remove lid. Add remaining 3 cups broth, 1 cup at a time, until mixture resembles the consistency of risotto. You may not need to add all of the broth.

Add pesto sauce, peas, and lemon juice; mix well and cover. Set aside.

Heat oil in medium nonstick skillet over medium-high heat.

Add carrots; cook, stirring frequently, for 2 to 3 minutes, or until carrots are tender-crisp.

Add asparagus; cook, stirring frequently, for 2 to 3 minutes, or until asparagus is tender-crisp.

Fold carrot and asparagus mixture into quinoa mixture; mix well.

Top each serving with 1 Tbsp. cheese.
Recipe Notes
To make this recipe in an Instant Pot (programmable pressure cooker), follow these instructions:
Turn 6-quart Instant Pot to high sauté setting.
Heat oil to hot.
Add carrots; cook, stirring frequently, for 3 to 4 minutes, or until carrot is tender-crisp.
Add garlic and asparagus; cook, stirring frequently, for 1 minute.
Add quinoa, chicken, 2 cups broth, basil, salt (if desired), and pepper (if desired). Follow manufacturer's guidelines for locking lid and preparing to cook. Set to pressure cook on high for 8 minutes.
Follow manufacturer's guide for quick release, and wait until cycle is complete. Carefully unlock and remove lid, taking care that there is no remaining steam.
Add pesto, thawed peas, lemon juice, and cheese; mix well. Cover and wait for cheese to melt, approximately 5 minutes.
Serve immediately.
Nutritional Information (per serving) Instant Pot Variation:
Calories: 296
Total Fat: 8 g
Saturated Fat: 2 g
Cholesterol: 41 mg
Sodium: 318 mg
Carbohydrates: 34 g
Fiber: 7 g
Sugars: 5 g
Protein: 23 g
Nutrition Facts
Slow Cooker Chicken and Quinoa with Spring Vegetables
Amount Per Serving (1 cup)
Calories 320 Calories from Fat 81
% Daily Value*
Fat 9g14%
Saturated Fat 2g13%
Cholesterol 41mg14%
Sodium 363mg16%
Carbohydrates 36g12%
Fiber 7g29%
Sugar 5g6%
Protein 26g52%
* Percent Daily Values are based on a 2000 calorie diet.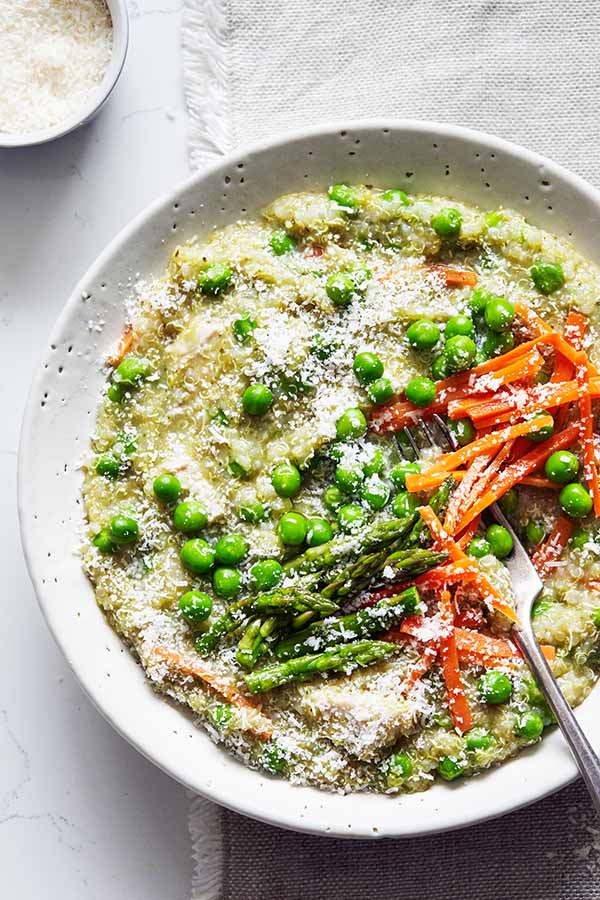 Container Equivalents
½ Green
½ Red
2 Yellow
1 tsp.
2B Mindset Plate It!
Add more veggies and protein to make a great lunch.
If you have questions about the portions, please click here to post a nutrition question in our forums so our experts can help. Please include a link to the recipe.