Beachbody Results: Jamaris Lost 45 Pounds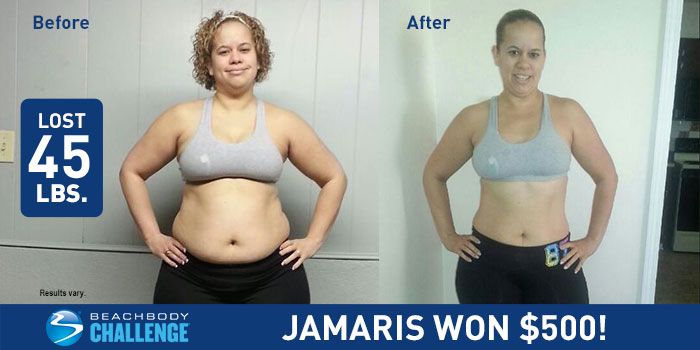 Meet independent Beachbody Coach Jamaris T. She lost 45 lbs with TurboFire and Focus T25. She entered her results into The Beachbody Challenge, and won the $500 Daily Prize for April 26th!
EDITORS NOTE: This post has been translated from the original submission in Spanish.
Tell us about your life before you started the program. How did you feel about yourself and your body?
I am a mother of two beautiful children. I was a very fit person, but once I married and went through my first pregnancy I gained a lot of weight. Once I had my second child, I thought I would never lose weight. People would make fun of me, because I had been an athlete before, but now my body was the last thing I care for. It was the farthest thing from my mind. Finally, I decided to believe in myself, because I had lost all confidence in me. I had to stop feeling sorry for myself, get up, and do something about it!

What inspired you to change your life and begin your transformation journey?
I became motivated on my last trip to my island, Puerto Rico. My children were demanding that I share time with them, but my legs and back hurt, and I would run out of breath. It was very depressing! I was embarrassed that I couldn't wear a swimsuit. I had to wear shorts. My husband was my inspiration. He kept telling me that I could get back into shape. So, I took the initiative of doing TurboFire and Shakeology.
What is the greatest challenge you faced before beginning the program? How did the program and Beachbody® help you overcome that challenge?
My greatest challenge before starting TurboFire was without a doubt, fear! I was out of shape, so losing weight seemed intimating and stressful. Once I had started TurboFire it quickly turned into fun! I was surprised how well I could keep up with the rhythm! I was inspired by the music and Chalene's enthusiasm. There's this sense of confidence that comes over you when you first press play! The more I jumped and danced, the more enthusiastic I became.

What in particular did you like about the program you chose?
The best and most surprising thing about TurboFire is how much energy you get in each workout! It doesn't matter what I have to do, move up and down, but as long as I get those results! Also, being reminded that "You're not tired!" is very helpful.

Describe the results you achieved with your Beachbody program. Which achievements are you proud of?
Beachbody helped me get out-of-this-world great results! My waist is tiny, my arms are no longer gelatin, and I no longer have to wiggle and dance into my pants. I am so happy with my physical and mental strength! I am in love with what I have achieved.

How has your life changed since completing your Beachbody program?
Since completing TurboFire my life has done a complete 180! I am the mother and wife I want to be, but most importantly I am the woman I love. Now, I am back to being that roadrunner I was before. I've never felt so proud of myself. I achieved a change in my life. Without Beachbody, I was a lazy person, a miserable person, but with Beachbody, I was full of energy, pure energy.
How did participating in a Challenge Group help you reach your goals? How did your group support you and keep you accountable?
The support I received was phenomenal. The motivation I got day by day was stupendous. Without that support, I would have never achieved my goal.

How did your Team Beachbody® Coach support you on your journey?
There are no words to describe how much help I received from my coach. She was there 101% in motivating me. She was always there. I would receive motivating words from her. I am so grateful for all of her unconditional support and her friendship. Thank you, Ana Aponte! May God bless your life! My Coach is the best! Without her, I would have never gotten out of my rut.
How did a Beachbody Supplement or Nutritional Product or Program (such as Shakeology® or Beachbody Ultimate Reset®) support your transformation? What are the greatest benefits you gained? Did you see benefits to your energy, sleep, mood/mental clarity, digestion/regularity?
Shakeology was the perfect nutritional product to start my transformation! It has contributed to my energy level. It's helped with my sweet tooth, and with my workouts. The best benefit was the weight loss. It gave my body exactly what it needed to do its best!
†Results vary based on starting point and effort.
You can change your life, too. Take the Beachbody Challenge for the tools you need to Decide, Commit, and Succeed! Complete any Beachbody program, and enter your results for a free gift and a chance to win cash and prizes.