"If I Can Do It, Anyone Can Do It"
†Results vary depending on starting point and effort. Shannon is an independent Beachbody Coach.
Shannon O. lost 55 lbs with FOCUS T25, INSANITY, and Body Beast. She entered her results into The Beachbody Challenge, and won the $500 Daily Prize for August 19th!
Tell us about your life before you started the program. How did you feel about yourself and your body?
I battled being overweight my whole life. I can remember stepping on the scale at 13 for my physical and weighing 225 lbs. I looked to my father and he told me, "Wow, you weigh more then I do. You are just so solid." I was devastated that I was just 13 years old and weighed that much. Being overweight my whole life has affected my entire life.
I have struggled with confidence issues. I have been teased. I never liked to go out in public because I always knew someone was staring at me and laughing. Six months ago, I hit my heaviest weight ever (besides when I was pregnant with my son), weighing in at 250 pounds. Now, I am the lightest I have ever been! I weigh 197, and I can't thank Beachbody and Shaun T enough for changing my life, and helping me get to where I want to be physically and mentally!
What inspired you to change your life and begin your transformation journey?
What inspired me to change my life is myself, my husband, and my son. I knew that if I wanted to live a long, healthy life with my two loves, I had to get busy. I turned 29 this year and I told myself that this was my year, and that I would be the healthiest, fittest, and hottest mom going into my 30s. I want to inspire women, share my story, and let women know that if I can do it, then anyone can do it.
What is the greatest challenge you faced before beginning the program? How did the program and Beachbody help you overcome that challenge?
The greatest challenge I faced before starting the program was getting myself motivated because I was a stay-at-home mother. I've always enjoyed working out, but I really like food. After I received my programs, I noticed they came with eating plans which was awesome for me because it gave me ideas of different foods and recipes that I could try without getting bored of eating the same things all the time.
What in particular did you like about the program you chose?
During the past six months, I have done T25, INSANITY, and I am now in my last month of Body Beast! I absolutely love T25 because the workouts are short and intense, but something I could handle each day! INSANITY was more intense than T25, but the workouts were still short and intense which I like. Body Beast is a whole different workout than the other two. It helped me lean out more, and get more muscle tone. After I finish Body Beast, I would like to do a hybrid of all three programs and see what happens.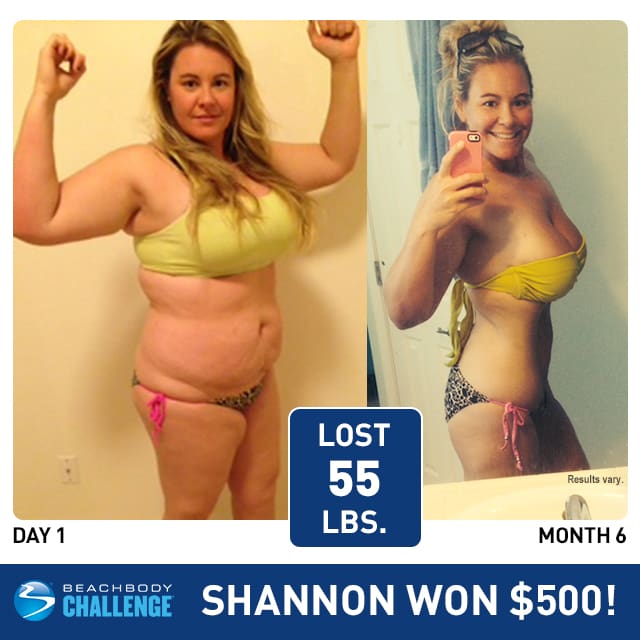 Describe the results you achieved. Which achievements are you proud of?
The results I have achieved so far are indescribable. I have obliques that are now starting to show! I have never been able to get my stomach muscles to show. I am leaning out in places that have been the most struggle for me like my thighs, my arms, and my stomach. My body fat is at the lowest it has ever been. Overall I just feel absolutely amazing and I can't wait to keep getting more results and inspiring more women. The achievement I am most proud of is I am finally under 200 pounds.
How has your life changed since completing your Beachbody program?
My life has changed in every single aspect since I started! I feel more confident about my self image. I feel good in my own skin and I have never felt like this. I find myself looking in the mirror more often then normal and taking body transformation photos and showing all my friends and family. Beachbody has allowed me to reach out to other women and have them come to me for help because of the results I have gotten with my programs. I have found a passion and desire to want to work out every single day.
Did a Beachbody Supplement support your transformation?
I take Shakeology every day and I take E&E before every workout. Shakeology is amazing and has helped me with my diet so much. Its really helped with controlling my appetite and stopped cravings completely. E&E is absolutely wonderful. I take it before each workout and I feel unstoppable.2
You can change your life, too. Take the Beachbody Challenge for the tools you need to Decide, Commit, and Succeed! Complete any Beachbody program, and enter your results for a free gift and a chance to win cash and prizes.

2These statements have not been evaluated by the Food and Drug Administration. This product is not intended to diagnose, treat, cure, or prevent any disease.