Snickerdoodle Banana Bread
Just the smell of freshly baked banana bread is intoxicating — top notes of warm, bready banana with a hint of cinnamon.
So how do you improve on that? Add in two scoops of Snickerdoodle Shakeology with scrumptious vanilla, cinnamon, nutmeg, and ginger.
(Hashtag #bananabread&cinnamonsugarcookies4eva)
This Snickerdoodle Banana Bread recipe has all the warm cozy flavors you could ever want in one bite!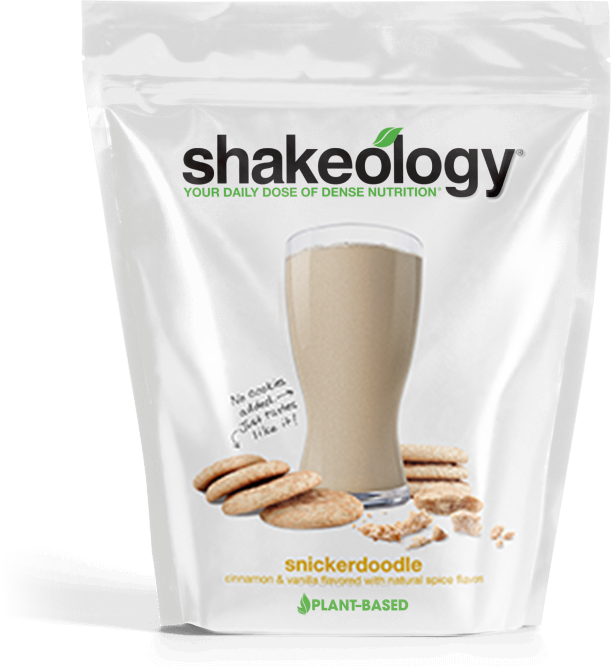 Snickerdoodle Shakeology
Indulge in a feel-good superfood dessert that tastes just like cinnamon-sugar cookies.
Pro tip: Get even more Snickerdoodle Shakeology recipes here!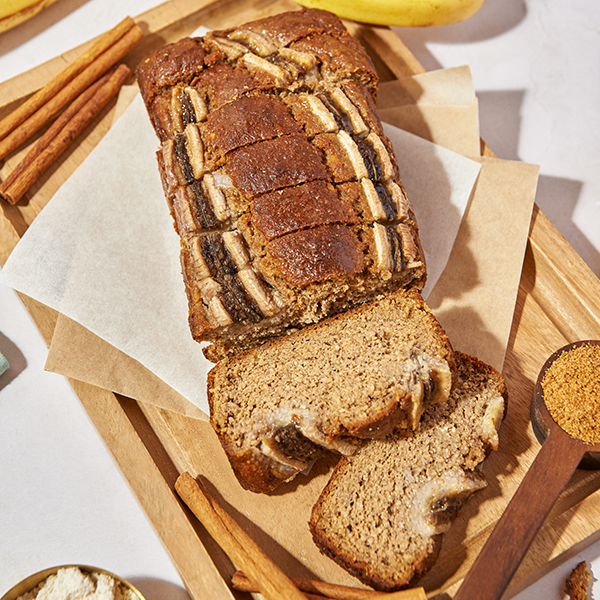 Snickerdoodle Banana Bread
How do you make a loaf of banana bread better? Add Snickerdoodle Shakeology with scrumptious vanilla, cinnamon, nutmeg, and ginger flavor.
Prep Time 5 mins
Cook Time 30 mins
Total Time 35 mins
Servings 8 servings, 1 slice each
Calories 167 kcal
Ingredients
Nonstick cooking spray
2 scoops Snickerdoodle Shakeology
⅔ cup / 75 g almond flour
1 tsp. ground cinnamon
1 tsp. baking powder
2 large ripe bananas
¼ cup / 60 ml unsweetened almond milk
2 large eggs
2 Tbsp. all-natural almond butter
1 tsp. honey
1 Tbsp. melted ghee (or coconut oil)
Instructions
Preheat oven to 325° F (165 °C). Lightly coat a loaf pan with spray.

Add Shakeology, almond flour, cinnamon, and baking powder to a small mixing bowl; mix well. Set aside.

Place bananas in a medium mixing bowl; mash with a fork until smooth.

Add almond milk, eggs, almond butter, honey, and ghee; whisk until combined.

Pour dry ingredients into wet ingredients; mix until combined.

Spoon into prepared pan and bake for 25 to 30 minutes, or until a toothpick inserted into the center comes out clean. Let cool; cut into 8 equal slices.

Serve immediately, or refrigerate in an airtight container for up to 4 days or freeze for up to 1 month.
Recipe Notes
Gluten-Free (GF), Vegetarian (VG)
The Nutrition Facts box below provides estimated nutritional information for this recipe.*
* Total Sugar 8 g, Added Sugar 2 g
Nutrition Facts
Snickerdoodle Banana Bread
Amount Per Serving (1 slice)
Calories 167 Calories from Fat 72
% Daily Value*
Fat 8g12%
Saturated Fat 1g6%
Cholesterol 4mg1%
Sodium 88mg4%
Carbohydrates 17g6%
Fiber 4g17%
Sugar 8g9%
Protein 8g16%
* Percent Daily Values are based on a 2000 calorie diet.
Container Equivalents
½ Purple
½ Red
½ Blue
1 tsp.
2B Mindset Plate It!
Enjoy 2 servings (2 slices) to make a complete breakfast.