Shakeology Results: Marissa Lost 21 Pounds and Won $500!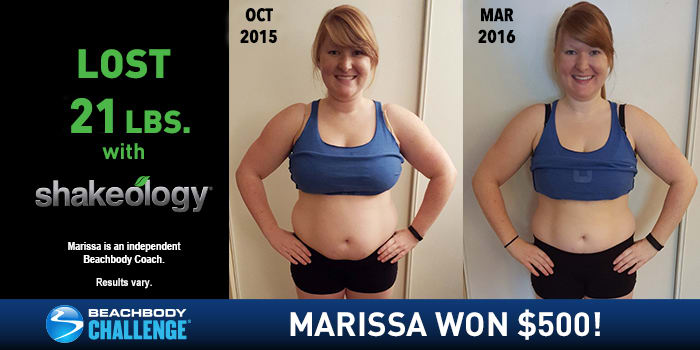 Marissa Regalado lost 21 lbs. with Shakeology. She entered her results into the the Beachbody Challenge, and won the $500 Daily Prize for June 25th!
Tell us about your life before you started the program. How did you feel about yourself and your body?
I had my first baby in September 2015. I had gained 45 pounds with that pregnancy, and was one month postpartum when I started drinking Shakeology every day. I have been on Shakeology for six months, and still drink and post my shake photo every single day.
What inspired you to change your life and begin your transformation journey?
I am a Beachbody Coach and was ready to show off just how amazing the products are. I used my postpartum journey to truly be proof the products work.
What is the greatest challenge you faced before beginning the program? How did the program and Beachbody help you overcome that challenge?
I was very fit before I got pregnant, but then let everything go during pregnancy. I gained double the weight my doctor wanted me to, and I had completely stopped attempting to work out. I was so uncomfortable! After delivering my baby and giving my body one month to adjust, I added Shakeology and immediately felt more energized and healthier. I missed a day here and there but by January 2016, I committed to reaching #club365 like Carl had, and I've been posting my daily Shakeology selfie every day since January 1. I have lost 40 of my 45 pregnancy pounds (21 on Shakeology), feel amazing, and I've been able to change lives by proving the product works!
What in particular did you like about the program you chose?
Shakeology isn't "just another protein shake." It's real. It's unique. It's superfoods every day of my life that I wouldn't otherwise get. I feed my body what it needs, and I'm showing others how to do the same.
Describe the results you achieved with your Beachbody program. Which achievements are you proud of?
Losing 21 pounds is an obvious one, but I'm also so proud of the example I'm setting not just for my baby, but also for the community of people who have been watching my journey. I've begun to grow my business with just a daily Shakeology, and I'm excited to see what my future with Beachbody holds. I know I am healthier, stronger, and more energized with Shakeology in my life.
How has your life changed since completing your Beachbody program?
I'm not done! I still drink Shakeology every day — and will continue to until the end of time. My life has transformed in many ways. I'm more confident, able to fit into clothes I haven't touched since before I got pregnant, impacting and changing lives by sharing my Shakeology story with others, and setting the best example for my baby. I'm building a legacy, starting with one serving of superfoods each day.
How did your Team Beachbody Coach support you on your journey?
Tricia checked in with me regularly and complimented my diligence and consistency.
How did a Beachbody supplement, nutritional product, or program (such as Shakeology or Beachbody Ultimate Reset) support your transformation? What are the greatest benefits you gained? Did you see benefits to your energy, sleep, mood/mental clarity, or digestion/regularity?
Shakeology is everything about this transformation story!
You can change your life, too. Take the Beachbody Challenge for the tools you need to Decide, Commit, and Succeed! Complete any Beachbody program, and enter your results for a free gift and a chance to win cash and prizes.

Results vary depending on starting point, goals, and effort.