Tabitha L. Lost 121 Pounds in 1.5 Years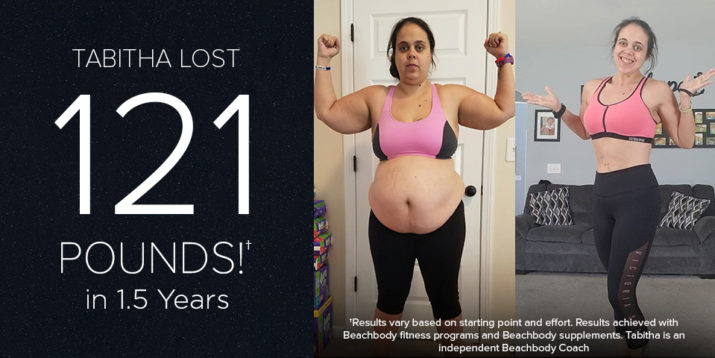 Tabitha wanted to set a good example for her six kids, but she struggled to lose the baby weight.
But with the help of her Team Beachbody Coach/mom, Tabitha did it.
She absolutely crushed tough Beachbody workouts like FOCUS T25, CORE DE FORCE, 80 Day Obsession, and several others.
The result: Tabitha lost 121 pounds and got her life back — now she can run around with her kids, she finished a 5K (!), and is the role model she always wanted to be for her kids.
Read more about her incredible journey:
Tabitha's Life, Before
"As a mom of six, I struggled with my weight from the time I gave birth to my now 17-year-old.
I continued to gain weight after each kid and I tried so many quick-fix methods. If it could get me quick results without me having to change my eating habits or working out, I was going to do it.
But the weight always came back. I topped out at 297 pounds after my first three kids. I was miserable and unhappy for years.
I had allowed myself to gain 90 pounds during my pregnancy with my sixth kid. I love my kids but hated I was back to where I told myself I never would be after struggling with being almost 300 pounds for about 15 years.
I was absolutely unhappy with my body. I couldn't be a role model for my kids if I was teaching them unhealthy ways.
Tabitha's Transformation†
"Beachbody has been my saving grace. My mom/Coach has been my biggest supporter and my team has been my biggest motivation.
I was determined to lose the weight. I gave it all I had, program after program. I drank Shakeology and started incorporating Beachbody Performance supplements when I started 80 Day Obsession.
I started with CORE DE FORCE, then The Master's Hammer and Chisel, PiYo, TurboFire, CIZE, 21 Day Fix, FOCUS T25, 22 Minute Hard Corps, SHIFT SHOP, Clean Week, Shaun Week, and most recently, 80 Day Obsession.
I absolutely love Beachbody On Demand programs. They are hard but very doable. They pushed me to get better and better and push myself harder and harder.
I am amazed that my results came from my very own living room with two little boys with me daily!
CIZE may be at the top of the list, but 80 Day Obsession definitely helped with finally starting to tone my body in areas I never thought possible. The eating plan for 80 Day Obsession helped to really focus on my body thinning out and toning."
Tabitha's Life, After
"Losing 121 pounds is something I never would have thought I could accomplish. It's not that I doubted the programs, but more of doubting I could push myself to that point.
I look forward to my daily workouts. I have the energy to keep up with my kids. Running around, sports with them, wrestling, etc. I can do physical activities with my kids without having to get winded after only a few minutes.
I completed my first 5K, which was important to me because I have never been a runner. Stairs are no longer a challenge. I just feel amazing. My self-esteem is through the roof.
Being active with my kids is something I'll no longer take for granted.
There is no going back for me. I will be the role model my kids need to teach them healthy habits they can go through life with."
†Results vary depending on starting point and effort. Exercise and proper diet are necessary to achieve and maintain weight loss and muscle definition. The testimonial featured may have used more than one Beachbody product or extended the program to achieve their maximum results.