See How People Meal Prep for The Master's Hammer and Chisel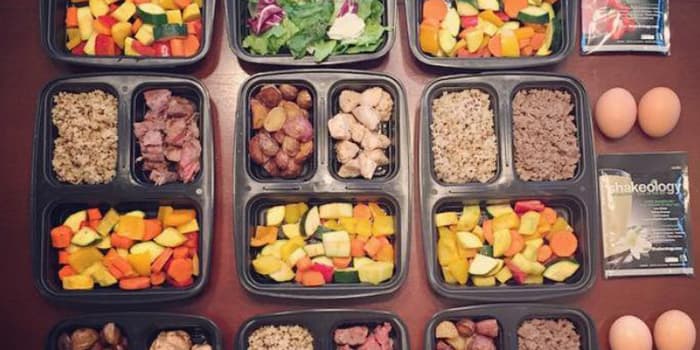 We asked people doing The Master's Hammer and Chisel to show us how they meal prep, and boy, were we impressed.
Want to be featured in a future meal prep post? Hashtag your photos with #BeachbodyMealPrep!

On The Master's Hammer and Chisel Meal Plan A, Sarah (@smjablow) is alloted 1,200-1,400 calories per day. She started each day with oatmeal and Chocolate Shakeology for breakfast and used a buffet-style approach so she could pick and choose her lunches and dinners from a medley of lemon chicken, grilled salmon, green beans, broccoli, cauliflower, and sweet potatoes. And don't forget the snacks. Sarah chose hard-boiled eggs, grapes, apples, almonds, and yogurt with frozen peaches for hers.
Perfectly planned and portioned meal prep might look complicated if you break it down into individual components like Brandy (@missguidedfitness) did, each ingredient can be simply prepared.
Want to make recipes that look like those in the photos? Take a look below to see just how close Jenna's (authenticallyfit1) Baked Stuffed Sweet Potato recipe looks to the one featured in the The Master's Hammer and Chisel nutrition guide. This one features chicken, black beans, cilantro, and spices.
Most people don't like to eat the same thing every day. If that's you too, follow Erin's (@fitmomerin) lead. She made Turkey Meatballs, Black Bean Burgers, Turkey Chili, and Baked Chicken with asparagus and spinach. If you choose recipes that yield several servings, just freeze extra portions for future use.
Marcus (@marcusochoa1) shared two simple, fast meal prep ideas. For one of his meals he baked sweet potatoes, steamed broccoli, and mixed ground chicken with sautéed onions and mushrooms. For his other, he steamed green beans, and served it with brown rice, and baked chicken.
Can you eat tacos and still get the chiseled body of your dreams? Yes! Jamie (@thefitfiddler) shows how tacos can be part of your healthy menu. She topped two corn tortillas with shredded beef, and added cilantro, baby carrots, and guacamole. Total container count: 1 yellow, 1 red, 1 green, and 1 blue.
Look at all of the fresh fruits and veggies Mandi (@mthealthyliving) uses in her meal prep. Looks like she's well on her way to getting all her purple and green containers checked off!
For breakfast, Marisa (@mpaige) keeps it simple with Greek yogurt and apples. For lunch, she enjoys baked pork chops with sweet potato, and green beans or a mixture of broccoli and cauliflower. Dinner is chicken sausage with quinoa and butternut squash or broccoli and cauliflower. For snacks, she turns to classics: Hard-boiled eggs, turkey roll-ups with spinach, and fruit.
If you're trying to avoid pasta, try Jill's (@Sunny_fit_n_faithful) approach. She made spaghetti squash and topped it with turkey marinara for a protein-packed dish. Also pictured: Grilled chicken with sweet potato and broccoli and spicy baked chicken with vegetables.
To make Turkey and Lettuce Cups taste their best, follow Lydia's (@lydiakremer) lead and keep the turkey mixture separate from the lettuce leaves until you're ready to eat. That will prevent your lettuce from getting soggy.
Can't you just imagine how incredible apple banana muffins smelled when Ashely (@ashleydtl) pulled them out from the oven? The recipe is featured in the FIXATE cookbook and you can always find lots of healthy muffin recipes here.
Save