FIXATE Roasted Garlic Gravy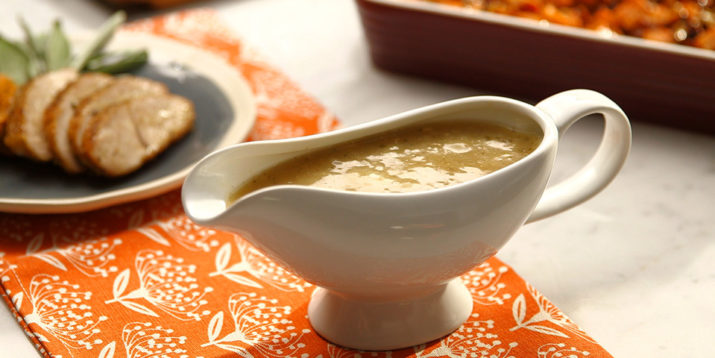 Is it possible to make a healthy gravy? Is it even worth it? Can gravy actually be healthy and still have flavor?
The answers are yes, yes, and yes. How? We are glad you asked!
Ultimate Portion Fix creator Autumn Calabrese and her brother, chef Bobby Calabrese created a rich gravy recipe that's made without the usual thickening agents of fat and white flour.
Instead, a whole head of slow-roasted garlic acts as a thickener and imparts the deep flavor any good gravy should have.
Roasting dramatically changes the flavor of garlic taking it from piquant to savory, and even a little bit sweet. Sautéed shallots and a shot of dry sherry add complexity to the flavor profile.
Gravy is best when made from a bone broth that has simmered for hours, but, if you don't have homemade bone broth on hand, that's ok.
If you're making this recipe for a holiday meal – like Thanksgiving dinner – it's unlikely you'd have a fresh broth on hand since your turkey is probably still in the oven.
In this FIXATE episode, Chef Bobby shares a quick and foolproof solution for making any all-natural stock behave like a bone broth.
By adding a bit of unflavored gelatin to your broth, you give your store-bought broth the silkier consistency of a bone broth.
This Roasted Garlic FIXATE Gravy is a great addition to Autumn and Bobby's other holiday favorites like Whole-Grain Stuffed Turkey and Green Bean Casserole.
To get the recipe and find out the Container Equivalents and nutritional information, watch the FIXATE episode on BODi!