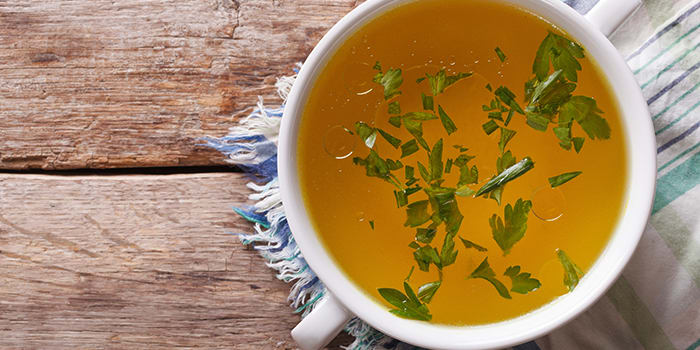 Whether your goal is to sip on warming mug of bone broth or you just want a delicious base for soups and to add flavor to whole grains, this beef bone broth recipe is a great place to start.
Don't be put off by the long cooking time — the pot can simmer unwatched for hours or even overnight with a very low flame (as long as you're comfortable with this and follow all necessary safety precautions).
You can even use a slow-cooker! The result is a large quantity of marvelously flavorful broth that tastes great on its own and can be used in any recipe that calls for broth.
Money-Saving Tip: When you're chopping vegetables for any recipe, collect the ends of onions, celery, carrots, and leeks in a bag and store in the freezer.
Save leftover chicken bones (or beef bones) in a separate bag. When you have enough, make bone broth!
You don't need the full five pounds of bones called for in this recipe. If you have fewer bones and vegetables, just reduce the amount of water accordingly.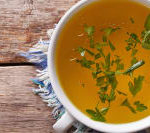 Beef Bone Broth
This beef bone broth is easy to make and great to have on hand during cold winter months.
Prep Time 20 mins
Cook Time 12 hrs
Total Time 12 hrs 20 mins
Servings 10 servings (about 1 cup each)
Calories 30 kcal
Ingredients
5 lbs beef back or neck bones (or chicken carcasses or lamb bones)
¼ cup apple cider vinegar or fresh lemon juice
2 medium onions cut into quarters (or 2 leeks, coarsely chopped)
2 medium carrots coarsely chopped
4 medium celery stalk ends coarsely chopped
2-3 bay leaves
1 Tbsp. black peppercorns
Cold water
Instructions
Place bones, vinegar, onions, carrots, celery, bay leaves, and peppercorns in a large stock pot.

Add enough water to cover bone mixture by 1 to 2 inches, leaving room at the top of the pan. Cover. Bring to a boil over medium-high heat. Reduce heat; gently boil for 1 hour. Remove any meat left on bones. Set meat aside for future use.

Return bones to a gentle boil for 2 to 24 hours, or until bones crumble and look bleached. (Gently boil chicken bones for 6 to 12 hours, or until they crumble.)

Skim off any foam that develops during cooking.

Strain liquid using a fine mesh strainer or cheesecloth.

Use broth immediately or refrigerate for up to three days.
Nutrition Facts
Beef Bone Broth
Amount Per Serving (1 cup)
Calories 30 Calories from Fat 18
% Daily Value*
Fat 2g3%
Saturated Fat 1g6%
Cholesterol 7mg2%
Sodium 19mg1%
Protein 2g4%
* Percent Daily Values are based on a 2000 calorie diet.
Pro tips:
• Bones can be roasted for 30 to 60 minutes before boiling. This caramelizes the bones and gives the broth even better flavor.
• Bone broth can be cooled and frozen.
• Save any fat from the broth. It is highly nutritious and can be used to roast vegetables or make soups.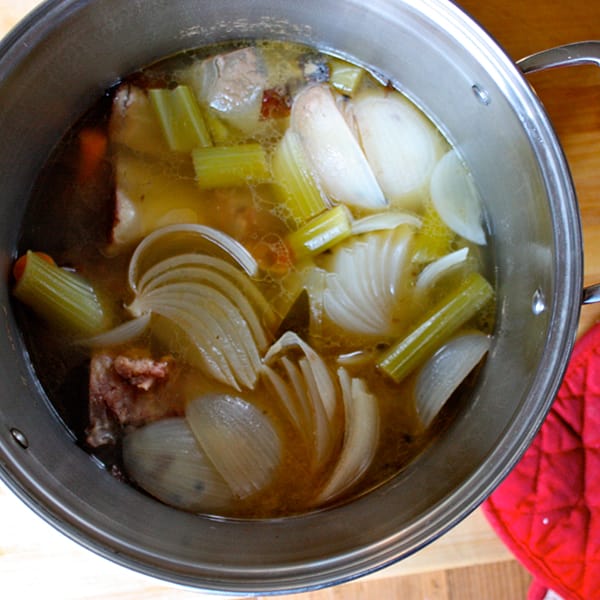 Portion Fix Containers
Free (4 cups = 1 Red)
2B Mindset Plate It!
Makes a great freebie accessory to add to soups and stews or to eat on its own.
If you have questions about the portions, please click here to post a question in our forums so our experts can help. Please include a link to the recipe.