Rhom Got Built in 90 Days with P90X3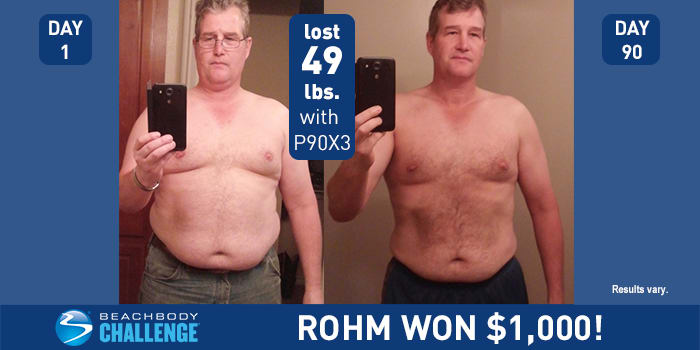 Rohm S, age 51 from Converse, TX, lost 49 lbs in 90 days with P90X3. He entered his results into The Beachbody Challenge and won $1,000!
Tell us about your life before you started the program. How did you feel about yourself and your body?
I had to quit using tobacco – cold turkey – after my doctor told me It was my last chance before I got cancer. I gained weight fast and began to become a sedentary person. My self-esteem dropped.
What inspired you to change your life and begin your transformation journey?
My son competed on American Ninja Warrior and I decided to begin training with him to get in shape. I plan to compete myself once I meet my goals.
What is the greatest challenge you faced before beginning the program? How did the program and Beachbody® help you overcome that challenge?
Willpower. Beachbody gave me a concrete plan to follow and the support I needed to follow through.
What in particular did you like about the program you chose?
P90X3 was a great first choice because the 30 minute workouts seemed achievable. I'm starting Body Beast now, because I need to gain muscle.
Describe the results you achieved with your Beachbody program. Which achievements are you proud of?
I lost 49 pounds in 90 days with P90X3! My before and after pictures from P90X3 are hugely different. I make small gains every day. Every time I train with my son I'm able to accomplish some new goal – every time! I can do pull-ups now without a pull-up assist band, I can climb rope, I even made it to the top of the 12′ warped wall. The weight loss is what I'm most proud of so far.
How has your life changed since completing your Beachbody program?
I spend a lot more time with my sons, doing things we like. My youngest just started P90X3 as well, and his brother is doing Body Beast with me.

How did your Team Beachbody® Coach support you on your journey?
She gave me advice and answered my questions about the programs and nutrition.
How did a Beachbody Supplement or Nutritional Product or Program (such as Shakeology® or Beachbody Ultimate Reset®) support your transformation? What are the greatest benefits you gained? Did you see benefits to your energy, sleep, mood/mental clarity, digestion/regularity?
I took Shakeology and Results and Recovery Formula every day. It helped make meal planning easier. I have been sleeping more, and I have much more energy.
You can change your life, too. Take the Beachbody Challenge for the tools you need to Decide, Commit, and Succeed! Complete any Beachbody program, and enter your results for a free gift and a chance to win cash and prizes.