"My Results Far Exceeded Anything I Could Have Ever Imagined"
†Results vary depending on starting point and effort. Nick is an independent Beachbody Coach.
Meet Nick, age 34 from Kissimmee, FL. He entered The Beachbody Challenge in October 2014 and won $1,000!
Tell us about your life before you started the program. How did you feel about yourself and your body?
Before I started this program, I was always stressed out and was angry all the time. I was very snappy and quick tempered. I also felt tired and sluggish really no motivation to do anything, very lazy. I was active because my job requires a lot of constant movement and heavy lifting. Other than my job, I wasn't doing anything active. I really didn't like the type of person I was becoming, I was hurting the people and loved ones around me. As far as my body goes, I was not terribly out of shape or at an unhealthy weight for my height. But by no means at all was I in any kind of shape either.
What inspired you to change your life and begin your transformation journey?
As I mentioned before, I was not happy with my state of mind and well-being. I knew I had to do something about it. My 16-year-old step son approached me and said he wanted a weight bench for his birthday. I took this as a great opportunity to start doing something. So I told him we don't have the room or the money for a weight bench, how about we start doing P90X?? Of course, he asked what it was. After explaining to him that my uncle did it, and it worked great, he agreed. I mentioned to him everything I do, I do 110%, and we are going to do the whole program from start to finish the right way with the pictures and the measurements, he was very excited to start.
What is the greatest challenge you faced before beginning the program? How did the program and Beachbody® help you overcome that challenge?
The Greatest challenge I faced before starting this program was dealing with stress and my anger. I was not handling the stress in my life well, and for that reason, I was also upset and snapping at everyone around me. Doing P90X taught me how do deal with and properly handle the stressful situations in my life. It helped me to understand where to take out my aggression, so I wasn't so angry all the time.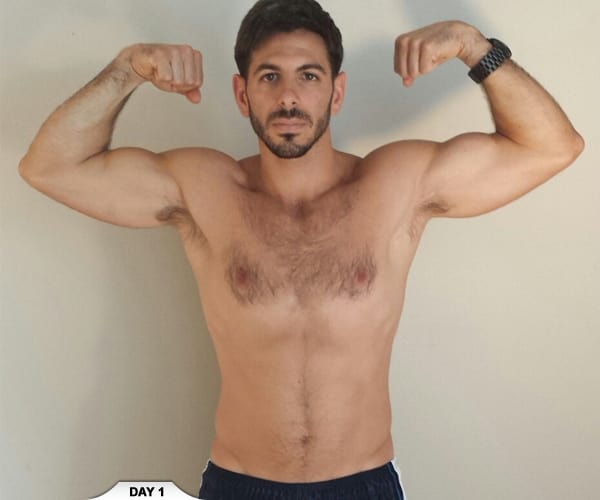 What in particular did you like about the program you chose?
I like the constant change every 4 weeks, and the fact that it doesn't allow your body to get used to a certain work. I loved the fact that you can pop in a CD and work out in the comfort of your own home.
Describe the results you achieved with your Beachbody program. Which achievements are you proud of?
My results far exceeded anything I could have ever imagined. You always see the before and after photos and they look great but you're always skeptical it might be photoshopped or not real. Then, when you actually experience it, the feeling is so surreal. I could not believe the results I obtained. I lost 15 lbs, I lost 2.5 inches on my waist, I went from about 14% body fat to about 4%, I gained a half inch to 3/4 of an inch on each arm (gains!), my flexibility increased over 7 inches! My pictures and my transformation were shocking and incredible! I was extremely happy with the results!
How has your life changed since completing your Beachbody program?
My life has completely changed, I feel great on the inside and out. I have way less stress in my life, I am able to manage the little stress I still have much better and take my aggressions out on the workout and not my loved ones! I have way more energy even some of my joint pain and things I was suffering from are gone! I walk around with my head high and proud with a big smile on my face at all times now!
How did your Team Beachbody® Coach support you on your journey?
I was in contact with my coach all the time. I was able to text message her on her personal cell phone, it was a really good feeling. I would send her my progression photos, she would let me know I was doing great and to keep up the great work.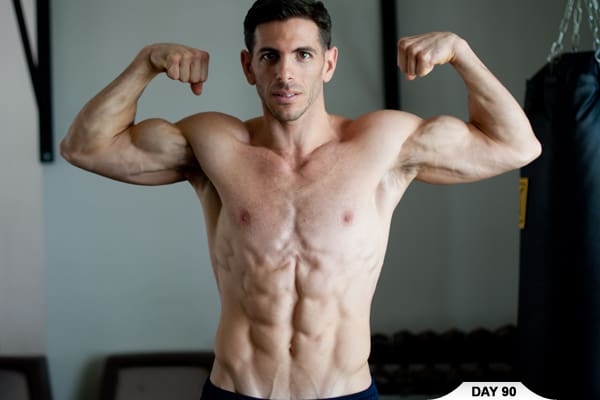 You can change your life too. Take the Beachbody Challenge for the tools you need to Decide, Commit, and Succeed. Complete any Beachbody program, and enter your results for a free shirt and a chance to win cash & prizes.