"All You Have to Do Is Push Play!"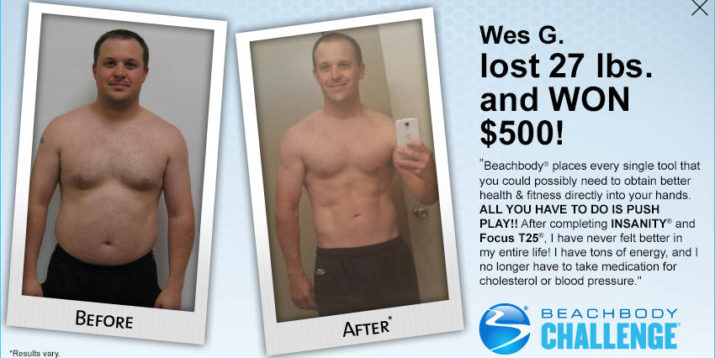 Meet Wes G.! He participated in The Beachbody Challenge and won the $500 Daily Prize for October 22nd!
Tell us about your life before you started the program. How did you feel about yourself and your body?
I was 33 years old when I began my journey to better health and fitness. I was out of shape, over weight, felt sluggish, was on medication for high blood pressure and high cholesterol, and just generally felt poor. I was inactive, and ate terribly. I lived a very sedentary life style.
What inspired you to change your life and begin your transformation journey?
I have a family history of heart problems, strokes, cancer, and diabetes. As the husband and father of a beautiful wife and daughter, I knew that if I wanted to be around to take care of them, and enjoy my life with them, I had to make a drastic change. As I was sitting on my bed one evening, an infomercial for Shaun T's INSANITY program came on TV. It was in that very moment that I had my "a-ha moment." I said to myself that I was sick and tired of living an unhealthy life. I knew that I had absolutely so much to lose by NOT taking this opportunity. That night I went straight to the Beachbody website and purchased INSANITY and Shakeology.
What is the greatest challenge you faced before beginning the program? How did the program and Beachbody® help you overcome that challenge?
My greatest challenges before beginning the program were definitely accountability and poor nutrition. I had tried other times in my life to get back in shape, but had no accountability. I simply didn't know where to start. Luckily my wife committed to joining me in the program, and we relentlessly followed the daily workout and nutrition plans and drank Shakeology. The Beachbody workout programs place every single tool that you could possibly need to obtain better health and fitness directly into your hands. All you have to do is push play!! Little did we know just how much Beachbody would change our lives.
Describe the results you achieved with your Beachbody program. Which achievements are you proud of?
I was able to see quick results just within the first few weeks of starting the program. I lost about 10 pounds in the first two weeks! At the end of INSANITY, I had lost a total of 20 pounds, and was in the best shape of my life. I went from wearing a size 33-34″ waist in my pants to wearing a size 30, and also went from having to wear a large in most shirts to wearing a medium.
How has your life changed since completing your Beachbody program?
After completing INSANITY, I went on to complete Focus T25. I am currently doing P90X3 and loving the new results I am seeing. I now weigh a healthy and lean 143 pounds, and have never felt better in my entire life! I no longer take any medications, and I have tons of energy. Since completing INSANITY, my wife and I have been blessed with a second child. Because of our daily commitment to "pushing play" and eating healthy, we have also seen a desire in my 6 year old daughter to live a healthy lifestyle! She see's the importance first hand of living healthy, and actually participates in my workouts with me! My wife and I are now Beachbody Coaches, and absolutely love helping others on their paths to obtaining better health and fitness. Thank you, Beachbody, from the bottom of my heart!
You can change your life, too. Take the Beachbody Challenge, for the ultimate motivation to get fit! Select any Beachbody program and once you complete it, share your results for your chance to win cash and prizes.