"I Am Proud That I Can Wear Almost Anything I Want Now"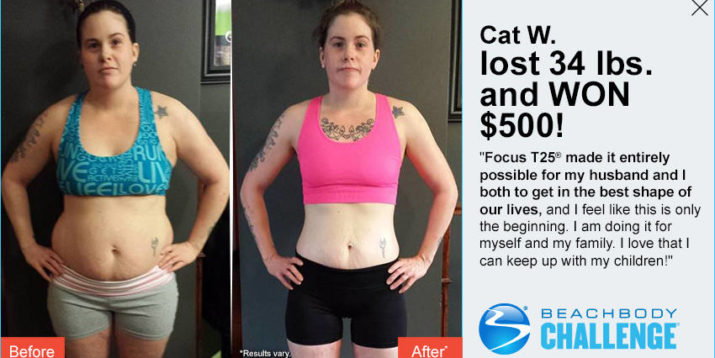 Meet Cat W.! She participated in The Beachbody Challenge and won the $500 Daily Prize for October 31st!
Tell us about your life before you started the program. How did you feel about yourself and your body?
I was 3 months postpartum, and felt horrible. I was not happy with myself, my health, and how little I was keeping up with my two young children.
What inspired you to change your life and begin your transformation journey?
I hated that I felt like a blob all the time. I felt slow, tired, and weak. I didn't like the feeling of being held back by my body any longer. I was diagnosed with postpartum depression, and I decided to fight it with better nutrition and exercise instead of prescriptions. It had to be something I could do from home because of my kids, my husband's demanding work schedule, the gym with lack of hours open, and affordability.
What is the greatest challenge you faced before beginning the program? How did the program and Beachbody® help you overcome that challenge?
I needed to get moving, and the idea that I only had to do it 25 minutes a day was impressive. I could fit 25 minutes of physical work in while working around my kids' needs/schedules. It is so hard to get a decent bracket of time where they are not demanding things of you. Focus T25 made this entirely possible for my husband and I to both get in the best shape of our lives. I feel like this is only the beginning. I am doing it for myself and my family. I love that I can keep up with my children!
Describe the results you achieved with your Beachbody program. Which achievements are you proud of?
I am proud that I can wear almost anything I want now without feeling self conscious about it. I don't hate shopping anymore.
How has your life changed since completing your Beachbody program?
I eat a better diet consistently, and am always up for doing any physical activities. I am happier, and I feel better physically, mentally and emotionally.
You can change your life, too. Take the Beachbody Challenge, for the ultimate motivation to get fit! Select any Beachbody program and once you complete it, share your results for your chance to win cash and prizes.