Body Beast Results: Hector Lost 11 Pounds and Got Ripped!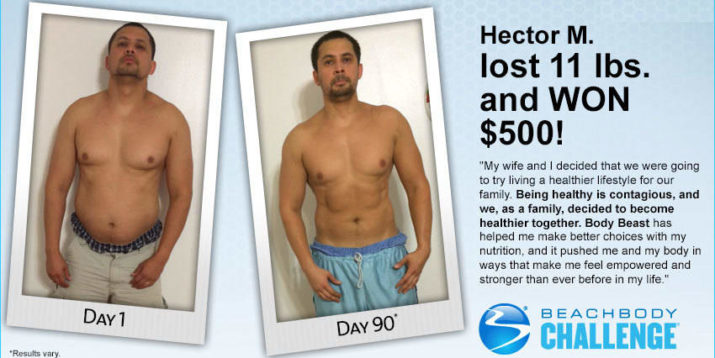 Results vary depending on starting point and effort. Hector is an Independent Team Beachbody Coach.
Hector Millan lost 11 lbs with Body Beast. He participated in The Beachbody Challenge and won the $500 Daily Prize for October 10th!
Tell us about your life before you started the program. How did you feel about yourself and your body?
Before the program, I used to eat fast food a few times a week. I was not completely aware of the bad and unhealthy lifestyle I was living. My wife and I decided that we needed to start making better choices. She decided to get 21 Day Fix. After watching her work out, I began to research all of the programs Beachbody had available. I saw Body Beast, and thought it couldn't be that much different that lifting weights at the gym. Well, I was wrong. It was all about pushing yourself in your workouts and eating the right food to optimize every workout. The program has helped me make better choices with my nutrition, and pushed me and my body in ways that make me feel empowered and stronger than ever in my life.
What inspired you to change your life and begin your transformation journey?
I have always been active and had a gym membership, but only went to gym on occasion. So, at the beginning of this year, my wife and I decided that we were going to try living a healthier lifestyle for the betterment of our family. My wife was a catalyst in my transformation. Being healthy is contagious, and we decided to become healthier together.
Describe the results you achieved with your Beachbody program. Which achievements are you proud of?
I really like my results. I really like my back and abs. I almost have my 8 pack back. My lats are sick too.
How has your life changed since completing your Beachbody program?
No desire to go back to old bad habits. I feel and look healthier.
You can change your life, too. Take the Beachbody Challenge, for the ultimate motivation to get fit! Select any Beachbody program and once you complete it, share your results for your chance to win cash and prizes.