Beachbody Results: Stella Lost 42 Pounds in 3 Months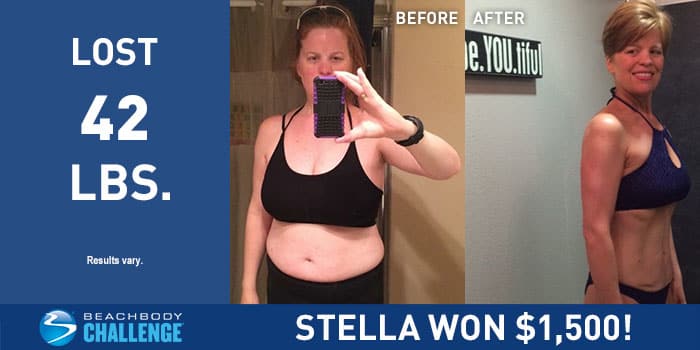 Meet independent Beachbody Coach Stella H. She lost 42 lbs. with 21 Day Fix, 21 Day Fix EXTREME, and 3-Day Refresh. She entered her results into The Beachbody Challenge, and won $1,500!
Tell us about your life before you started the program. How did you feel about yourself and your body?
Before 21 Day Fix, I was searching for a quick way to get thin. I've lost weight before but always yo-yo'd right back up. I was mad, tired, and had given up on getting back to a lower weight. All I wanted was to find a way to get healthy, never expecting to lose any weight. I actually said those very words to my Coach: "I don't plan on losing a pound. I just want to set a good example of health for my children."
What inspired you to change your life and begin your transformation journey?
My Facebook friend, Jenny, was posting over and over again about her amazing transformation. She sent out an invitation for a free exercise Challenge Group. That piqued my interest. I joined in October and participated in the group. By the end of the month, we had a phone conversation where she recommended the Fix as I was wanting something with clean eating and whole foods, along with an exercise program that would push me to be healthier.
What is the greatest challenge you faced before beginning the program? How did the program and Beachbody® help you overcome that challenge?
I never, ever used to enjoy exercise. That was my downfall. I always viewed exercise as an evil necessity that would help me to dump pounds, so I'd only do it for as long as it took for me to lose the weight. As soon as I hit my goal, the fitness portion would be done – and so would my goal weight. The Fix helped me to want to exercise. I couldn't believe it! Because of the nutrition piece of the program, and Shakeology, my body craved using energy in a healthy, productive way! I became obsessed with wanting to work out daily, to the point where I had to force myself to take days off! Thanks to 21 Day Fix, I have found balance between my mindset, fitness and nutrition!
What in particular did you like about the program you chose?
I love the following (all would be #1s if I could list it like that!):  The containers! Portion Fix is awesome!  Shakeology! Yum! The workouts – especially Pilates Fix and Yoga Fix! I've also done 2 round of 3-Day Refresh! Love it! The mental clarity that I get from Refresh is amazing! Then, in late March, I was challenged to take on EXTREME! Oh my! This is what I needed. I lost a lot of weight with the Fix, but now needed to get toned and sculpted. I didn't do a caloric reduction with 21DFX, but I worked my butt off to build muscle. This program is outstanding! In three weeks, I've become so carved!
Describe the results you achieved with your Beachbody program. Which achievements are you proud of?
In my first week of Round 1 of 21 Day Fix, I dropped 9 pounds!!! By the end of Round 1, I started running and for the first time, learned to enjoy the physical and mental aspect of it. On Valentine's day, I ran my first 5K! If you'd told me in July last year that I'd be running a 5K at 33 minutes in February, I'd have laughed at you! I'm a powerhouse now! I love my body, I love my nutrition and I love my commitment to a clean, healthy life! One of my ongoing fears with exercise has always been resistance training. I took EXTREME as a challenge during the busiest month of my work. I faced my fear of not doing well with the resistance, and I conquered it! Wow. I replaced my excuses with effort, every day. And now I have the results.
How has your life changed since completing your Beachbody program?
The 21 Day Fix, 3-Day Refresh, and 21 Day Fix Extreme programs have brought amazing clarity and function into my life. Even when I'm not 'completing' a Fix program, I'm still eating with my containers, drinking a Shakeology every day, and committed to a daily exercise program that pushes me a little more each and every day! My children are watching and learning. We are all healthier thanks to these programs! I am now the role model mother that I was aiming to be when I first started! And I'm inspiring others to contemplate their fitness and nutrition approach. It's a wonderful thing to be a positive influence!
How did participating in a Challenge Group help you reach your goals? How did your group support you and keep you accountable?
The Challenge Group helped so much, as the accountability piece was brand new to me. The participants in the group kept asking me for recipes, which made me feel so good! Then, when I posted my first round pictures, they noticed changes that, to me, seemed subtle! It wasn't until I read of their excitement for me that I realize what was happening! I'm hooked on those groups! The members of my groups have become close friends! I'm ecstatic to continue to develop these friendships and and to welcome new members!
How did your Team Beachbody® Coach support you on your journey?
My first Coach was Jenny Beauregard Connor. She has been a lifesaver! She paved the way for my success, set me up with the right programs and got me involved! I was transferred to Jenn Greenberg and am so happy to have her and Mike as Coaches and uplines! They are so inspirational and I am lucky to have them, as well as Jenny, alongside my journey!
How did a Beachbody Supplement or Nutritional Product or Program (such as Shakeology® or Beachbody Ultimate Reset®) support your transformation? What are the greatest benefits you gained? Did you see benefits to your energy, sleep, mood/mental clarity, digestion/regularity?
Shakeology and 3-Day Refresh both have benefited every aspect of my life – energy, sleep, mood/mental clarity, digestion/regularity! I'm a different person! I'm happy, calm, and ready to take on challenges!
†Results vary based on starting point and effort.
You can change your life, too. Take the Beachbody Challenge for the tools you need to Decide, Commit, and Succeed! Complete any Beachbody program, and enter your results for a free gift and a chance to win cash and prizes.