PiYo Results: Shannon Lost Over 40 Pounds and Won $500!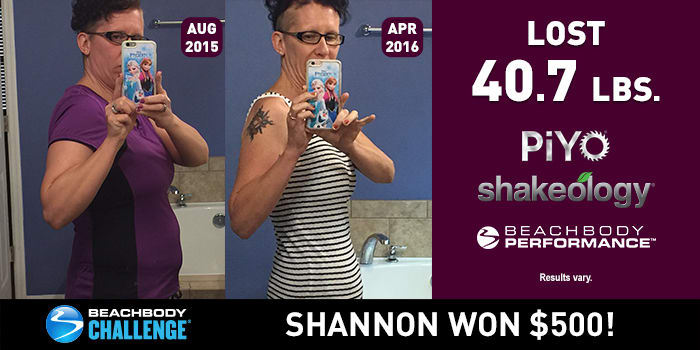 Shannon Phillips lost 40.7 lbs. with PiYo, Shakeology, and the Beachbody Performance supplements. She entered her PiYo results into the Beachbody Challenge, and won the $500 Daily Prize for June 11th!
Tell us about your life before you started the program. How did you feel about yourself and your body?
I have an office job so I sat a lot. I was tired all the time. I had tried and failed at other programs. I saw a friend who was doing Beachbody and called her. After lots of talking, I joined. It was so hard at first. I'd only get about half the workout done before I was exhausted. But slowly I was able to do more until I was able to complete entire workouts. I injured my knee during my first workout and had to really take it easy, but even that didn't stop me. I learned at that time that I have severe arthritis in my right knee so I still modify to ensure I have total control over that knee.* Here I am eight months later and 40 pounds lighter with strength and stamina. I eat healthy and drink Shakeology daily. I love when people notice my changes. I love sharing my story of getting here!
What inspired you to change your life and begin your transformation journey?
I was so unhappy with how I felt and looked that I knew I either had to do something or I was going to continue to gain weight. I'd just moved up into size 16 pants.
What is the greatest challenge you faced before beginning the program? How did the program and Beachbody help you overcome that challenge?
My greatest challenge was my own mindset. I had to retrain myself and bring on a new mindset. Beachbody was tough, and I wanted to show myself I could do this. I looked up meal plans and followed them. I continued to work daily toward that first step and see a little weight come off. It was very slowly at first and then I gained momentum, all the while training myself in better eating habits and how to best eat to maximize results.
What in particular did you like about the program you chose?
I liked that I could modify. I also liked not having to do the workouts in front of others.
Describe the results you achieved with your Beachbody program. Which achievements are you proud of?
I've lost over 40 pounds, as well as gained muscle and confidence. I am proud of myself for sticking to this even when I wanted to just quit!
How has your life changed since completing your Beachbody program?
I'm happier, more confident, have willpower, and want to share with others how I did this.
How did participating in a Challenge Group help you reach your goals? How did your group support you and keep you accountable?
It gave me the confidence to continue.
How did your Team Beachbody Coach support you on your journey?
She was there for me when I needed her and cheered me on the entire time.
How did a Beachbody supplement, nutritional product, or program (such as Shakeology or Beachbody Ultimate Reset) support your transformation? What are the greatest benefits you gained? Did you see benefits to your energy, sleep, mood/mental clarity, or digestion/regularity?
I love Shakeology and the Shakeology Boosts, which give me energy and extra greens.
You can change your life, too. Take the Beachbody Challenge for the tools you need to Decide, Commit, and Succeed! Complete any Beachbody program, and enter your results for a free gift and a chance to win cash and prizes.

Results vary depending on starting point, goals, and effort.
*Always consult with your physician about your unique medical needs before starting any fitness program or nutrition product.