This 58-Year-Old Proves It's Never Too Late to Get in Shape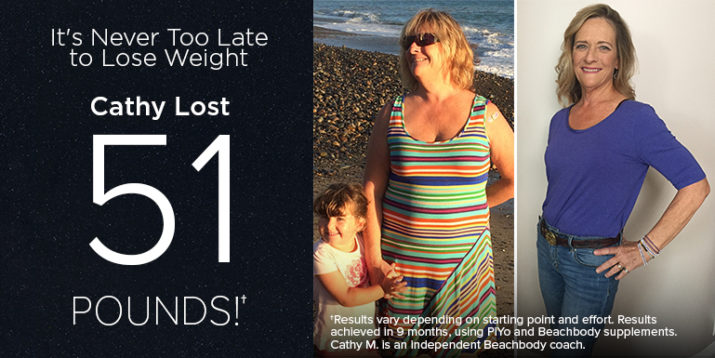 At 58, Cathy M. thought it was too late to get back in shape.
But PiYo helped her regain an athletic body, with even more confidence than she had in her youth.
"I felt very stuck and that success was for everyone but not for me," she says. A competitive swimmer in her teens, Cathy had seen her weight steadily creeping up since becoming an adult and raising her children.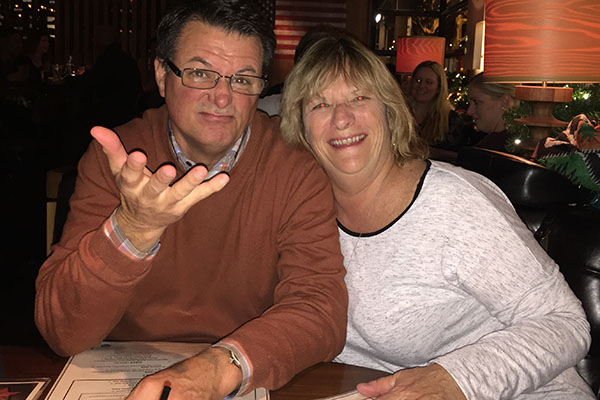 She tried joining a gym and various quick-fix diets, but nothing seemed to work. By her late 50s, she had more or less given up, and didn't work out regularly for two years.
"Looking at myself in the mirror was so difficult," she says. "I was not sure how I could have let myself get so lost."
The Change
In 2016, as her weight reached 188 pounds and her size 14 pants started to feel snug, Cathy knew she needed to try something.
So when her daughter raved about Beachbody On Demand's PiYo program, which blends low-impact Pilates and yoga, she decided to try it out, too. After a few weeks, she was hooked.
"I fell in love with Chalene's motivation," says Cathy, who notes that her self-esteem and confidence at that point were at an all-time low. "I loved her consistent words like 'you've got this,' 'we've got you,' 'it's hard now, but you will get stronger,' and 'we believe in you.'"
Being able to perform modified versions of all of the workout's moves further helped her scale her workouts to fit her needs. After finishing her first round and dropping a pant size, Cathy dove right into another round. And halfway into that second round, Cathy joined her daughter for a live 60-minute PiYo class.
The class was hard, and Cathy found herself crying both tears of joy and sadness — she was happy she got through the class, but embarrassed she had let herself get so out of shape.
Despite her discomfort, she showed up again the next day and powered through the session, a strong indication of her renewed commitment to health.
To complement her workouts, Cathy also began drinking Shakeology and following the Portion Fix meal plan in a concerted effort to lose weight. Since she had made a monetary investment for the program, she decided not to deviate from the rules.
Following the program strictly and sticking to it "with mind, body, and soul" were the keys to her success, she says.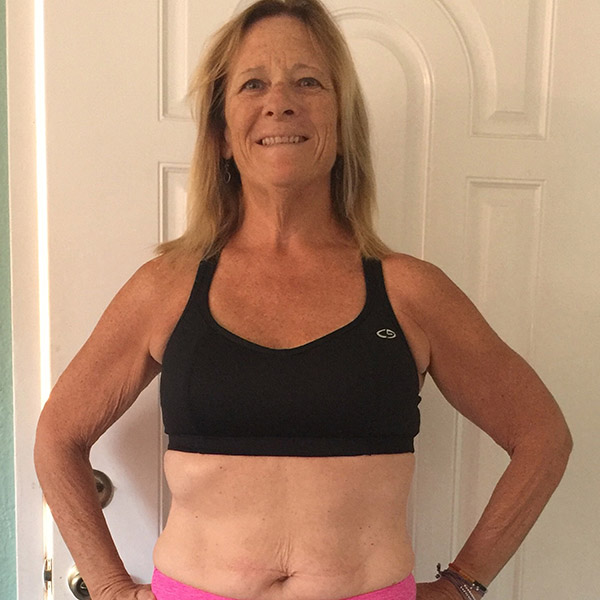 The Reward
Throughout 2016, Cathy completed four rounds of PiYo, as well as a round of 21 Day Fix. During that time, she went from 188 pounds to 137, losing more than 22 inches of body mass. PiYo's blend of Pilates and yoga helped Cathy reshape the "long lean muscles" of her youth.
But more importantly, Cathy says that she feels stronger and brighter than ever, and is reveling in her full, active life. She continues to do PiYo four to five times a week, and exercises outdoors, too.
Cathy and her husband are training for a backpacking trip, and she's added stand-up paddle boarding to her workout routine — something she never would have thought possible.
Her journey is proof it's never too late to make a positive change in your life.
And that's exactly what she tells others as a Beachbody Coach. Armed with a better attitude and more confidence, she's recently became a Coach and is currently co-leading a Challenge Group for women over 40, leading them by the example they need.
"Through this process, I've learned to love myself," Cathy says. "Today, I feel so blessed to be able to pass the love onto others!"
Cathy's Tips for Getting Fit and Healthy:
1. Find what works for you. Cathy started PiYo at her daughter's suggestion, and wound up loving the routines. But when she branched out and tried 22 Minute Hard Corps, she quickly realized it wasn't her "jam." That's totally OK! Find programs you enjoy, and you're more likely to stick with them.
2. Know that you're worth it. While Cathy once thought success was for everyone but her, becoming more active and finding a community to engage with helped her to regain confidence in herself and trust that she not only could make a change, but that she deserved to make a change.
3. Join a Beachbody Challenge Group for support and inspiration. Cathy credits the "love and support" she received from friends, coaches, and fellow Beachbody challengers with getting her through her hard-fought fitness journey. Find people who lift you up and encourage you, and talk to them on both the good and bad days.