PiYo Results: Ashley Lost 31 Pounds and Won $500!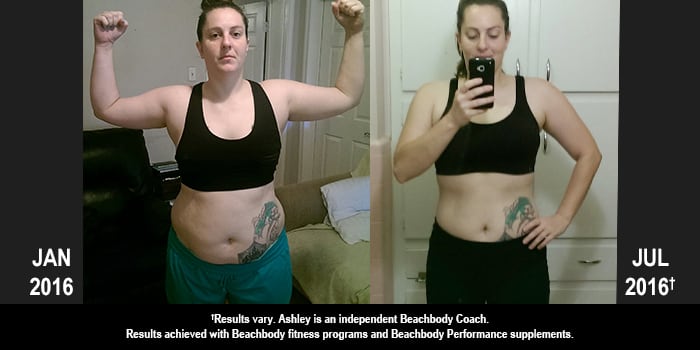 Ashley Dowell lost 31 lbs. with PiYo, Shakeology, and the Beachbody Performance supplements. She entered her results into the Beachbody Challenge, and won the $500 Daily Prize for October 7th!
Tell us about your life before you started the program. How did you feel about yourself and your body?
I was miserable. I was always tired and rundown, and I was uncomfortable with my body. I was to the point of giving up and accepting that I was just "destined" to be miserable and overweight for the rest of my life.
What inspired you to change your life and begin your transformation journey?
I was tired of feeling that way, and I wanted to make a change. I had felt that way for a while, but hadn't actually acted on it. It took a Team Beachbody Coach reaching out to me for me to finally take that initial step.
What is the greatest challenge you faced before beginning the program? How did the program and Beachbody help you overcome that challenge?
My biggest challenge was sticking with it after starting to work out and eat right. I had always let my excuses win. Even when I began in January, I had a few setbacks. I started over quite a few times actually. Due to constant love and support I received from my team, it was easier for me to keep going than it was to quit. I finally started full force a few months later, and I haven't looked back since! I'm down 31 lbs., and I feel great!
What in particular did you like about the program you chose?
I love the fact that I can sculpt and tone my body, and burn lots of calories even though it is low-impact! I have a bad back, but with PiYo, I am still able to get an amazing workout!
Describe the results you achieved with your Beachbody program. Which achievements are you proud of?
Aside from losing 31 lbs. so far and numerous inches, I'm much stronger and my back pain has decreased substantially! Finally being able to complete most of the workouts without stopping to take a break is major for me!
How has your life changed since completing your Beachbody program?
I am so much happier! My mood is better, I am able to do more with my kids, and I am so much more confident! My family and friends have even noticed the positive changes in me, and that feels so good!
How did participating in a Challenge Group help you reach your goals? How did your group support you and keep you accountable?
The energy in the Challenge Groups was simply amazing! The camaraderie, support, and accountability are exactly what I needed. The way that we all come together and help each other achieve our goals and refuse to let each other quit has been a huge game-changer for me. I wouldn't have made it this far without participating in the Challenge Groups.
How did your Team Beachbody Coach support you on your journey?
Miranda has been a blessing to me. She has gone above and beyond her duties as a Coach to ensure that I succeed. She pours her heart and soul into helping me achieve my goals.
How did a Beachbody supplement, nutritional product, or program (such as Shakeology or Beachbody Ultimate Reset) support your transformation? What are the greatest benefits you gained? Did you see benefits to your energy, sleep, mood/mental clarity, or digestion/regularity?
Shakeology has helped me so much. My digestion is finally regular for the first time in 10 years! I love how easy and delicious it is!
You can change your life, too. Take the Beachbody Challenge for the tools you need to Decide, Commit, and Succeed! Complete any Beachbody program, and enter your results for a free gift and a chance to win cash and prizes. What program are you committing to next?

†Results vary depending on starting point and effort.