PiYo Results: 41 Pounds in Two Rounds!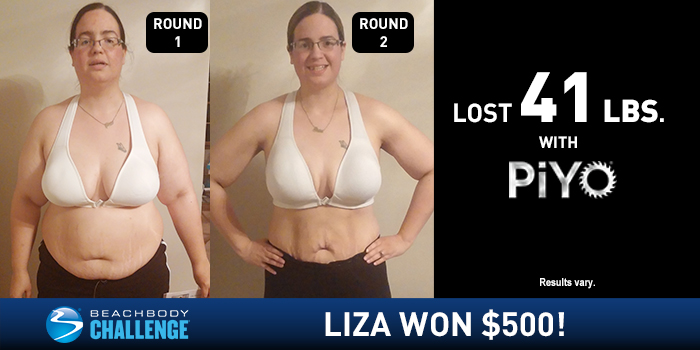 Liza Fiebert lost 41 lbs. in two rounds of PiYo. She entered her results into the Beachbody Challenge, and won the $500 Daily Prize for April 10th!
Tell us about your life before you started the program. How did you feel about yourself and your body?
I had zero self-confidence and no motivation. I did not want to do anything, because I always felt so sick and tired. My anxiety was through the roof. My knees ached; I couldn't even walk down the stairs. I felt like a failure, and I was angry with myself for letting my weight and health get to the point that it was at. I was so disgusted with my body that I just gave up caring about myself. I stopped styling my hair, wearing make-up, and caring about what I wore; I had lost myself completely.
What inspired you to change your life and begin your transformation journey?
My first and foremost inspiration are my children. I realized that not being able to play on the floor with my kids or dance with my kids was not a life that I wanted to live. I had also stopped taking pictures with them, because I was so embarrassed by my weight, and I wanted to be "back in the picture." Secondly was my husband. I wanted him to feel proud with me on his arm. Lastly was my Beachbody Coach, Nicole Quick. She was an old cheerleading friend and when I saw her posting about her fitness and weight-loss journey, I was jealous at first because I wanted that to be me. But I finally stopped making excuses and just did.
What is the greatest challenge you faced before beginning the program? How did the program and Beachbody help you overcome that challenge?
My biggest problems were my knees and lack of motivation. PiYo and Beachbody have helped me tremendously with both. The program itself has allowed me to lose weight and totally redefine my body in ways I never thought possible, all without causing knee pain. Before I started, I wasn't able to walk up and down the stairs, and now I can hop into a Runner's Lunge with no issues! And as for the motivation, the calendar that the program came with really helped me stay on track and kept me accountable, because I would cross off each workout as I completed them. Each cross mark felt like a huge accomplishment to me, since I had never stuck to any workout routine before. Also, the support from the Coaches, as well as the online support from Beachbody, have aided in my motivation for sure.
What in particular did you like about the program you chose?
I like that it was easy on my joints and increased my flexibility. I have anxiety disorder so when my heart rate gets too high, it causes a panic attack. This program, however, kept my heart rate in the perfect "fat-burning zone" without causing any issues. It has made me strong and sculpted, and I feel unstoppable. Chalene is the perfect motivator, and it feels like she's in the room with me. Just when I think I can't take it a second longer, she changes the pose at the perfect time. She is amazing, and I am so grateful for what this program has done for me — not only physically but mentally as well.
Describe the results you achieved with your Beachbody program. Which achievements are you proud of?
I have muscles, like actual real muscles in my legs, arms, and stomach. I feel so strong. I also proved to myself that I matter. I made a goal and stuck with it long enough to accomplish that goal. Just finishing that program is my biggest accomplishment because I did it! I am a Success Story! I am no longer the "before." I am the "after," and it feels amazing.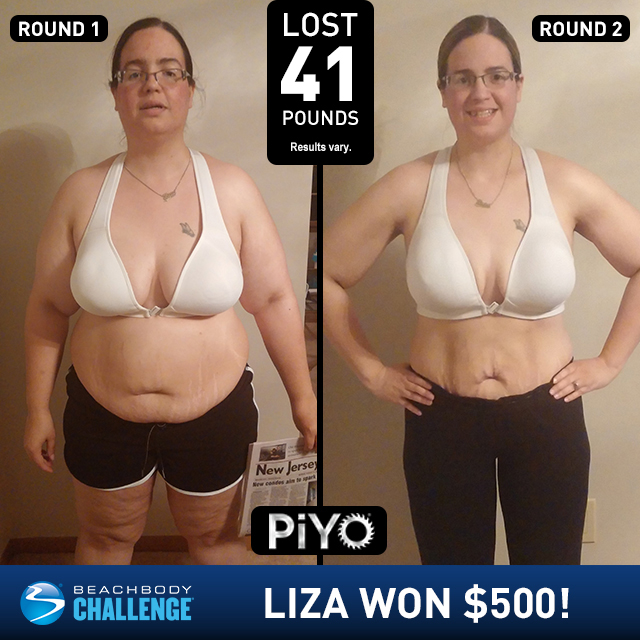 How has your life changed since completing your Beachbody program?
Every aspect has changed. I no longer feel sick. I am able to dance, play, run, and everything else in between. I love working out and eating healthy. I love how I look and how I feel. I am a better wife and mother, because I am happier and have so much energy now. My marriage is stronger, and my family is healthier. Life is beyond good now. It's great and will only get better! It has greatly decreased my arthritis and inflammation in my joints, as well as made my anxiety manageable without medication.o
How did your Team Beachbody Coach support you on your journey?
She always checked in with me, and always posts motivational and helpful information on her Facebook feed. She also kept me abreast of any new deals that were going on with Beachbody products.
You can change your life, too. Take the Beachbody Challenge for the tools you need to Decide, Commit, and Succeed! Complete any Beachbody program, and enter your results for a free gift and a chance to win cash and prizes.

Results vary depending on starting point, goals, and effort.
oConsult your physician before discontinuing or altering any prescribed medication.

Save