P90X3 Results: This Former College Athlete Lost 38 Pounds!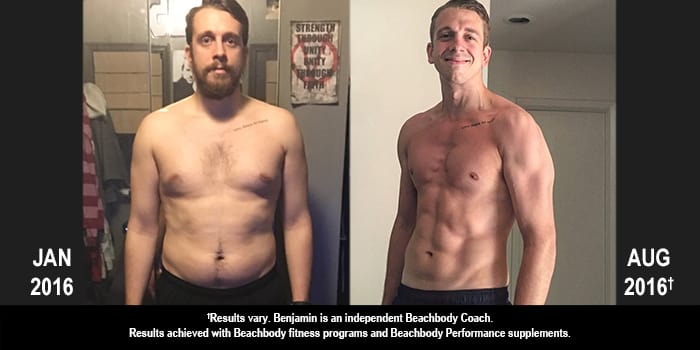 Benjamin Fiala lost 38 lbs. with P90X3, Shakeology, and the Beachbody Performance supplements. He entered his results into the Beachbody Challenge, and won the $500 Daily Prize for October 6th!
Tell us about your life before you started the program. How did you feel about yourself and your body?
I was a former college athlete who got a desk job and gained a lot of weight quickly. Gaining all that weight really messed up my confidence. I did not like my body at all.
What inspired you to change your life and begin your transformation journey?
I knew something had to change, so I decided to give P90X3 a try.
What is the greatest challenge you faced before beginning the program? How did the program and Beachbody help you overcome that challenge?
My biggest challenges were lethargy and lack of motivation. P90X3 helped me become disciplined and motivated.
What in particular did you like about the program you chose?
I really liked that it was only 30 minutes a day, and the workouts scale well with increase in ability.
Describe the results you achieved with your Beachbody program. Which achievements are you proud of?
I lost nearly 40 lbs. and 15 percent body fat. I gained a tremendous amount of strength. I have never been more fit in my entire life. I am proud of all of those things.
How has your life changed since completing your Beachbody program?
My confidence is sky high. My overall health is much better. I have experienced an attitude shift from "I'm not sure if I can" to "I can do it!"
How did a Beachbody supplement, nutritional product, or program (such as Shakeology or Beachbody Ultimate Reset) support your transformation? What are the greatest benefits you gained? Did you see benefits to your energy, sleep, mood/mental clarity, or digestion/regularity?
Shakeology and the post-workout formula played integral roles in helping me eat better and recover quicker.
You can change your life, too. Take the Beachbody Challenge for the tools you need to Decide, Commit, and Succeed! Complete any Beachbody program, and enter your results for a free gift and a chance to win cash and prizes. What program are you committing to next?

†Results vary depending on starting point and effort.