P90X3 Results: This 56-Year-Old Lost 17 Pounds in 90 Days!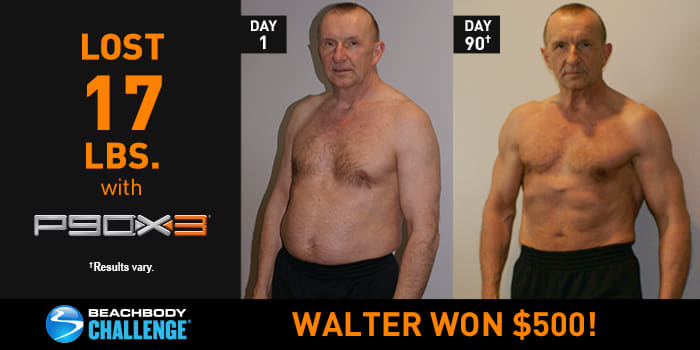 Walter Norman lost 17 lbs. in 90 days with P90X3. He entered his results into the Beachbody Challenge, and won the $500 Daily Prize for September 23rd!
Tell us about your life before you started the program. How did you feel about yourself and your body?
For most of my life, I was fit and strong, and my mistake was thinking that it will be like that forever. With a high level of daily activity, I had a great metabolism and I could eat anything I wanted, and as much as I wanted, without worry of gaining a few pounds. And even if I gained a few, they very quickly disappeared. But now that I am over 50, things are different. Combined with my accident when I broke my ankle, hernia surgery, and a long recovery, I lost my edge.3 Of course, I still remembered myself like I used to be and I thought that one day I can get started with exercise and everything will go back to normal. But that day never came. Every day I had a great plan to get in shape that I will start "tomorrow." Day after day, month after month, waiting for tomorrow, telling myself that it is not that bad, and I am still in good shape.
What inspired you to change your life and begin your transformation journey?
One day I was getting ready for a party, and I wanted to wear my suit. To my surprise, it didn't fit at all. I couldn't button my pants, and there was no way I could button a shirt and wear a tie. At first, I said to myself that it probably shrunk in the closet, but of course I knew what was the problem: I was too big to wear it. Then I looked at my several pairs of jeans, each one a larger size than the previous one. That was my wake-up call. At that moment, I knew that I needed to change the way I live, the way I look, and improve my overall health.
What is the greatest challenge you faced before beginning the program? How did the program and Beachbody help you overcome that challenge?
I think my greatest challenge was to take control of my eating habits and stay away from fast food. First, I picked some healthy recipes from the Beachbody blog that I could manage to cook. Then I put together a shopping list and restocked my fridge with good food. Meeting Tony every day for a workout helped me to stay on course and stick to my diet. I knew that P90X3 is a tough workout with a proven track record. I knew that my results would come if I stayed in the game.
What in particular did you like about the program you chose?
P90X3 is a tough/challenging workout and interesting at the same time. It never gets boring thanks to the unique personality of Tony. He can challenge you to the max with a smile.
Describe the results you achieved with your Beachbody program. Which achievements are you proud of?
I am very happy with my overall health and shape. I still have a few pounds to lose, because I know I can look even better. But the biggest achievement is my recovery from my accident when I broke my ankle. You know, when you take a fall from stairs and end up at the bottom — which for some reason is called a landing — the place where you land, you have many other injuries. In my case, I have a lower back problem. I noticed significant improvement in my lower back mobility in the second month of the program, and now I feel like I turned back the clock about 15 years!
How has your life changed since completing your Beachbody program?
To me, completing P90X3 is a step to another goal. But most of all, I've made a resolution to continue the program with no end and keep it as a part of my lifestyle to ensure a healthy, happy, and exciting life for years to come.
You can change your life, too. Take the Beachbody Challenge for the tools you need to Decide, Commit, and Succeed! Complete any Beachbody program, and enter your results for a free gift and a chance to win cash and prizes. What program are you committing to next?

†Results vary depending on starting point and effort.
3Always consult with your physician about your unique medical needs before starting any fitness program or nutrition product.