P90X3 Results: Jonathon Got Shredded in 90 Days!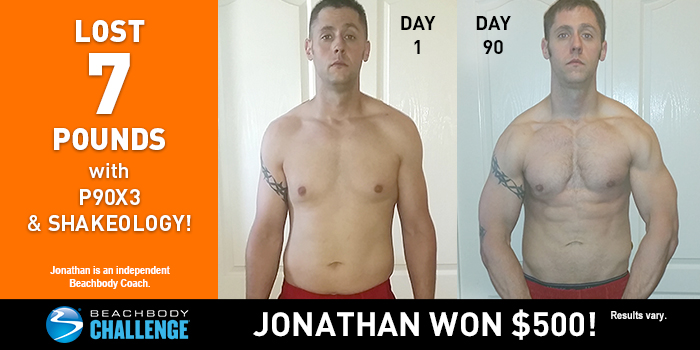 Jonathon Robb lost 7 lbs. and got ripped in 90 days of P90X3. He entered his results into the Beachbody Challenge, and won the $500 Daily Prize for April 15th!
Tell us about your life before you started the program. How did you feel about yourself and your body?
I felt great after completing multiple rounds of T25. I was happy with my results so far, but I really wanted to see more definition, size, and tone with my body.
What inspired you to change your life and begin your transformation journey?
This was a continuation of the work I began in February 2015.
What is the greatest challenge you faced before beginning the program? How did the program and Beachbody help you overcome that challenge?
None. Well you know what, thinking about it now…telling myself that it was okay to pull the closet door off every single time I needed to do pull-ups; but it worked out fine 🙂
What in particular did you like about the program you chose?
The quality of the workouts meant I could get done in about 45 minutes (Cold Start every day).
Describe the results you achieved with your Beachbody program. Which achievements are you proud of?
I can finally see my abs! I'm stronger, more stable, and have more energy.
How has your life changed since completing your Beachbody program?
It has increased a desire to want to help inspire others to make healthy lifestyle changes. I feel great!
How did participating in a Challenge Group help you reach your goals? How did your group support you and keep you accountable?
I participated in my wife's 21 Day Fix Challenge Group. I followed the meal plan for the middle part of my training. It taught me portion control, and I learned several new "go-to" recipes to help keep me on track.
How did your Team Beachbody Coach support you on your journey?
She's my wife. She supported me in countless ways that are indescribable.
How did a Beachbody supplement, nutritional product, or program (such as Shakeology or Beachbody Ultimate Reset) support your transformation? What are the greatest benefits you gained? Did you see benefits to your energy, sleep, mood/mental clarity, or digestion/regularity?
I already loved Shakeology. I swear by it. I loved the P90X Results and Recovery. I could tell it was reducing soreness, increasing my stamina, and fueling growth. Yes to all the benefits above.
You can change your life, too. Take the Beachbody Challenge for the tools you need to Decide, Commit, and Succeed! Complete any Beachbody program, and enter your results for a free gift and a chance to win cash and prizes.

Results vary depending on starting point, goals, and effort.