P90X3 Results: Dan Lost 21 Pounds in 90 Days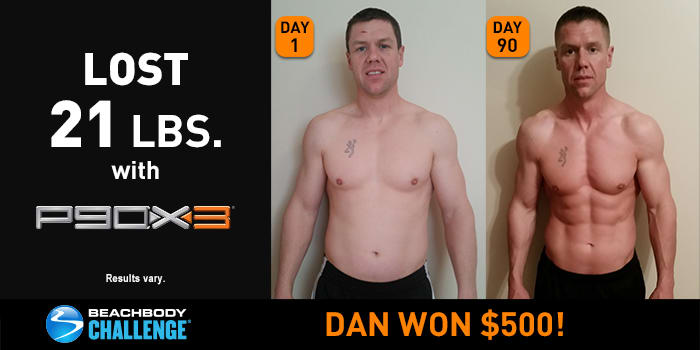 Dan Fransee lost 21 lbs. in 90 days with P90X3. He entered his results into the Beachbody Challenge, and won the $500 Daily Prize for July 20th!
Tell us about your life before you started the program. How did you feel about yourself and your body?
Before I started, I felt sluggish and ate whatever I wanted and only did weights at random. I felt okay at the beach, but now I feel awesome with my shirt off.
What inspired you to change your life and begin your transformation journey?
I turn 40 this year, and I wanted to set my body up for success, because I know soon my metabolism will slow.
What is the greatest challenge you faced before beginning the program? How did the program and Beachbody help you overcome that challenge?
My biggest challenge was the commitment. Setting time aside from each day is hard. I found that mornings were hard for me, so I was working out after my family was already in bed.
What in particular did you like about the program you chose?
Tony is a great trainer. He makes you work and laugh all the time.
Describe the results you achieved with your Beachbody program. Which achievements are you proud of?
I now have abs! I hadn't seen mine since my late teenage years.
How has your life changed since completing your Beachbody program?
I only keep good things in the fridge now. No chips or sweets.
You can change your life, too. Take the Beachbody Challenge for the tools you need to Decide, Commit, and Succeed! Complete any Beachbody program, and enter your results for a free gift and a chance to win cash and prizes.

Results vary depending on starting point, goals, and effort.