P90 Results: This 55-Year-Old Lost 60 Pounds and Won $1,500!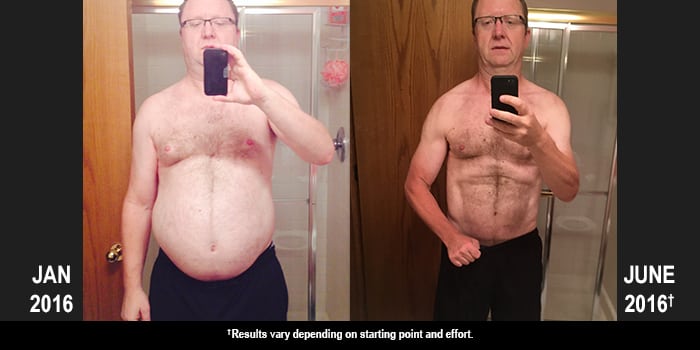 Jeff McLaughlin lost 60 lbs. with P90 and Shakeology. He entered his results into the Beachbody Challenge, and won $1,500!

Tell us about your life before you started the program. How did you feel about yourself and your body?
I was fat, out of shape, and basically very miserable. No energy with high blood pressure and high cholesterol. I stopped enjoying the things I liked to enjoy. I lived a very sedentary lifestyle.
What inspired you to change your life and begin your transformation journey?
Back in 2011, I went through the original Power 90 challenge and just loved it. I had lost 53 pounds and felt wonderful. However, after four months of finishing the program, I slowly gained all the weight back and then some. All of my terrible habits had returned. I told myself it was time to do something about it. Time to get motivated again and push play. I decided to go with the new P90, and I haven't looked back.
What is the greatest challenge you faced before beginning the program? How did the program and Beachbody help you overcome that challenge?
Lack of motivation, energy, and strength. It was time; I was sick and tired of being sick and tired. I was tired of feeling miserable. I had bad eating habits. I didn't eat breakfast or lunch, but when the evening came, I would eat everything in my path. I was really hungry! I had no fill, and I would eat before I would go to sleep. My meals consisted of donuts, candy, bread, fried fast food, and lots of beer — I didn't drink nearly enough water.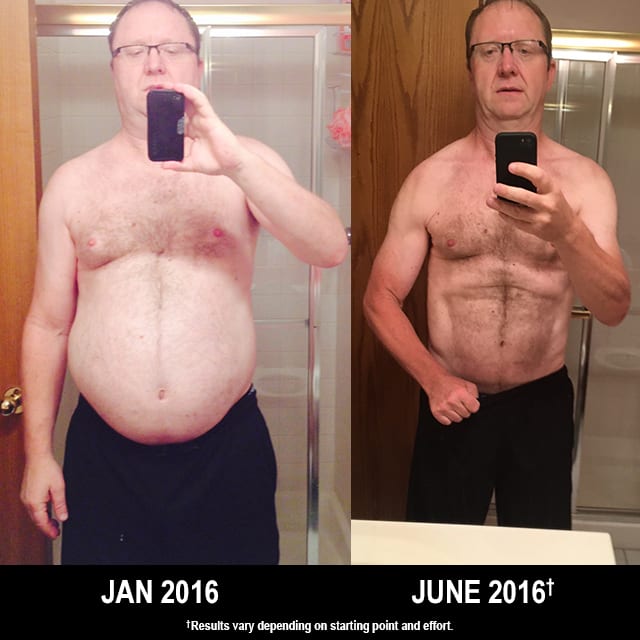 What in particular did you like about the program you chose?
I just love the flow of the program. Since I did miss a few mornings, I went longer than the 90 days. I still work out with the program to stay toned. I would recommend P90 to anyone. Thank you. Now on to P90X.
Describe the results you achieved with your Beachbody program. Which achievements are you proud of?
I was able to see quick results just within the first few weeks of starting the program. I lost about 10 pounds in the first two weeks! At the end of P90, I had lost a total of 60 pounds and am in the best shape of my life. I went from wearing a size 36 waist in my pants to wearing a size 30, and also went from having to wear an XXL in most shirts to wearing a large. I went from walking one block to running six miles a day. I also bike ride 60 miles a week. I drastically changed my eating habits and started drinking lots of water. Complete transformation.
How has your life changed since completing your Beachbody program?
The change has been nothing short of amazing. I am the complete opposite of my old self. I am now in the best shape of my life with more energy to burn than I thought would even be possible. I feel half my age. My attitude and whole outlook on life is so much improved.
You can change your life, too. Take the Beachbody Challenge for the tools you need to Decide, Commit, and Succeed! Complete any Beachbody program, and enter your results for a free gift and a chance to win cash and prizes. What program are you committing to next?

†Results vary depending on starting point and effort.