P90 Results: Matthew Lost 24 Pounds in 90 Days!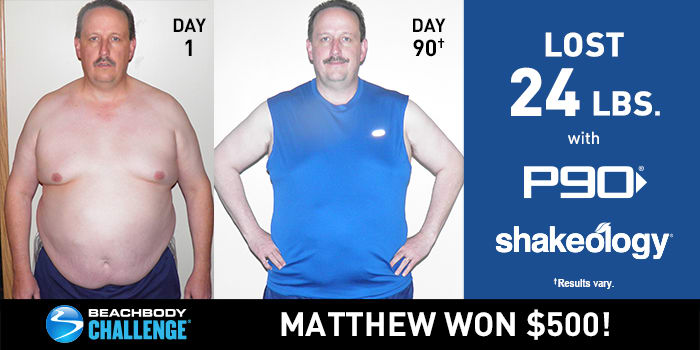 Matthew Bates lost 24 lbs. in 90 days with P90 and Shakeology. He entered his results into the Beachbody Challenge, and won the $500 Daily Prize for August 12th!
Tell us about your life before you started the program. How did you feel about yourself and your body?
I work as an accountant, and I did a lot of sitting. I work for a beverage distribution company, so I drank sodas almost every day. I didn't do much activity in the winters, especially when it was bitter cold. I mainly played computer games at night. I was mostly too tired to play much with my kids. If I did, it was when I was sitting in a chair. I pretty much felt awful all the time. I was lethargic and depressed, which caused me to eat more.
What inspired you to change your life and begin your transformation journey?
I have had Power 90, 10-Minute Trainer, and the P90X programs for a long time (more than seven years I think). I tried doing it once, but didn't really stick with it. I was reminded about the program in the fall of 2015 when my Coach, Jini Rinard, did an advertisement for 21 Day Fix. I got the program, but again I didn't do it much. I even gained more weight over Thanksgiving and Christmas, and finally had enough. I decided I was going to finish a program. I found out that Power 90 was a great way to get into shape for P90x, so I planned it for the new year. A week into the program, my work started a weight-loss competition. So I entered and used Team Beachbody and Power 90 as my tools to lose weight.
What is the greatest challenge you faced before beginning the program? How did the program and Beachbody help you overcome that challenge?
My greatest challenge was just sticking to it (consistency). I would try for a week or two and someone would fix a dessert or some stress would come in my life, and I would just drop the ball. The schedule laid out in the program and the Team Beachbody and my Coach's Facebook page helped me get, and stay, motivated. Tony's humor while exercising also kept me motivated. The program just made it so easy to push play every day. The Shakeology program was the final thing; a shake that tasted good and gave me the nutrients needed to keep me energized.
What in particular did you like about the program you chose?
There are a couple of reasons I like this program. First of all, Power 90 is a great introduction into the P90X program and fitness test. I knew that if I stuck with the P90 program, I would be able to move on to the P90X program and keep my exercising going into the summer. It essentially helped me make a good resolution to start getting into shape in the new year. I also like the way P90 is planned out for you; it's easy to follow and is a great foundation for Team Beachbody and all that it has to offer (website, exercising, motivation, etc.). Last, and definitely not least, Tony and his humor were awesome. It didn't matter how many times I pressed play, Tony's humor would crack me up and keep me going. I look forward to hearing and seeing more as I progress further.
Describe the results you achieved with your Beachbody program. Which achievements are you proud of?
The results are exciting and amazing. Yes, I still have a long way to go, but I am feeling so much better. I am able to do yoga and upward and downward dog (even though I don't like it hehe). I am able to do push-ups and crunches. I am able to do stretches and have it feel so good and not feel tight. The achievement that I am the most proud of is being able to do push-ups. How many men that are in a 250-pound weight class and almost 50 years old can do push-ups and power yoga? How many of those same men can go walking for 40 minutes to an hour each day and have it be a relaxing, wonderful time each day to spend your breaks (20 minutes each time)? I love being able to do things without being tired. I can't wait for the snow to melt from the mountains this summer!
How has your life changed since completing your Beachbody program?
My life is changing completely. I can play with my children. I can mow the yard for hours. I can do yard work. I can lift and move things around. The list goes on and on. Just simply having the energy to do things is so much fun.
How did your Team Beachbody Coach support you on your journey?
She has a Facebook page where all her Team Beachbody members get to talk and look at pictures. She shows what she is doing and has special days like #FlexFriday. She is always upbeat and excited when you accomplish things. She is very active and keeps in contact with her people, yet at the same time is not pushy. She is just a motivator, and that is what I needed.
How did a Beachbody supplement, nutritional product, or program (such as Shakeology or Beachbody Ultimate Reset) support your transformation? What are the greatest benefits you gained? Did you see benefits to your energy, sleep, mood/mental clarity, or digestion/regularity?
Shakeology is great on the mornings I don't have time to fix breakfast or on the days that dinner is going to be late. It provides a nutritious and tasty meal replacement that I can use. I think it allows me to keep a balanced, nutrient-rich diet, so I can fuel my exercise program without running out of energy.
You can change your life, too. Take the Beachbody Challenge for the tools you need to Decide, Commit, and Succeed! Complete any Beachbody program, and enter your results for a free gift and a chance to win cash and prizes. What program are you committing to next?

†Results vary depending on starting point, goals, and effort.