"My Strength, Energy, and Fitness Level Skyrocketed"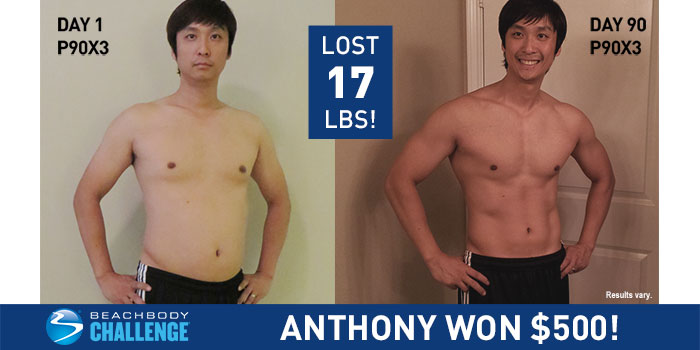 †Results vary depending on starting point and effort. Anthony is an independent Beachbody Coach.
Meet Anthony L. He lost 17 lbs in 90 days with P90X3. He entered his results into The Beachbody Challenge, and won the $500 Daily Prize for March 22nd!
Tell us about your life before you started the program. How did you feel about yourself and your body?
I have always been that "skinny Asian guy over there" and when I got older, I just became this "skinny, fat Asian guy", who was always tired and was never motivated to do anything. I didn't care what I was eating, and even though I tried to work out here and there, it just wasn't enough to motivate me to follow through. I was gaining weight around my waist, and my health just kept deteriorating, so I had to do something soon. About a year ago, due to some symptoms, I bought a diabetes home test kit and after the test, I found out that I was borderline type 2 diabetic.1
What inspired you to change your life and begin your transformation journey?
After a shocking pre-diabetic test result, I had to do something. I had to lose weight and eat healthier. When I saw P90X3's workouts, support system, and the result photos, I wanted to try this. I thought with all the support from the community, I can follow through and complete a program that's just 30 minutes a day. I wanted to do this for my health and for my family. I just wanted to feel good about myself again.

What is the greatest challenge you faced before beginning the program? How did the program and Beachbody® help you overcome that challenge?
For me, it was finding and keeping up with the right diet. I am a foodie by nature and when it comes to food, I didn't think twice about what I was eating as long as it tasted good. I had to think differently and re-adjust. I took time to read the nutritional guide book, drank my Shakeology, and made my daily meal list before the first day of the program. After a month, it became easier and easier. Now, my strength, energy, and fitness level skyrocketed through the roof. I feel lighter and can breathe better.

What in particular did you like about the program you chose?
P90X3 was actually the first workout program that I was actually motivated to follow through with and complete every day, and I saw noticeable result right away. I think it was because of the easy to follow exercises, and Tony Horton's  jokes that kept me smiling and pushing through. Writing down the reps on a sheet really lets you see the gradual achievement on a weekly basis and motivate you that much more. P90X3 also had an easy to follow workout schedule system that I posted on my refrigerator. This was amazing for me because I saw it every time I opened my refrigerator! I was happy when I saw all the X marks on the schedule, and I was so proud that so see how far I'd come since the beginning.
Describe the results you achieved with your Beachbody program. Which achievements are you proud of?
The result I've achieved with P90x3 were incredible! I couldn't believe the body transformation I was seeing month after month. I was getting stronger, and I had more energy after each workout. I am very proud of my muscle tone and the loss of belly fat that happened just 60 days into p90X3. I can't wait to see what happens next.

How has your life changed since completing your Beachbody program?
I am stronger, healthier, and I've seen great results on my diabetic tests.1 I have more energy to do things with my family, and I have more knowledge on healthier choices when it comes to food and exercise. I have a lot of great things to share with my peers because I am the living proof. I will always be grateful to Beachbody and the TeamBeachbody support system. Thank you so much.
How did participating in a Challenge Group help you reach your goals? How did your group support you and keep you accountable?
My Challenge Group motivated me and pushed me to complete each workout by posting pictures and comments. Our group traded comments and congratulated each other on every accomplishment.

How did your Team Beachbody® Coach support you on your journey?
My Coach helped me by posting encouraging words, workout tips, and motivational images through social media and the Challenge Group community.

How did a Beachbody Supplement or Nutritional Product or Program (such as Shakeology® or Beachbody Ultimate Reset®) support your transformation? What are the greatest benefits you gained? Did you see benefits to your energy, sleep, mood/mental clarity, digestion/regularity?
Shakeology helped me cut down on my bad diet and reduced my craving for snacking too much. It also helped me to have more energy during the day and during workouts.
You can change your life, too. Take the Beachbody Challenge for the tools you need to Decide, Commit, and Succeed! Complete any Beachbody program, and enter your results for a free gift and a chance to win cash and prizes.

1Always consult with your physician about your unique medical needs before commencing any fitness program or nutritional product.