"My Clothes Were Getting Way Too Big"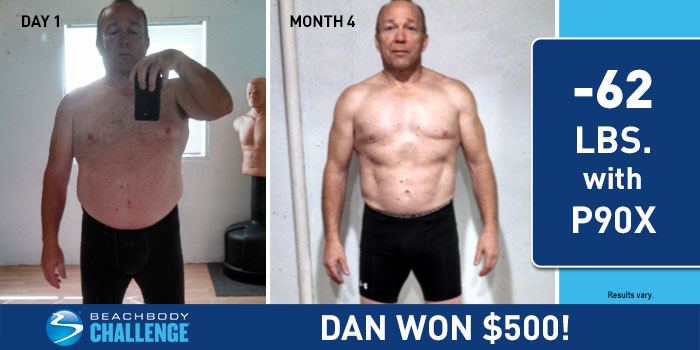 †Results vary depending on starting point and effort. Dan is an independent Beachbody Coach.
Meet Dan M. He lost 62 lbs with P90X. He entered his results into The Beachbody Challenge, and won the $500 Daily Prize for April 19th!
Tell us about your life before you started the program. How did you feel about yourself and your body?
I felt fine, I knew I had put on weight over the years. The old "gain 10 in the winter, lose 5 in the summer" had obviously caught up to me (252 lbs.). I had been in and out of gym memberships many times, and have trained in the martial arts for over 30 years. I felt fine but was on blood pressure and cholesterol medicine.

What inspired you to change your life and begin your transformation journey?
I was attending a Karate seminar and saw myself in some photos that were taken during. I knew I was getting heavy, but never saw myself in photos. My stamina was always fine, and I didn't feel "fat" in my daily life, though I knew I had put on weight.
What is the greatest challenge you faced before beginning the program? How did the program and Beachbody® help you overcome that challenge?
I had purchased P90X several years ago, but had a shoulder injury that made a good excuse not to start the program.1 During my yearly physical, my doctor had indicated that I should get my weight down to 175 lbs. I laughed as I haven't been close to that since junior high school. I told him I could possibly get to 200 (never really believing that I could, let alone as fast as I did). After I had seen the photos of myself at a karate seminar that I attended, I took a real look at how many calories I was consuming in an average day, (sometimes as many as 4000) and knew I had to make some changes. I started watching my food intake and walking. After about a week I decided it was time to dig out the P90X program and give it a try. I am sure glad I did. It was a blast and I could see the results almost right away. I am now about to start using P90X3 to propel myself further toward my fitness goals.
What in particular did you like about the program you chose?
The P90X program was fun and the workouts offered a variety of exercises to keep me interested.
Describe the results you achieved with your Beachbody program. Which achievements are you proud of?
The extra weight I had was mostly visceral, and so my internal organs were engulfed with fat. At one point I was losing 5 lbs. a week. The weight and inches were flying away. People I worked with were noticing. My clothes were getting way too big. I lost 62lbs. in a little over 90 days, and it didn't seem difficult because I was having a blast.

How has your life changed since completing your Beachbody program?
I am healthier, I watch what I put in my body, and I have actually set goals to continue my journey, not necessarily lose more weight, but get more fit. That is why I ordered and am beginning my P90X3 journey this week.
You can change your life, too. Take the Beachbody Challenge for the tools you need to Decide, Commit, and Succeed! Complete any Beachbody program, and enter your results for a free gift and a chance to win cash and prizes.

1Always consult with your physician about your unique medical needs before commencing any fitness program or nutritional product.