Mother of Two Loses 31 Pounds, Wins $1000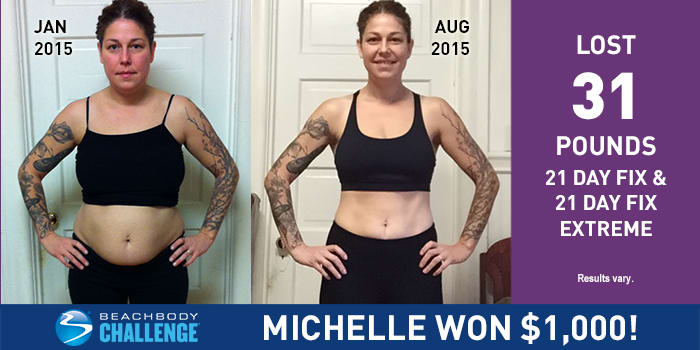 Michelle S, age 41 from Hayward, CA, lost 31 lbs with 21 Day Fix and 21 Day Fix EXTREME. She entered her results into The Beachbody Challenge and won $1,000!

Tell us about your life before you started the program. How did you feel about yourself and your body?
My life before I started this was spent in constant pain, fatigued, bloated and not fitting into my clothes after having 2 kids in the last 4 years. I was feeling pretty bad about myself and my body and probably a bit depressed. I was so unhappy with the external way I looked, but more importantly, how I felt on the inside. Now I have more confidence than ever, and I feel better than I have felt in years!
What inspired you to change your life and begin your transformation journey?
I just felt like it was time to take charge of my life and do something about it. Not just a crash diet or an exercise program but a realistic change in my lifestyle. 21 Day Fix was exactly that for me. I have completed 3 rounds of 21 Day Fix and 1 round of 21DFX but I am still going. This is a part of my life now. And I love it. I could never imagine going back! I am a better person, friend, mother, wife, and I feel proud of myself for the first time in a long time.
What is the greatest challenge you faced before beginning the program? How did the program and Beachbody® help you overcome that challenge?
I was a big procrastinator. And honestly felt like I couldn't do it. I was just too busy or too tired – but this program literally changed my mental, emotional and physical self. I am so grateful. Thanks for creating a realistic program that I can stand behind every single day. Now my goal is to help others on their journey. Autumn is my hero. She has changed my life as well as my family's life. I am so grateful!
What in particular did you like about the program you chose?
30 min workouts and the easy to follow eating plan. Also, Autumn's motivation and support every day through the TV. She helped me to keep going!
Describe the results you achieved with your Beachbody program. Which achievements are you proud of?
More energy I'm happier No more feeling bloated. Into size 5 pants! Digestive system working like it should. And I lost 31 lbs and several inches!!
How has your life changed since completing your Beachbody program?
See above. I am so much happier in my life, more motivated and have learned so much about nutrition, exercise, overall health and what to look for going forward. This has been a life changer! Thank you!
How did participating in a Challenge Group help you reach your goals? How did your group support you and keep you accountable?
This was a huge part of my success. The accountability and support is everything! We all checked in everyday and cheered each other on. It was an amazing support group.
How did your Team Beachbody® Coach support you on your journey?
Mick is the absolute best! I am so lucky to have him. He would provide tips, recipes, encouraging words and the best support! He was a born Coach!
How did a Beachbody Supplement or Nutritional Product or Program (such as Shakeology® or Beachbody Ultimate Reset®) support your transformation? What are the greatest benefits you gained? Did you see benefits to your energy, sleep, mood/mental clarity, digestion/regularity?
I love Shakeology. It's literally my favorite meal of the day. I wish I could have 3 or 4 or 5 a day!
How did a Beachbody Supplement or Nutritional Product or Program affect any existing health conditions you have?
I'm anxiously awaiting the Beachbody Performance Line to become available. I'm ordering it ASAP!
You can change your life, too. Take the Beachbody Challenge for the tools you need to Decide, Commit, and Succeed! Complete any Beachbody program, and enter your results for a free gift and a chance to win cash and prizes.