"As a Mommy of 2, I Have Dropped 26 Pounds and 20.5 Inches!"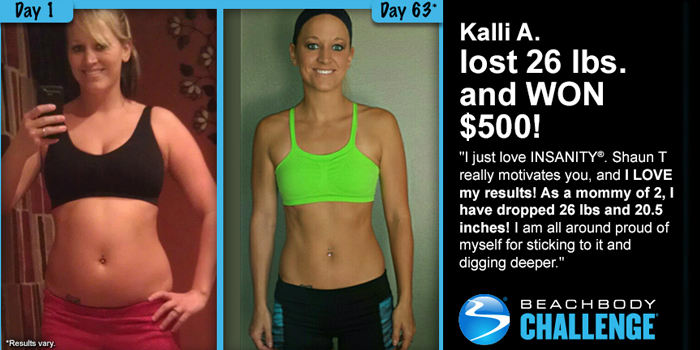 Meet Kalli A.! She participated in The Beachbody Challenge and won the $500 Daily Prize for December 3rd!
Tell us about your life before you started the program. How did you feel about yourself and your body?
I am a mommy of 2. I never ate healthy. I have a husband and children who loved me and that's all that mattered. Inside I was depressed. I didn't like looking in the mirror because I always looked at what I didn't like and what I wanted to change.
What inspired you to change your life and begin your transformation journey?
I wanted to change my life for my children and for my health. I want to be around for a long time to watch my babies grow. Also, more importantly, I want to inspire my kids.
What is the greatest challenge you faced before beginning the program? How did the program and Beachbody® help you overcome that challenge?
Healthy eating habits and finding the time to get a workout in. Beachbody helped me overcome the challenge because I learned when I get up in the morning, I put my workout clothes on. My body got use to it and became a habit to just push play.
What in particular did you like about the program you chose?
I just love INSANITY, and enjoy how Shaun T really motivates you and pushes you during the routines.
Describe the results you achieved with your Beachbody program. Which achievements are you proud of?
I LOVE my results! As a mommy of 2, I have dropped 26 lbs and 20.5 inches! I am all around proud of myself for sticking to it and digging deeper.
How has your life changed since completing your Beachbody program?
I am way more energized, feel healthier, no longer depressed, and I love working out everyday.
How did a Beachbody Supplement or Nutritional Product or Program (such as Shakeology® or Beachbody Ultimate Reset®) support your transformation? What are the greatest benefits you gained? Did you see benefits to your energy, sleep, mood/mental clarity, digestion/regularity?
I LOVE Shakeology!!! I have so much energy seeing all the benefits that Shakeology has provided is amazing! I feel like a different person, a healthier person!
You can change your life, too. Take the Beachbody Challenge, for the ultimate motivation to get fit! Select any Beachbody program and once you complete it, share your results for your chance to win cash and prizes.