Mom Loses 24 Pounds with 21 Day Fix EXTREME and P90, Wins $500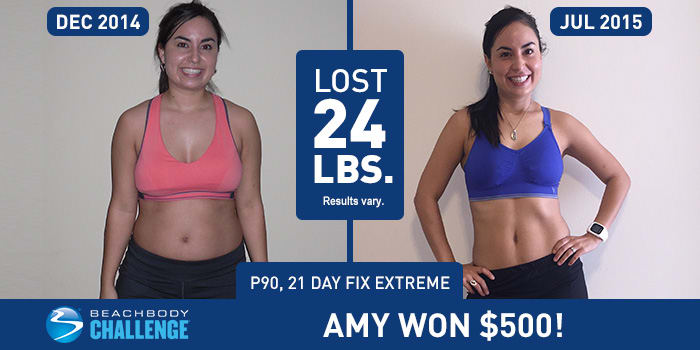 Amy Molina lost 24 lbs. with P90 and 21 Day Fix EXTREME. She entered her results into the Beachbody Challenge, and won the $500 Daily Prize for November 10th!
Amy is an Independent Beachbody Coach.
Tell us about your life before you started the program. How did you feel about yourself and your body?
When I first started Beachbody programs, I had hit rock bottom with my fitness. I was miserable, and that was leaking into my relationships. I had no self-confidence, and I honestly was as negative as can be. I was looking for quick fixes, and would beat myself up when the quick fix didn't last. I was ashamed of myself, and I didn't want to be around others! I honestly never thought I would be happy again!
What inspired you to change your life and begin your transformation journey?
When I realized that my husband and I weren't happy anymore, that's when I decided I needed to make a change. The life I was living was not the life I wanted. I was going to change that for him and for me!
What is the greatest challenge you faced before beginning the program? How did the program and Beachbody help you overcome that challenge?
My nutrition! I have always been that person that works out to eat badly. Well, I wasn't getting results so I decided to go all in! I love how the programs have meal plans and guides to tell me what to eat. I loved how P90 has the 6-Day Shred, and how I literally have a book of what to eat from 21 Day Fix and 21 Day Fix EXTREME.
What in particular did you like about the program you chose?
I can't choose one thing in particular. I absolutely love the entire program! It was made perfectly to help those that need that detail in order to finish something through. The list of foods was ideal. I knew what I could have, and how much, within the second week. The workouts were perfect! By the time I realized it, I was already done with four rounds.
Describe the results you achieved with your Beachbody program. Which achievements are you proud of?
The results I saw from P90 and 21 Day Fix EXTREME were amazing! I lost all my baby weight, I gained my muscles back, and I can start to see some definition in all parts of my body! Something I have not seen since I was a teenager! I'm most proud of my nutrition. I thought it would have been harder than what it was. The food that I am allowed to eat tastes amazing, and it actually is a lot of food. At one point, my family said, "I thought you were trying to lose weight, you are eating a ton." It felt good to not be hungry and to see results quickly. I am also proud that I could go out to dinner, and still have that slice of pizza or glass of wine without feeling guilty.
How has your life changed since completing your Beachbody program?
I'm back to being me! I have a ton of energy, confidence, and I'm full of positive thoughts. Beachbody programs don't just change the way you look; they change your entire life, including mindset. I am so glad, because now I'm the person I have always wanted to be! My relationships have changed. I'm a better person. Now I'm able to be a role model to not only my husband, but also my daughter.
You can change your life, too. Take the Beachbody Challenge for the tools you need to Decide, Commit, and Succeed! Complete any Beachbody program, and enter your results for a free gift and a chance to win cash and prizes.

*Results vary depending on starting point, goals, and effort.