Meet Megan Davies, Creator of Clean Week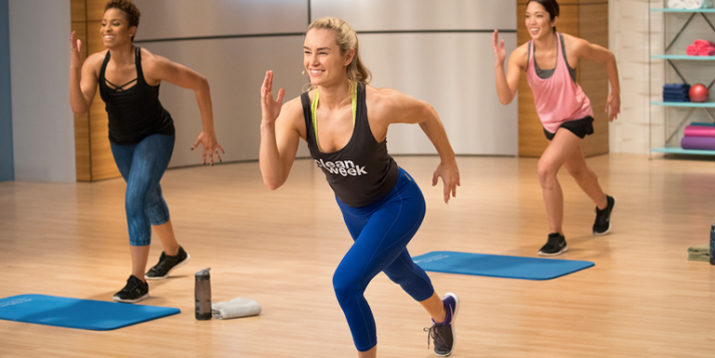 BODi Super Trainer Megan Davies created the Clean Week program which helps people establish healthy habits in just seven days.
She's a premier fitness and figure competitor and owns a successful gym in her hometown of Coral Springs, Florida.
We got a chance to sit down with Megan, learn how she got into fitness, why she loves working with beginners, and who she admires most.
How did you first get into fitness?
Megan Davies: I was always active when I was younger. I did all kinds of sports. I was one of those kids always outside doing something.
Dance and gymnastics were my two main activities, then I got into weightlifting in high school.
I started training for fitness and figure competitions at age 14 and did my first competition the day after my 15th birthday. I just fell in love with it. It combined my two loves of gymnastics and weight training.
When did you start training others?
My dad was the first person I trained. Growing up, I saw my dad gain and lose weight like a rollercoaster.
He loved to exercise but didn't have time because he was always working to support the family. I felt bad. So I told him I wanted to work out with him and go on this fitness journey together.
He got really excited and decided right then and there that he was going to do a figure competition by the time he turned 50. He was 47 at the time.
So, we started learning about health together, working out together, meal prepping together.
We set up a mini gym in our garage and started weight training, and sure enough, at age 49, he competed in his first bodybuilding competition and won first place in his age group.
Helping my dad make his transformation made me realize that I have the ability to motivate beginners in fitness and really make a difference.
This is when I knew I wanted to work with beginners, to help them turn their lives around and reach their goals.
How did the family gym start?
After my dad made his big transformation, my mom said, "Well, if you're going to be fit and have abs then I'm going to do it, too!"
So she started working out with us in the garage, and soon after my older brother joined in.
We all started working out together as a family and pushing each other. Then the neighbors started coming over and joining us. They all wanted to be part of this fitness journey with us.
Sometimes we did Beachbody's P90X in the garage on Saturdays. It's funny how things come full circle!
After high school, I moved three hours away to Orlando to go to college at the University of Central Florida, but I still went back home all the time to workout with my family.
We were getting quite a following of people coming over to get trained on a regular basis. My dad, brother, and I all got certified in personal training, and we offered it all for free. We just loved doing it.
A couple of years after college, my family and I opened a gym in Coral Springs.
It was 2011 when our gym "Training for Warriors" was born. My dad had some experience with owning a business, but we really didn't know what we were getting into.
We just knew we loved what we were doing and we knew we wanted to do it full-time.
We put all the equipment we had from the garage into the little 1,000-square-foot gym and we just hoped that people would actually show up and join the gym.
But it worked — people joined because we treated them as we always did — as part of our family.
Showing our clients love and support is how they got results and the gym grew really fast.
We went from 1,000 square feet the first year, to 2,000 the second year, to 4,000 the third year at the location where we've stayed ever since.
Me, my dad, my brother all teach classes and train people. My mom is the office manager.
People are happy and are seeing results, and we couldn't be more proud of what we are doing!
Who do you most admire?
I've been following this girl named Jennifer Bricker on social media. She is a gymnast and aerialist who was born with no legs.
She inspires me to never say that I can't do something, and to always go for what I want with as much energy, effort, focus, and passion as I can.
To put it all out there and just see what happens. It's easy to say "I can't" or "it's hard" to go after your dreams, but this woman didn't let her physical limitations stop her, so that inspires me to really go for it in life.
Why do you love working with beginners?
I love working with beginners because that's how I got started — pulling my family, friends, and community along with me on my fitness journey.
I mean, of course, it's fun to train really fit people because you can push them to do some extraordinary things.
But to motivate someone to take their first step on their fitness journey is really special because they always have that connection with you: I'm the person that got them moving and helped change their life.
This is why I created Clean Week specifically for beginners, with workouts anyone can do and a simple nutrition plan that includes Shakeology.
This program is near and dear to my heart because it's my passion to help people get onto the right path.
I couldn't be happier right now. I get to help people every single day. And working with BODi, that reach has been extended further than I ever thought possible. I'm really excited for what the future holds!