Meet the Grand Prize Finalists of the Beachbody Challenge 2016!
This July, we'll be handing out two huge checks — $100,000 each — to the Grand Prize Champions of the Beachbody Challenge contest. Right now, we need your help to decide who wins this life-changing reward! These eight Grand Prize Finalists have achieved extraordinary transformation results with Beachbody's system of fitness, nutrition, and support. Check out their stories and cast your votes each day until June 27 at 11:59 pacific.
WOMEN 18–29: Military veteran Kailin Turner overcame the challenges of PCOS and single-motherhood to lose weight and achieve an elite physique.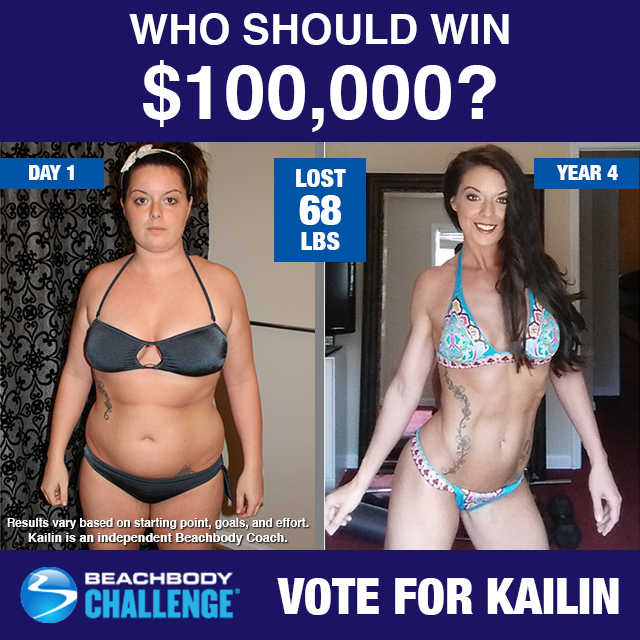 "I went from a size 18 to a size 2 all by working out with Beachbody Programs. I am proud to say that I could get these results at home in a short amount of time each day. I am proud that I stuck with it, no matter how long it took me, I stuck with it. I trusted the process, and it worked." —Kailin
WOMEN 30–39: Morbidly obese mom-of-two Carmen O'Quinn shed 161 pounds while working out with her husband at home.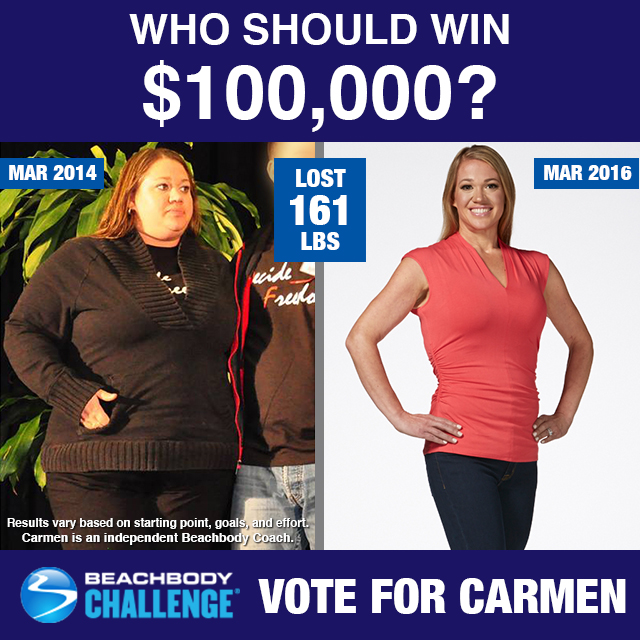 "I was shocked, and I mean shocked, when I lost my first 100 pounds in only 202 days! In the first round of P90X, I lost 42 pounds. In my second round, I lost 45 pounds. In my third round, I lost 31 pounds. To date, I have lost a total of 161 pounds using the Beachbody system. I went from a woman's size 22 to a junior's size 4. But even greater than the weight I have lost is the confidence I have gained." —Carmen
WOMEN 40–49: Nicole McMillin overcame unhealthy eating habits and lost over 100 lbs. in less than a year.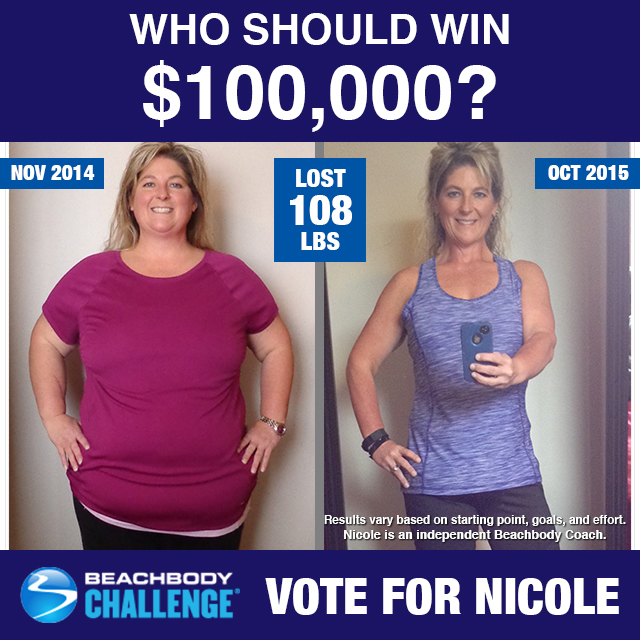 "I never knew that exercise could be so straightforward, enjoyable and rewarding! I have reached two of my long-term goals: 1. Lose 100 pounds; 2. Fit into a single digit jeans size. And I do believe that I have also hit my third long-term goal, which is to maintain a new healthy lifestyle! I am so proud of the weight that I have lost and the shape that my body is taking; however, even more awesome is the example that I am showing my kids." —Nicole
Women 50+: Laura House, a 55-year-old grandma of 8 lost 91 pounds and is now training for marathons.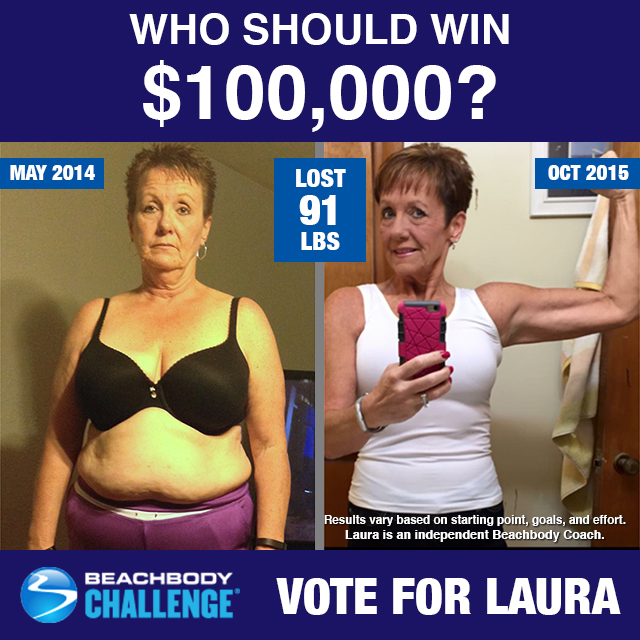 "I've lost over 90 pounds since May 2014, and today I'm healthier than I've ever been in my life. I look in the mirror and can't believe I'm the same person! I'm loving life, and the biggie: I finally love myself, which allows me to be a better mom, wife, and grandmother. I will never go back." – Laura House
MEN 18–29: Travis Nutting overcame the challenges of hypothyroidism to shed an astonishing 159 pounds.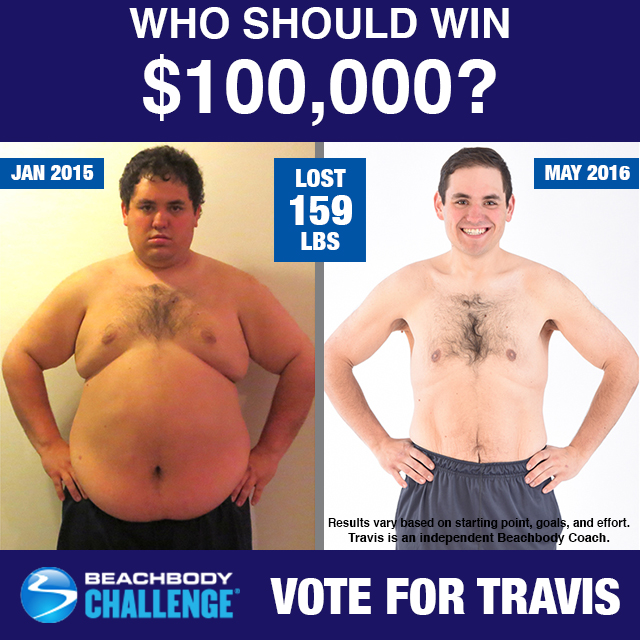 "Being able to shop in the normal-sized sections of stores has brought me to tears; I was so used to having to drive a half hour to the closest big and tall store just to find a t-shirt. I am at a new level of confidence and energy in life that I have never been at and it is the best time of my life. Beachbody has truly changed my life. I feel like I actually have a chance at a healthy life, rather than accepting that I would always be big and unhealthy." —Travis
 MEN 30–39: Justin Wells shed 164 pounds to get healthy and keep a promise to his newborn son.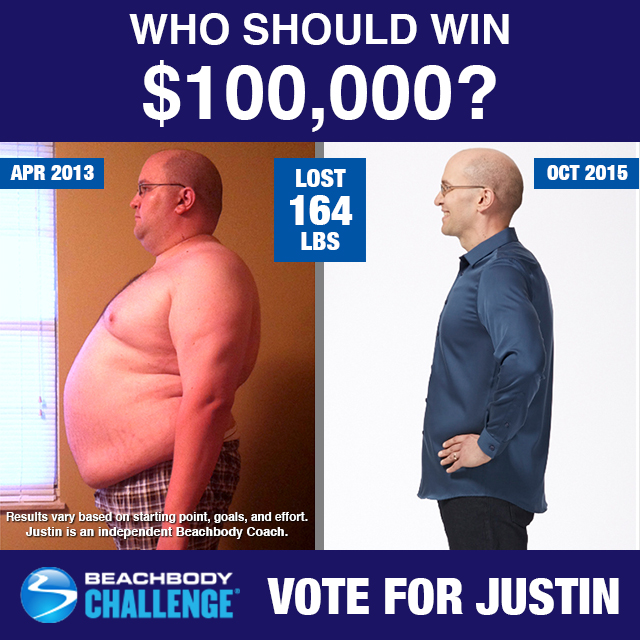 "Beachbody and its programs have breathed a breath of refreshing hope into my lungs. I have lost [over] 160 pounds and likely over 100 inches, but just as importantly, I feel as if I have altered my body composition in a pretty dramatic way. I feel like a vastly improved version of my former self, and I cannot imagine how great I will feel as I continue to follow Beachbody's amazing programs!" —Justin
MEN 40–49: Busy single father Bryant Manning made the time to get fit while taking care of his son.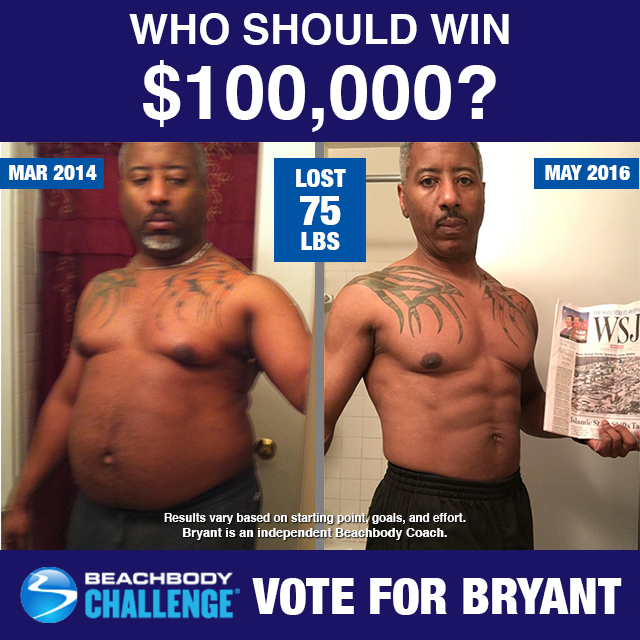 "I'm a single dad raising a teenage son with special needs while being quite busy as an IT Professional. I blew up to 244 pounds as a 46-year-old man, with high blood pressure, and I was chained to meds and a sleep apnea machine*. For some reason, the FOCUS T25 infomercial caught my attention and I just ordered it. Four months later, I had lost 43 pounds. To date [May 2016], I have lost 75 pounds and haven't looked back. I'm forever grateful for Beachbody and am driven to pay it forward." —Bryant
 MEN 50+: Former couch potato Michael Morrow took the challenge head-on and lost 110 pounds in one year.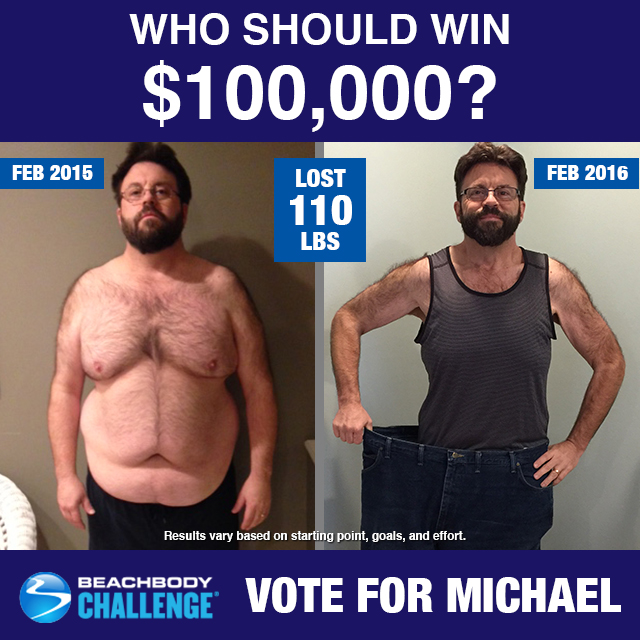 "When I began 21 Day Fix, I knew I had to go all-in or nothing. I started out following [the modifier], because she made it seem attainable, and Autumn's encouragement really kept me motivated. … My life has done a 180. It sounds so cliché, but really, my energy is through the roof. I am 55 years old and I am doing things I haven't done in 20 years. One of my biggest goals was to be able to go into any store and buy a pair of jeans off the rack in a size 42 waist. I have achieved that goal and surpassed it by 8 inches." —Michael
Cast your votes today, and each day, until June 27!
*Always consult your physician before stopping or altering  any prescribed medication.