From Ballerina to Boxer to Total Badass: Meet Beachbody Trainer Sophia Rose
If you've been wowed by her high-flying leaps and animal-style HIIT moves, you know Sophia Rose doesn't mess around when it comes to fitness.
With nearly a million followers on Instagram, she's inspired hundreds of thousands of people with her bodyweight exercises that leave even the fittest athletes dripping with sweat.
As a former professional dancer with boxing training, Sophia's got the grit and grace to make her workouts look easy — but they're far from it.
Unlike anything you'll see in a typical fitness routine, her Beachbody-exclusive program, Bomb Bodyweight Blast, incorporates super-explosive and dynamic plyometric moves with primal fitness and boxing elements that'll make sure you feel the burn.
But as a self-described goofball and a total softy, there's more to Sophia than her high-octane moves.
We talked with her about her roots in fitness and what she brings to Beachbody.
Beachbody: It probably wasn't easy to grow the following that you've built online. How was that journey?
Sophia: I started on Instagram with no intention of building this following. When I was really getting into fitness and posting my workouts consistently, I started to get messages from people who found my page.
They were saying that I was changing their lives with my workouts, and that was a huge motivation for me to continue. 
I was like, "Wow, I have this power and effect on a small percentage of people, but it's a huge part of their world."
So since then, I've been trying to be a motivating factor for people who are trying to get into fitness. For me, that's everything.
What got you interested in fitness?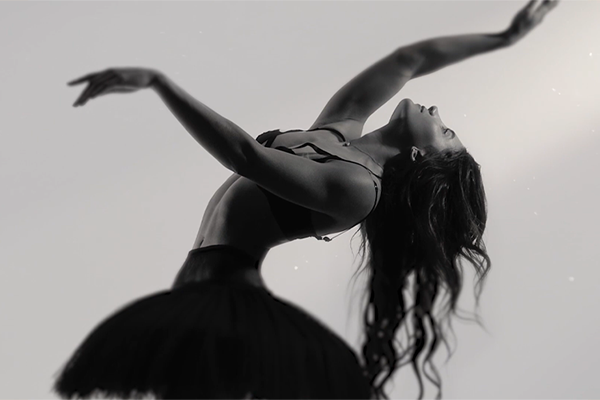 I was about 4 years old and my parents put me in all kinds of extracurriculars, starting with gymnastics, ice skating, swimming, and ballet.
Ultimately, I chose to stick with ballet because I had a big passion for it at a young age, and I was really talented.
When I was 15 years old, I turned pro with the San Francisco ballet, and danced with them for almost four years.
I always told myself that I never wanted to be like those super-super-skinny ballet girls who starved themselves, but because I was already at that pro level, I had to.
They told me that my body type was too muscular, so I pretty much just stopped eating. I was eating maybe 100 calories a day for that period of time.
But I ultimately quit because I was really unhealthy.
My experience with ballet is what helped me get into boxing, and I realized that I don't have to be super-skinny to feel strong and look sexy! 
Going from ballet to boxing sounds like a pretty big leap. What was that transition like?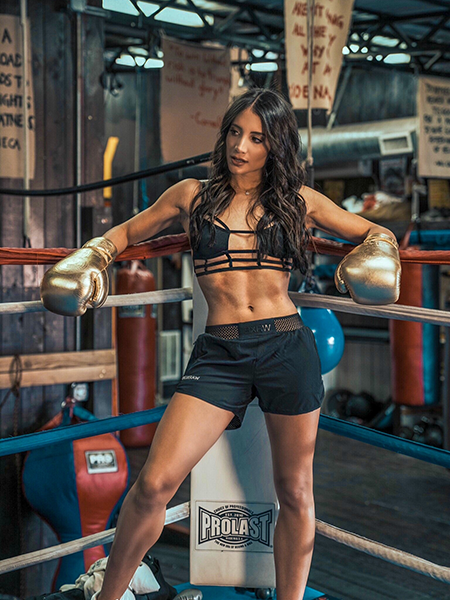 It was a super-clean cut from ballet. When I quit, I was completely out and went right into boxing. I was always kind of interested in boxing — I used to watch it a lot on TV and thought it was really cool and badass.
But it was such a male-dominated sport. So I took it up and started training, and it was actually a really natural transition for me.
I was really good at it, mainly because it's a lot of rhythm and footwork, and that's where my ballet tied in; that body awareness came easily to me.
I started training four to five times a week and just loved it. It really made me realize women are just as badass and just as strong as men, and we're totally capable of doing anything. 
What is the inspiration behind your program?
A lot of my moves are geared towards both men and women. It's pretty much just for anyone.
My program definitely stems from my background, incorporating a lot of my boxing training and my ballet moves, with my jumps and super-plyometric, explosive moves.
I don't want people to come out of a workout feeling like, "Man, I barely sweat. I didn't really feel that," or "I don't know what I was working."
I want people to know what they're working and feel it, and feel the results. That's really what I'm about, even when I train for myself.
You gotta challenge yourself to feel that change.
What classes are included in your program?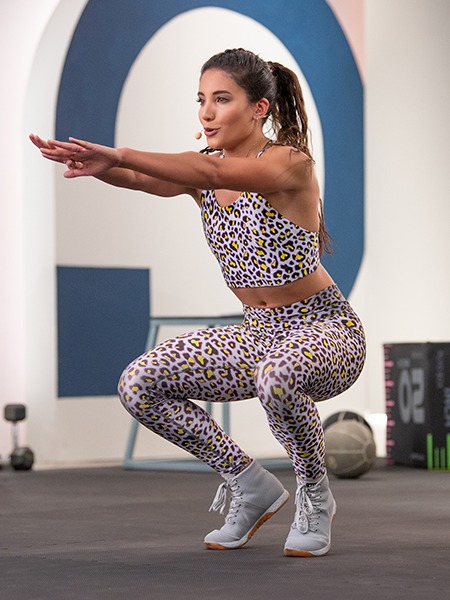 It's a total of 10 workouts. Five of the workouts are going to be full-body, badass, cardio-style workouts.
We also have a booty-focused workout, an abs workout, and a workout specifically tailored to boxing.
And we have another workout specifically focused on primal fitness and animal-flow moves.
My 10th workout is my Dynamic Dozen, which is 12 of my signature moves that I'm known for from my Instagram.
What can people expect from your workouts?
In these 30 days, people can expect to be challenged and take their fitness to an entirely new level, not to mention feel a little "badass."
They're going to be incorporating boxing and primal moves into functional training, so it's not your average fitness program.
It's going to challenge you mentally and physically, but we're in it together so it's going to be great.
Results-wise, you can definitely expect to burn a lot of fat and calories and shred those muscles.
The exercises are super-explosive and intense, so your heart rate is going to be bumping pretty much the entire time.
But you're going to be feeling awesome and way more in shape than when you started.
Do you have any tips or encouragement for those who are going to do your workouts?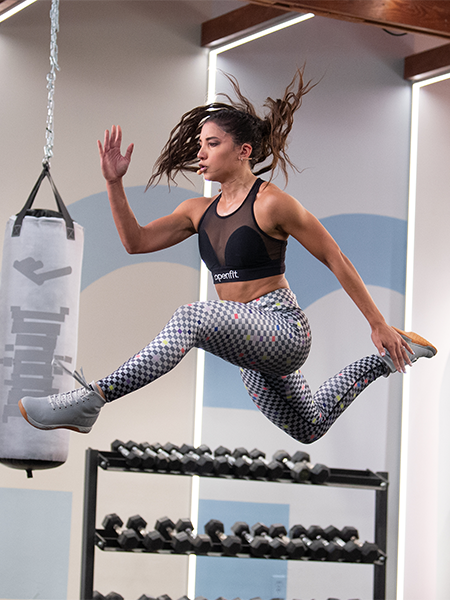 All of my workouts are going to be super fun. Even though they're hard, I'm right there with you guys. You're going to see me sweating and struggling, so it's teamwork during the grind.
These workouts are gonna push your limits, but that's where your mental strength comes in. You guys have the power to be unstoppable with anything that you do.
You're a knockout, you're a champ, you're unstoppable, and you can conquer anything you put your mind and body to.
What might people not expect about you?
I'm a huge dork and super goofy and silly. Most people think I have this really intense persona, but I'm totally a softy and love to laugh!