Carve a Bomb Body With Sophia Rose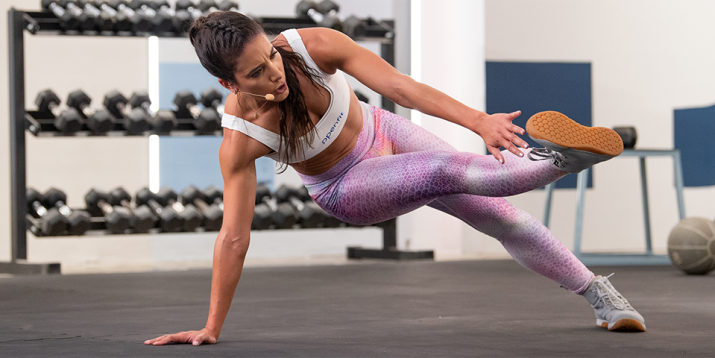 Instagram isn't only a place to see tasty food shots, cute kitten antics, and whatever your ex has been up to.
It's also a nifty source of new workout ideas: A place to get inspired by fitness pros — someone whose content catches your eye and gets you fired up to try something totally new to spice up your workouts and break a sweat.
If your Instagram travels have led you to Sophia Rose, you were likely wowed by her fitness and impressive bodyweight moves.
You might even have found yourself wondering how you might train your own body to get as strong as her and to look that… badass.
Well, here's some good news: Sophia's Bomb Bodyweight Blast program is available on BODi!
She'll coach you through 30 days of workouts — 30 minutes each — designed to burn fat, supercharge your confidence, and sculpt your very own badass body — right at home.
Who Is Sophia Rose?
With more than half a million followers on Instagram, Sophia is a digital fitness guru with serious influence.
Her mesmerizing videos are pure motivation in motion, and whether she's doing her core-crushing, circuit-style bodyweight routines, or showing off her explosive HIIT and plyo moves, she puts the pedal to the floor with the determination of a fighter and the grace of a dancer.
View this post on Instagram
She began her fitness journey competing in both gymnastics and ballet, starting at the age of 4.
After 14 years of formal training, she began to find the demands on her body to be unhealthy, so she turned her attention away from performance, and narrowed her focus to pure physical fitness.
As her skills grew, she fell in love with boxing, began teaching group exercise, and discovered a passion for moving her body in powerful and innovative ways.
"I'm fortunate to be able to inspire hundreds of thousands of people every day to be healthy and strong," she says of her Instagram followers, "to not only look better, but to better themselves through body-positivity."
What Can I Expect From Sophia Rose Workouts?
Sophia's workouts look very different from anything you'll find on Instagram or anywhere else.
They're graceful, powerful, and primal all at once — perfect for people looking to take their fitness to a new level, with cool-looking moves designed to add strength and tone your entire body.
Even better than how good the moves will make you look is the way they'll make you feel — strong, confident, and in tune with your body.
You'll be amazed at how much you can do once you harness the power you have within.
The program includes 10 total-body workouts you'll do over 30 days. Each workout is just 30 minutes long and requires no equipment.
All you need is your own body and the will to get better every day!