Meal Prep This Week with Stuffed Sweet Potatoes, Chicken with Broccoli, and More!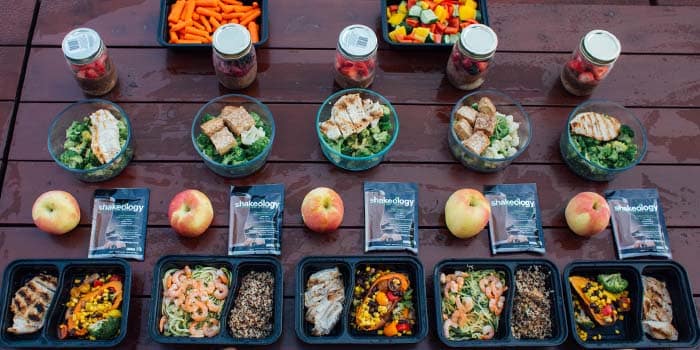 Social Media Manager (and fitness fanatic) Amanda Meixner is something of a celebrity in the meal prep world, and with good reason! Her simple menus with colorful, flavorful ingredients remind us that meal prep doesn't have to be hard. Almost every weekend, she prepares a week's worth of healthy meals and shares her photos on her Instagram account and her blog, Running Wild.
This week her menu includes breakfasts of chocolate overnight oats with fresh berries. Simply combine oats, almond milk, cocoa powder and berries in a mason jar and refrigerate. Make the recipe your own by adding a touch of cinnamon or nutmeg.
Amanda also prepared these tantalizing sweet potatoes stuffed with a medley of vegetables and black beans. Served with grilled chicken breast, they are a filling, high-protein meal. Fans of spice could add seasonings like cumin, oregano, or chili powder to the mix to amp up the flavor even more.
Other meals include zucchini noodles with shrimp and quinoa, super-clean chicken and broccoli, and lots of healthy snacks. Amanda is following the 21 Day Fix Eating Plan in the 1,500-1,799 calorie bracket, and container counts are included for each meal. Scroll down to see her grocery list.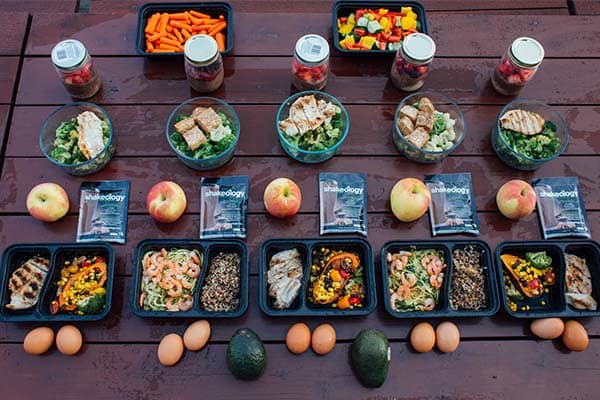 Amanda's Meals for the Week: 
Meal 1 (Breakfast): Overnight oats with 2 tsp. cocoa powder, ½ cup unsweetened almond milk, and mixed berries (2 yellow, 1 purple)
Meal 2 (Snack): 2 hard-boiled eggs with baby carrots and ½ banana (not shown) (1 red, 1 green, 1 purple)
Meal 3 (Lunch M/W/F): Sweet potatoes stuffed with black beans, corn, tomatoes, and broccoli, with chicken, and 2 tsp. olive oil (1 red, 1 yellow, 1 green, 2 tsp.)
Meal 3 (Lunch T/Th): Spiralized zucchini noodles with shrimp, quinoa, and 2 tsp. olive oil (1 red, 1 yellow, 1 green, 2 tsp.)
Meal 4 (Post-Workout): Shakeology blended with water and ice, and an apple (1 red, 1 purple)
Meal 5 (Dinner M/W/F): Chicken with a side of broccoli and ¼ avocado (1 red, 1 greens, 1 blue)
Meal 5 (Dinner T/Th): Tempeh with a side of steamed broccoli and cauliflower and ¼ avocado (1 red, 1 green, 1 blue)
Extra Snacks: Bell Peppers, Cucumber Salad
Grocery List:
1 carton blueberries
1 carton blackberries
1 large carton strawberries
5 apples
3 bananas
unsweetened almond milk
1 dozen eggs
2 avocados
1 bag baby carrots
4 bell peppers
1 cucumber
3 large zucchinis
1 bag tri-color quinoa
3 medium sweet potatoes
1 can black beans
2 bags broccoli florets
1 bag broccoli and cauliflower mix
1 cup frozen corn
1 cup cherry tomatoes
3 green onions
Everything Spicy Flavorgod seasoning
1.5 lbs chicken
1 packet tempeh
8 oz. baby shrimp
olive oil
cocoa powder
5 packets Shakeology