Meal Prep Mondays – Week 13
There is no better way to set yourself up for a busy week than to prep your meals ahead of time! With healthy snacks, lean proteins, and lots of green veggies at your fingertips, you'll also be setting yourself up for success in reaching your fitness goals. Since all of your grocery shopping will be done and your meals will already be made, you'll be more likely to stick to your nutrition plan. And, if you're the type who orders takeout or hits a vending machine when you're too busy or tired to cook, you'll also save money!
For successful meal prep you'll need to plan your menu, buy all of the necessary groceries, and set aside about two hours to put together all of your meals for the week. Some people may say, "I don't have two hours!" But add up the amount of time you might spend each day cooking a single chicken breast, chopping vegetables for a salad, or running out to the store, or worse, the drive-thru, for something to eat. If you set aside the time to do it all in one day, you'll actually be saving yourself time during the week. Meal prep can be as simple as making a a large batch of oatmeal or hard-boiled eggs, baking several sweet potatoes and chicken breasts at once, or making a pot of chili. Or, you can get creative with it, like these healthy meal preppers did.
Want to see your meal prep ideas on The Beachbody Blog? Email your healthy meal prep photos to Editors@Beachbody.com and you could be next! Be sure to tell us what it is and include your Instagram or Twitter handle for linked photo credit!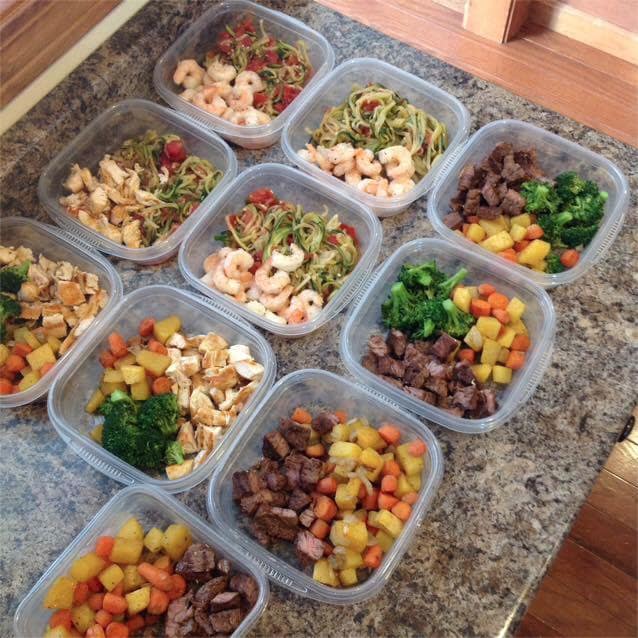 What's on Nicole M.'s menu for the week? Her proteins are grilled chicken, beef, and shrimp, and for sides, she prepared zucchini "noodles" with diced tomatoes and garlic, steamed broccoli, and roasted carrots and turnips. (Each container equals 1 red, 1 green, and 1 tsp.)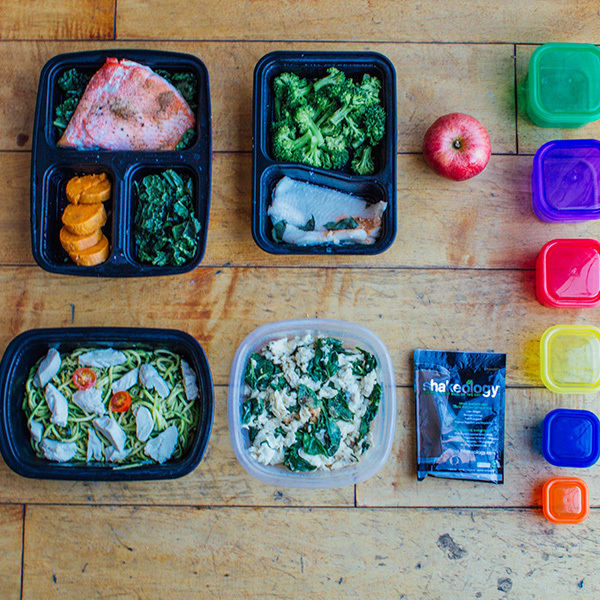 Our social media specialist, @meowmeix, shares a day full of healthy, nutrient-dense foods.
Breakfast: Shakeology blended with water, a frozen banana (not shown), flaxseeds (not shown), and 2 tsp. almond butter (1 red, 2 purple, 1 orange, 2 tsp.)
Snack: 1 egg and 4 egg whites scrambled with spinach, and oatmeal (not shown) (1 red, 1 green, 2 yellow)
Lunch: Chicken with zucchini noodles and cherry tomatoes sautéed in 1 tsp. olive oil and Garlic Lovers Flavorgod seasoning (1 red, 1 green, 1 tsp.)
(Post-workout): Baked trout, broccoli, and an apple (1 red, 1 green, 1 purple)
Dinner: Baked salmon, kale sautéed with 1 tsp. olive oil and Garlic Lovers Flavorgod seasoning, ¼ avocado (not shown), and yams (1 red, 2 yellow, 1 green, 1 blue, 1 tsp.)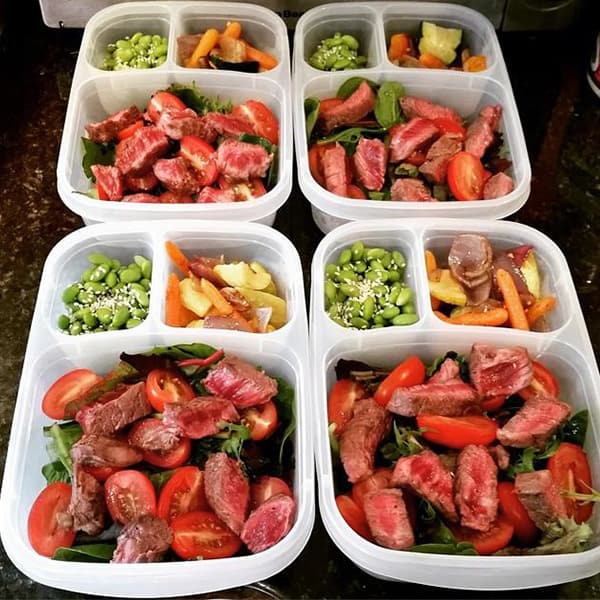 We love this colorful meal prep from @kmtbfit. She's eating balsamic steak salad, roasted veggies, and edamame with sesame seeds. (1 red, 2 green, 1 yellow, 1 orange)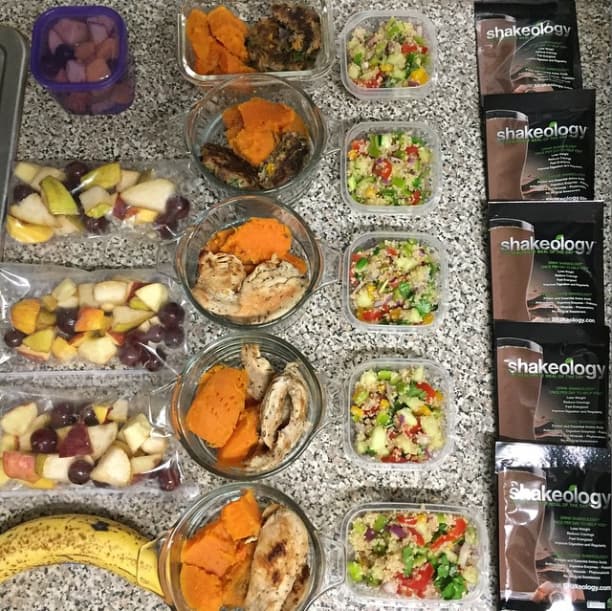 @mallory.rod stays on track with 5 days of breakfast, lunches, and snacks prepped in advanced. Her meals include Shakeology (1 red), fruit for snacks (2 purple), and lunches of  chicken and sweet potato or turkey burgers and sweet potato with quinoa salad. (1 red, 2 yellow, 1 green)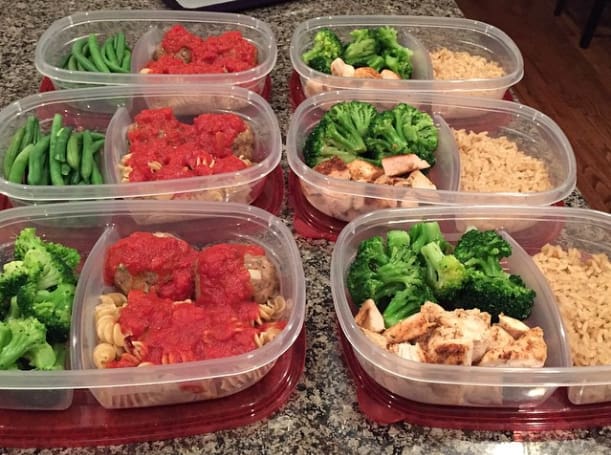 @jessicafaye929 preps her dinners ahead of time. This week she made turkey meatballs with whole grain pasta and veggies, and southwestern grilled chicken with brown rice and broccoli. (Each container equals 1 red, 1 yellow, and 1 green, plus ½ purple for the marinara sauce on the pasta.) Turkey meatballs are always a good idea, and you can make a lot of them at once. We suggest making an extra batch and freezing them.