#mbfa: How to Do the Hollow Straddle Reach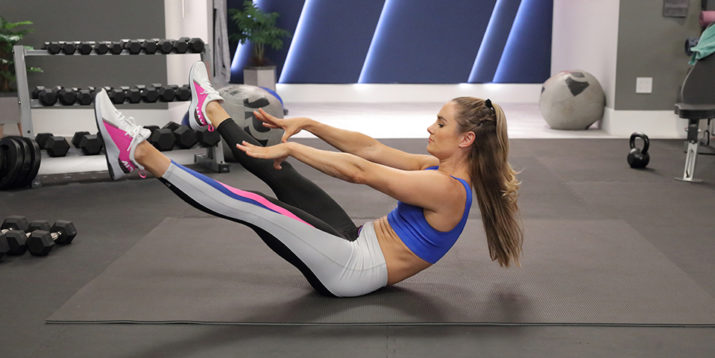 Does muscle burn fat? It sure does — and that's why resistance training is key when you're trying to lose weight.
Our new #mbf Muscle Burns Fat and #mbfa Muscle Burns Fat Advanced workout programs will help you build muscle, burn fat, and get next-level results.
Created by Super Trainer Megan Davies, these two three-week programs mix strength training and cardio for a total-body workout that'll help you crush your fitness goals.
Start with the beginner-friendly #mbf Muscle Burns Fat, then ramp up the intensity when you're ready with #mbfa Muscle Burns Fat Advanced.
From start to finish, these challenging 25- to 35-minute workouts are designed to get you toned and strong while torching calories.
Check out this move from #mbfa Muscle Burns Fat Advanced that'll challenge your core, improve stability, and get your muscles shaking.
How to Do the Hollow Straddle Reach
Lie flat on your back, with your legs extended straight out and your arms fully extended overhead. Keep your legs about shoulder-width apart.
Lift your shoulder blades off the floor, press your lower back into the floor, and engage your core. Without arching your back, lift your heels off the floor so your feet hover a few inches above the floor (as low as you can maintain without arching your back). This is the starting position.
Lift your chest and reach your hands between your legs as you come up to a full sit up. "Maintain your balance while keeping the legs still and focusing on the abdominal muscle contraction to really hit those abs," Braun says.
Reverse the movement to return to the fully lengthened position (a.k.a. the hollow body hold).
Pro tip: The standard hollow body hold is the starting position for this straddle reach variation, so work on strengthening your hollow body hold before you try this move, says Beachbody fitness expert Cody Braun.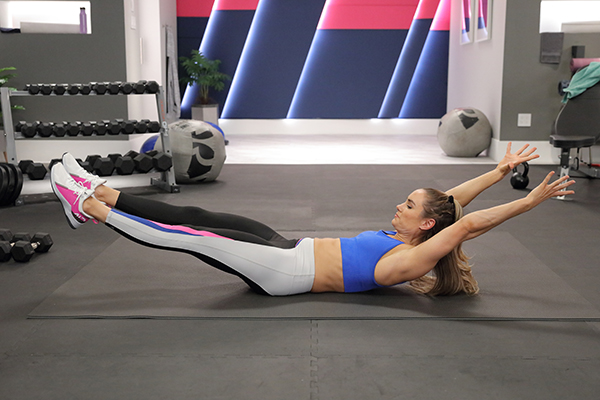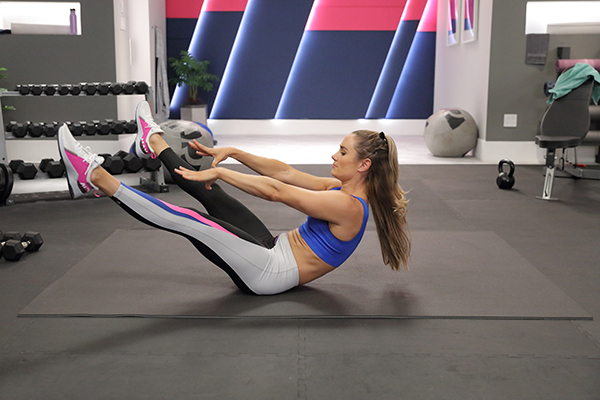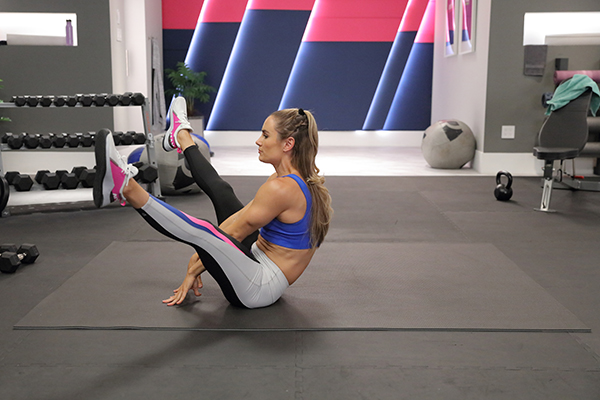 Make sure your form is on point throughout the move.
"Press the lower back into the floor by drawing the belly button to the floor," Braun says. "This bracing method allows you to move through the Hollow Straddle Reach with the core engaged to support the spine."
How to Modify The Hollow Straddle Hold
Still working on strengthening your core? Here are two simple ways you can modify the Hollow Straddle Hold for your fitness level.
1. Break it down
If this move feels too challenging, break it down into its parts. "The hollow straddle reach is a combination of the hollow body hold and crunches," Braun says. "If you need to build up to this progression, focus on getting stronger in both the hollow body hold and crunches first."
2. Bend your knees
Once you're ready to give the Hollow Straddle Reach a go, Braun says, "Try performing the movement with the knees bent or less range of motion in the reach as a modification."
What Does the Hollow Straddle Reach Do?
With this move, you'll build serious core strength and stability.
"This exercise is a progression to the standard hollow body hold, which targets your core muscles, including the Transverse Abdominis and the Rectus Abdominis," Braun says.
Along with challenging those muscles, you'll engage your hip flexors and quads as you keep your legs hovering off the floor.