"No More Maternity Wear!"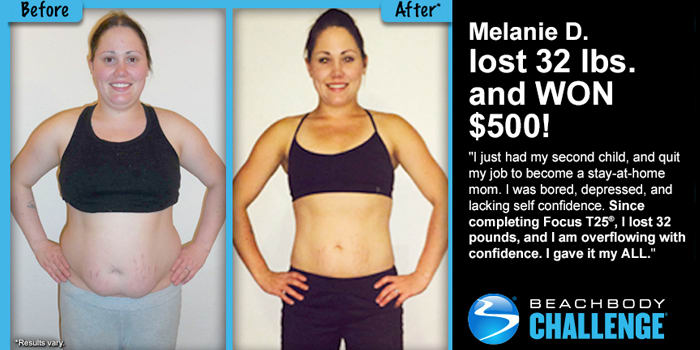 †Results vary depending on starting point and effort. Melanie is an independent Beachbody Coach.
Meet Melanie D.! She participated in The Beachbody Challenge and won the $500 Daily Prize for January 7th!
Tell us about your life before you started the program. How did you feel about yourself and your body?
Before discovering Focus T25, I had just had my second child and quit my job to become a stay-at-home mom. I was bored and found myself sitting on the couch, eating most of the time out of boredom, and depressed and really lacking self-confidence. I had been wearing stretchy maternity jeans since my first daughter was born, and she is 5 years old.
What inspired you to change your life and begin your transformation journey?
I had my husband take some before pictures of me and what I saw in the pictures was far more depressing than what I saw in the mirror. My 5-year-old daughter thought I was still pregnant, and it hit me like a ton of bricks. I wanted to be a good example for my daughter's to look up to. I felt the responsibility of keeping everyone healthy rests on my shoulders being the mother and wife, who prepares all of the meals. I have tried numerous times to get going on some sort of workout plan. Nothing stuck because I had no structured plan. My friend posted her success with Focus T25, and I decided this was my time to commit. I knew in my mind I was going to do this.
What is the greatest challenge you faced before beginning the program? How did the program and Beachbody® help you overcome that challenge?
My greatest challenge was starting this program and not giving up 2 weeks in, like my past track record with trying to get "in shape" has been. Shaun T is such a great motivator in these workouts and the daily accountability with checking into my challenge group kept me going. It was the bonding with people working towards similar goals as myself really made the experience fun! So much fun I decided to become a Coach! The added accountability of running my own challenges and being a coach has kept me on track to reaching my goals!
Describe the results you achieved with your Beachbody program. Which achievements are you proud of?
I lost 32 lbs, and I am most proud of myself for not giving up, I did not miss a single workout, I did doubles every Friday, and I really made a strong attempt to keep my nutrition in line. I can honestly say I gave it my all and did my very best.
How has your life changed since completing your Beachbody program?
Since completing Focus T25, I am overflowing with self-confidence. I enjoy buying new clothes for myself. I feel like Focus T25 gave me my life back and now, I have more energy to play with my daughter. My husband would never say it, but I know and can tell he appreciates the hard work I put in to lose the weight and likes my new look. My whole family is eating a lot healthier since I changed the way I cook and the foods we buy. It's been an overall lifestyle change for all of us and its something we are definitely going to stick with. No more maternity wear, unless I'm actually pregnant. Yay!!
You can change your life, too. Take the Beachbody Challenge, for the ultimate motivation to get fit! Select any Beachbody program and once you complete it, share your results for your chance to win cash and prizes.