Male Beachbody Challenge Winners, Oct 2017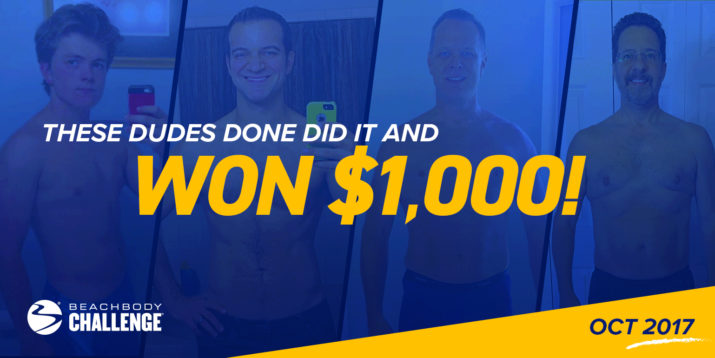 Guys of all ages are transforming their bodies and their lives at home with Beachbody fitness and nutrition programs. These 4 dudes in particular really did the darn thing and won $1,000 in the Beachbody Challenge monthly contest from October 2017! Check out their jaw-dropping "before" and "after" photos…
Ray Robinson Lost 30 Pounds in 4 Months
You don't need much space to do the INSANITY workouts, and no equipment is required. In fact, this 18 year-old college student did them all in his dorm room via Beachbody On Demand and got ripped in 4 months!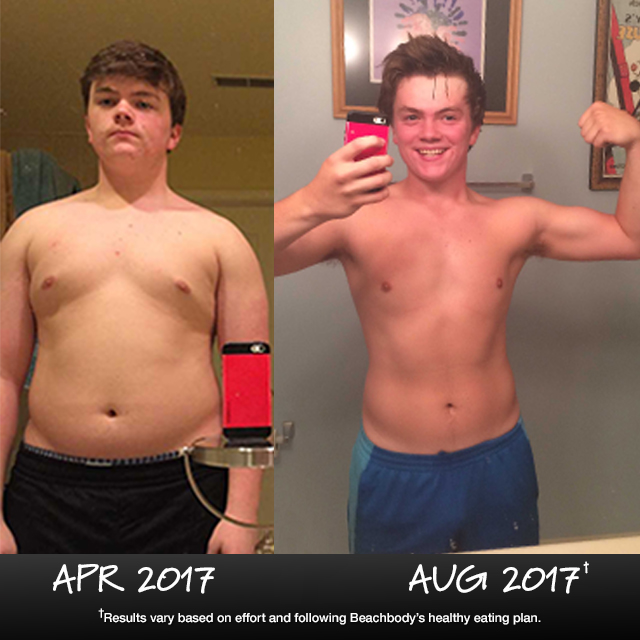 "Beachbody On Demand has been a lifesaver. As a college student, I don't have much access to a TV where I can put in a workout video. But with Beachbody On Demand, I am able to do my workouts right in my dorm room! During my second semester at school, I started digging deeper with INSANITY and pushing myself to the max. Once I started, I learned that all you have to do is press play! And, drinking Shakeology every morning makes me feel wonderful. I was able to burn body fat and actually build some muscle. My endurance is crazy now, and I feel like I can do anything! I now have the confidence to take off my shirt, and I feel happy with the way I look."
---
Kyle Hamsher Lost 33 Pounds in 60 Days
Check out Kyle's insane 60-Day Transformation. This part-time magician made 33 lbs. disappear into thin air, and this time only, he's revealing his secrets. It's not magic. Just 60 days of INSANITY workouts on Beachbody On Demand combined with good nutrition and Beachbody Performance supplements. He's smiling cuz he loves it!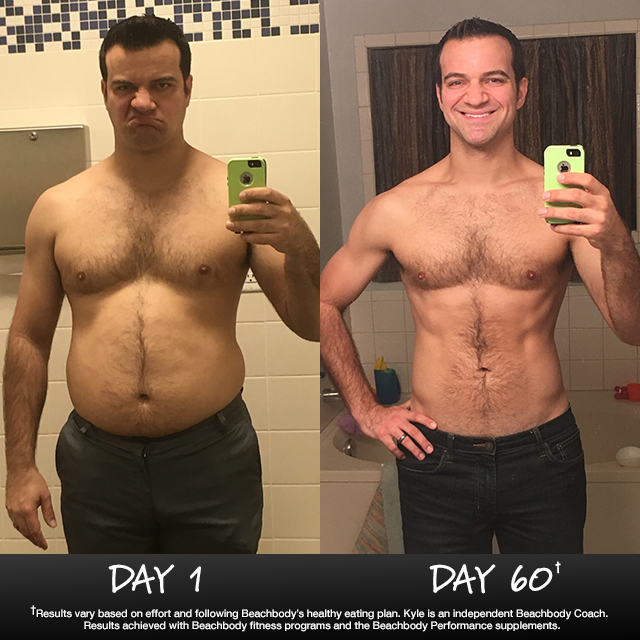 "I love the fact that INSANITY doesn't require any equipment, and with Beachbody On Demand, I can literally do it anywhere! I highly recommend BOD to anyone looking to start a program like this. The biggest challenge for me was my cardiovascular endurance (or lack thereof). I'd get incredibly winded from simple things like climbing a flight of stairs. But, this program kicked my cardiovascular endurance into super high gear, and I just love the results! My love handles completely disappeared, and I can see my jawline again! I love the way I feel, I love the way I look, and I love waking up every morning and seeing the results of my hard work. I am so ecstatic to share my story, because it worked!"
---
Brian Haggerty Lost 54 Pounds
Think you can't get fit with in-home workout programs? Think again. Brian joined a Challenge Group on Beachbody On Demand, and the results he achieved at home at age 49 have blown his local gym membership out of the water. [NOTE: this is what it looks like when a 6'5″ man-giant loses 54 lbs]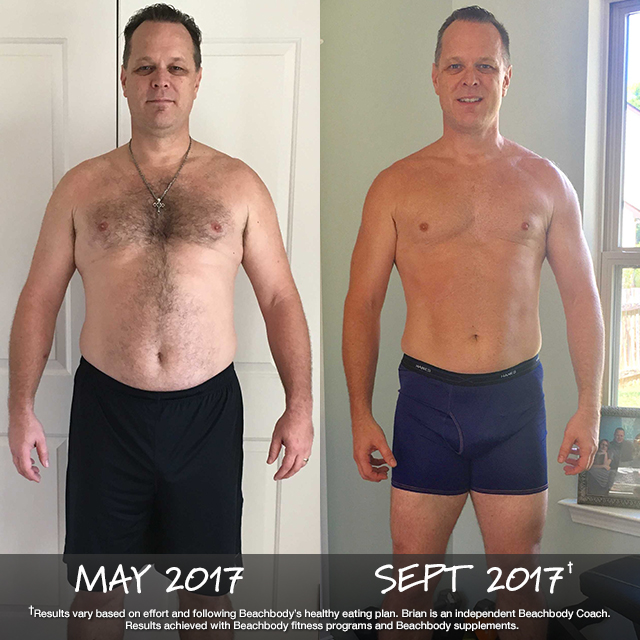 "I never thought I could get these kinds of results from a 'home workout' routine, without going to a gym. Boy was I wrong. My wife encouraged me to get started in one of her Challenge Groups, and believe it or not, I actually started to enjoy working out and interacting with others in the group. To say I am pleased with the results is an understatement. I am 49, and looking at the big 50 is scary enough, but now I can truly say I am in better shape than when I was 30. I've been married for 18 years, and my wife says she has never seen me in better condition. BOD was a life saver. I travel for a living and having access to my workouts on my iPad was the best. I could get my workouts done in my hotel room or the hotel gym. Either way, I had everything I needed at my fingertips."
---
Ray Groccia Lost 42 Pounds at age 55
Do you ever wonder if your fitness transformation can inspire someone else in your family to get healthy too? The "ripple effect" of fitness is real! Ray's award-winning transformation was originally inspired by his wife and the awesome results that she achieved right in front of his eyes. Now, Ray has been going strong for 2 years and counting!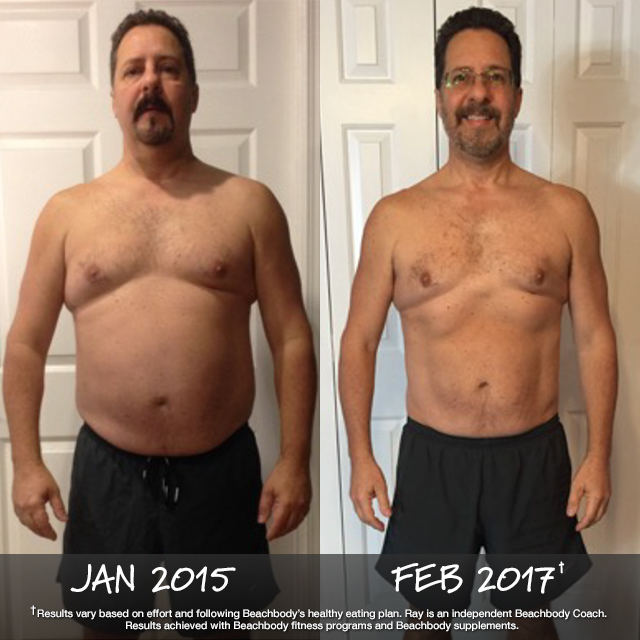 "My wife became a Beachbody Coach, and I saw the amazing results that she was achieving with the various exercise programs and the meal plans. She inspired me to jump all in with Beachbody programs, and I have now been doing them for just over 2 years, one right after another. I like them all for various reasons. My favorite is probably P90X so far, because it has everything: cardio, martial arts, weights, yoga, etc. And, I like Tony Horton's style in general, his humor, and the pace of his workouts. They are very challenging, and you get results. My life has changed a complete 180 degrees. I have so much more energy, my posture has improved, I sleep much better, and I actually like what I see in the mirror now. I feel better than I did throughout my 30s and 40s, and I will be 56 this November. I love it, and I owe it all to my wife and Coach for introducing me to Beachbody workouts, Challenge Groups, and Shakeology. I would say it was a great success."
You can change your life, too. Take the Beachbody Challenge for the tools you need to Decide, Commit, and Succeed! Complete any Beachbody program, and enter your results for a free gift and a chance to win cash and prizes. Ready to pick a program and get started?

The Beachbody Challenge contest is currently open only to legal residents of the 50 United States (incl. DC), Puerto Rico, and Canada (excluding Quebec) who are at least 18 or the age of majority at time of entry. Residents of Quebec and the UK are not currently eligible to compete in the Beachbody Challenge transformation contest. However, they can earn free gifts after completing a Beachbody program by submitting this application form online.