Male Beachbody Challenge Winners, Nov 2017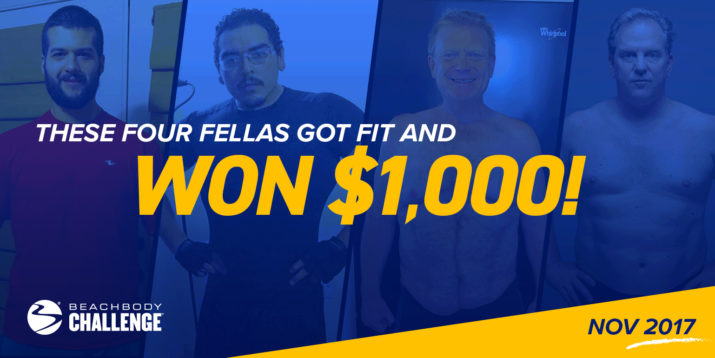 Guys of all ages are transforming their bodies and their lives at home with Beachbody's system of fitness, nutrition, and support.
In the month of November 2017 alone, more than 3,000 satisfied customers submitted their inspirational transformation stories to the Beachbody Challenge, where healthy lifestyle changes are rewarded with prizes all year long.
In addition to the free gifts that all qualifying contestants receive, these four dedicated dudes (below) recently won $1,000 each as a reward for their hard work and their inspirational stories.
Check out their mind-blowing "before" and "after" photos…
Jeff Rogers Lost 155 Pounds in 9 months
You don't have to be a fitness expert to achieve results like this. Jeff was a self-proclaimed newb and had no idea where to begin, but Tony Horton's P90X fitness and nutrition program showed him exactly what to do.
Jeff simply followed the sweat-soaked plan, and once he started to see results, he couldn't stop.
Nine months later, he is 155 pounds lighter and thirsty for more!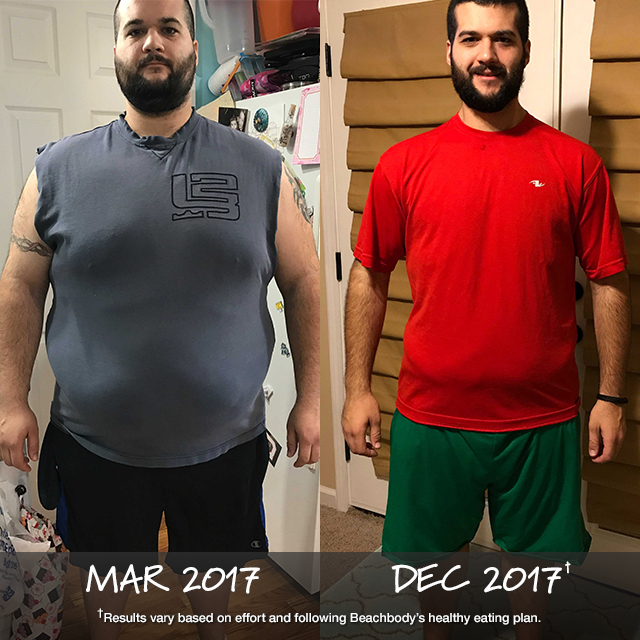 "When I began my journey at 380 pounds, I was so big, I couldn't do many things I used to love. I couldn't fit in rollercoasters anymore. It was so hard to find any 5XL shirts and 54" pants that fit; so I had to buy clothes I didn't like.
I finally accepted the fact that the only reason I was miserable and unhealthy was because I was constantly making unhealthy choices.
I told myself I was done living this way and I would do everything in my power to change my lifestyle and mindset. From that day, I haven't looked back!"
"P90X is such an effective program. I love how it switches between cardio and resistance every day. It has helped me to not only lose fat but gain muscle while doing so.
I was a novice with exercise and would not have known where to begin, but P90X showed me exactly what to do.
The workouts are strenuous, but they are made so that all levels of users will achieve great results! In nine short months, I have lost 155 pounds and almost 20 inches at my waist!
Now, I can buy clothes anywhere I want, I can play with my children and not be winded, and I can enjoy outdoor activities that I couldn't physically handle before.
I am extremely excited to ride roller coasters for the first time in over a decade!
Perhaps the biggest change has been my state of mind. I have gained huge amounts of confidence, and my outlook on life has completely changed. I am so excited for the future!"
---
Rigo Izaguirre Lost 120 Pounds in 16 months
At 340 pounds, Rigo's unhealthy lifestyle was not only taking a toll on his body, but also his relationship with his spouse.
Fortunately, a late-night infomercial and some motivation from Super Trainer Sagi Kalev inspired him to change his lifestyle and get started with Body Beast.
After 16 months of hard work, Rigo burned off 120 pounds, strengthening his body and his family too.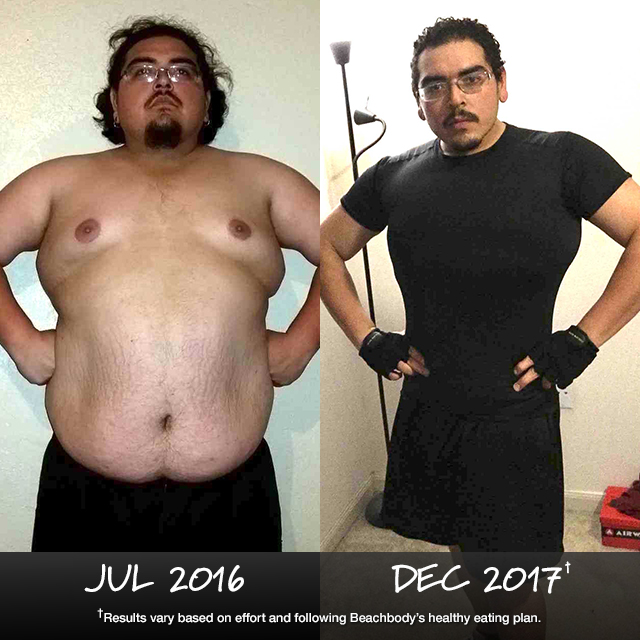 "Before my journey began, I was 340 pounds and living recklessly with my health. I really let myself go, drinking alcohol excessively, smoking cigarettes and eating everything around. I really didn't care at that point in my life, and it showed.
It affected my family and pushed my spouse to want to move on without me and take our son with her.
After about three months of living in the aftermath of my family falling apart, I was sitting in my living room watching TV.
While skipping through channels, I saw the commercial for Body Beast and I saw Sagi Kalev yelling at me, telling me to get off my ass and do something about it."
"What I LOVE most about the Body Beast program is the muscle building. I've never had this much physical strength before in my life.
It has boosted my confidence significantly. After the first week of the program, I started gaining more energy to get up and do things.
The more I stuck to the program, the better I felt. The better I felt, the more things I wanted to do. My whole lifestyle changed dramatically.
I have continued with the Body Beast program for over a year now, and I've lost 120 pounds, which is something I never thought I would achieve.
I'm fitting into clothes that I haven't worn in over seven and a half years. I have completely immersed myself into this healthy lifestyle, and it feels great.
Thank you, Beachbody! I've regained my family that I almost lost and have built a stronger bond with my spouse. We are now expecting our second child."
---
Jeff Gottfried Lost 155 Pounds
Jeff is in the best shape of his life at age 42 after shedding 155 pounds with Beachbody's proven system of fitness, nutrition, and support.
He shared his jaw-dropping transformation results in the Beachbody Challenge contest and won at least $1,000. Talk about a win-win!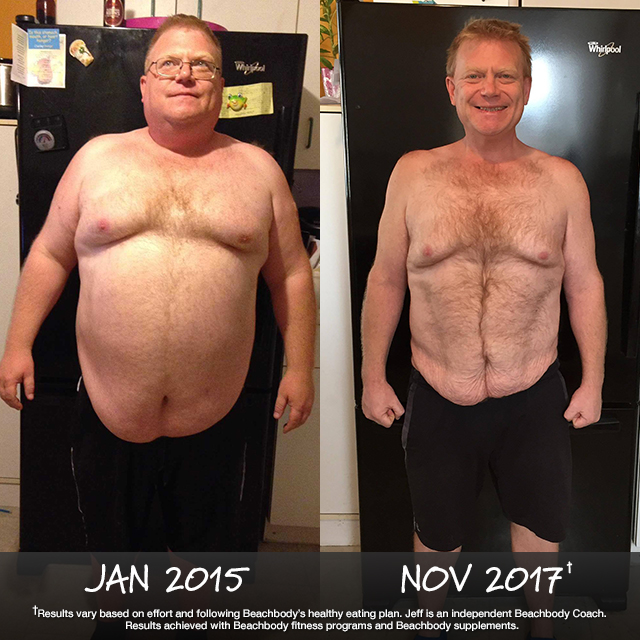 "The gym isn't the be-all-end-all to fitness. You can do it at home too! Beachbody On Demand is soooooooo worth it.
I weighed 350 pounds. My health was at an all-time low. Frankly, I should be dead. I knew I had to get serious about lifestyle change, or my lifestyle would become my deathstyle."
"[In 3 years,] I have done many Beachbody programs. They all helped shape me. You sweat like ultra mega hardcore and the different movements really increased my range of motion.
It was easy to keep following, and with Beachbody On Demand, it was even cooler, because the expanded programs got more challenging [like CIZE The Next Level].
I have shed fat, put on muscle, and radically transformed myself. I am 42, and I am in the best shape of my life. Every day, I get better and better.
I can walk, run, swim, and I don't get tired playing with my daughter.
Beachbody has helped me get my life back, and words can't explain how grateful I am!"
Programs used: CIZE, 21 Day Fix, PiYo, 22 Minute Hard Corps, Core De Force, INSANITY MAX:30, Clean Week, and SHIFT SHOP.
---
Andy Dean Lost 14 Pounds in 3 months
Andy (age 53) got great results in just one round of Body Beast.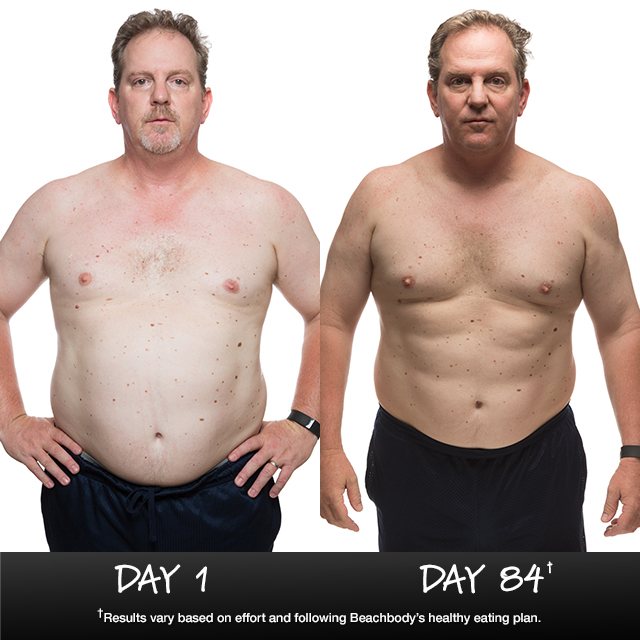 He says: "When I heard about Body Beast, I was intrigued. I liked the idea of full-body muscle training and concentrating on different muscle groups in each workout.
My Coach, Greg, kept checking in with his inspiration and motivation regularly. The 'Book of Beast' helped with the workouts and also my diet.
My muscle mass increased dramatically in a short amount of time. I am most pleased and proud with the lowering of my body fat. I went from 28.7% body fat to 17% on my final day, and I'm only getting started.
Believe the testimonials you see on the infomercials and on the website — they are real!
Regular people, just like me, of all ages, have some fantastic and inspiring stories. My wife has always told me 'when you believe it, you will see it.'
Well, I believed it, and now I see it. This whole journey is not just about losing weight and gaining muscle, but [also] getting past the baggage of an unhealthy lifestyle. Use it or lose it!"
---
You can change your life, too. Get started here for the tools you need to Decide, Commit, and Succeed! Complete any Beachbody program, and enter your results for a free gift and a chance to win cash and prizes. Ready to pick a program and get started?

The Beachbody Challenge contest is currently open only to legal residents of the 50 United States (incl. DC), Puerto Rico, and Canada (excluding Quebec) who are at least 18 or the age of majority at time of entry. Residents of Quebec and the UK are not currently eligible to compete in the Beachbody Challenge transformation contest. However, they can earn free gifts after completing a Beachbody program by submitting this application form online.