Male Beachbody Challenge Winners, Dec 2017
Guys of all ages are transforming their bodies and their lives at home with Beachbody's system of fitness, nutrition, and support.
In the month of December 2017 alone, more than 3,000 satisfied customers submitted their inspirational transformation stories to the Beachbody Challenge, where healthy lifestyle changes are rewarded with prizes all year long.
In addition to the free gifts that all qualifying contestants receive, these four dedicated dudes (below) recently won $1,000 each as a reward for their hard work and their inspirational stories.
Check out their mind-blowing "before" and "after" photos…
Taylor O. Lost 60 Pounds in 1 Year!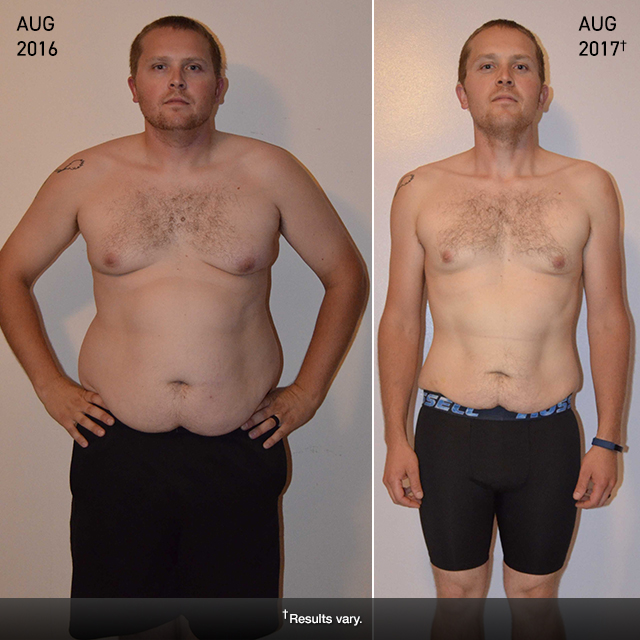 "To be perfectly honest with you, it really wasn't all that difficult to lose 60 pounds in a year because Beachbody made it simple!
Between the simple portion-control containers, and the fun and exciting workouts, anything is possible, as long as you're willing to try.
Since I started working out with Beachbody programs, I have gained self-confidence, and I feel so good! I can do pull-ups for the first time ever, and, most importantly, I can keep up with my little girls!
I like the variety BOD offers, and that I can move from one program to the next, but I think the best thing is the convenience of being able to work out at home, or even in a hotel room when traveling. I enjoy the moves and routines, and the trainers are awesome.
Beachbody has completely 100 percent changed my life."
David D. Lost 53 Pounds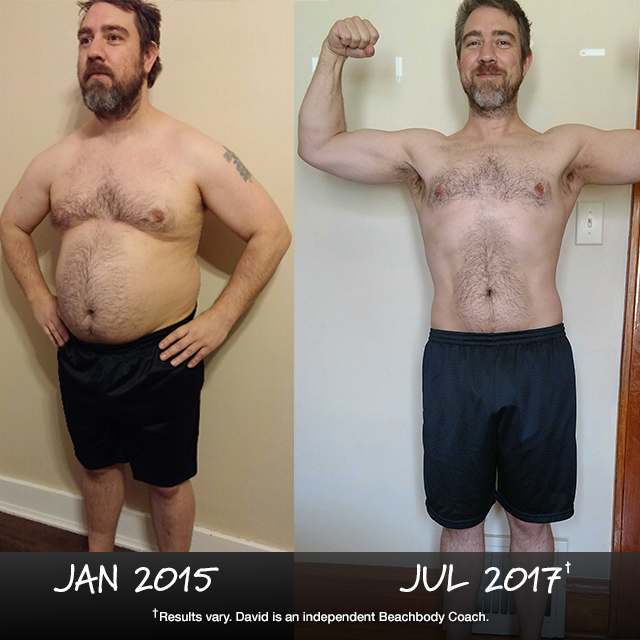 "I was a single father of four, recently divorced after 17 years of marriage. I have my kids full-time, so my life is very busy. One day the scale hit 240; two hundred and forty?!
I used to be a proud and strong U.S. Army Paratrooper. What happened to me? I needed to make changes.
That day, I ordered INSANITY MAX:30 with Shakeology, made the commitment and was not going to let myself fail.
I like the variety of the workouts, and I have to say I never got bored of them. I eventually took on other Beachbody workouts like 21 Day Fix and FOCUS T25.
Fast forward 2.5 years, and holy cow!
I've lost over 50 pounds, which amazes me, but it's much more than just the weight loss. [My family and I] have a whole new outlook on what we can accomplish. I'm newly engaged, and my fiancée has lost 35 pounds!
My confidence level has improved, and the biggest thing for me is knowing that I'm doing everything I can to stay happy and healthy for my four children.
Now that exercise and good nutrition are parts of our everyday lives, things have made huge steps forward. We are not just surviving but thriving together as a family, and it all comes with our new, healthy lifestyle!"
Darren G. Lost 78 Pounds
As a busy traveling executive it was critical for Darren to find fitness programs that he could do anywhere around the world with little-to-no equipment.
He got started with Slim in 6 on Beachbody On Demand, and he slowly worked his way up to more advanced workouts (like his personal favorite, CORE DE FORCE).
Check out the results he achieved in less than two years!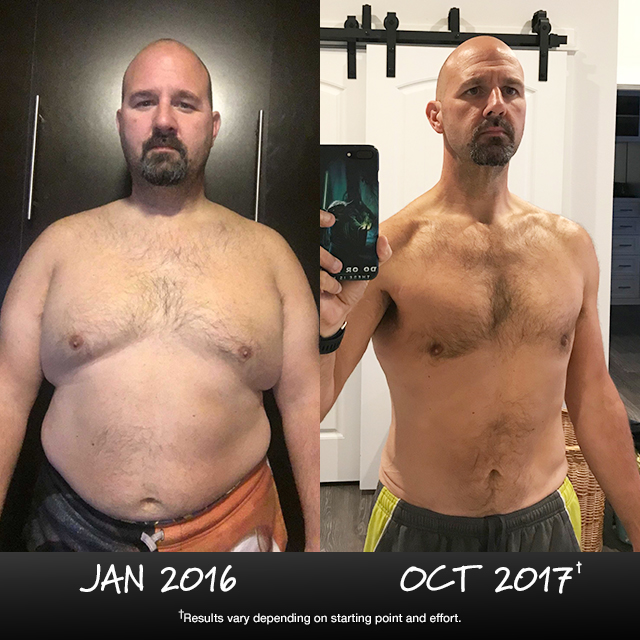 "Beachbody On Demand was critical to my success. As a busy traveling executive, I use BOD in hotel rooms across the world. Having access to various workouts that require little or no equipment has been a real game-changer for me.
The variety that BOD offers keeps me engaged and coming back for more every day. It has given me a new lease on life.
I've gotten leaner and stronger than I've ever been. I weigh less than I did in high school!
The first two weeks were a struggle, but I just kept showing up, and pressing play. The workouts go quickly because you're having fun at the same time.
I've never worked so hard while smiling so much at the same time, dripping sweat the whole way through. I look forward to seeing what else I can accomplish with my new-found stamina and confidence."
Keith S. Lost 43 Pounds in 90 Days
Beachbody programs are not designed to reunite you with estranged family members, but that's what happened to 55-year-old Keith Sullivan after seeing his daughter Kailin's inspirational transformation story on TV one night.
He and Kailin hadn't seen or spoken with each other in 12 years, but he was inspired by her story, and he summoned the courage to reach out to her for help with his own fitness transformation.
With Kailin as his Team Beachbody Coach, he completed 90 days of Body Beast, got six-pack abs, and rekindled his relationship with his daughter.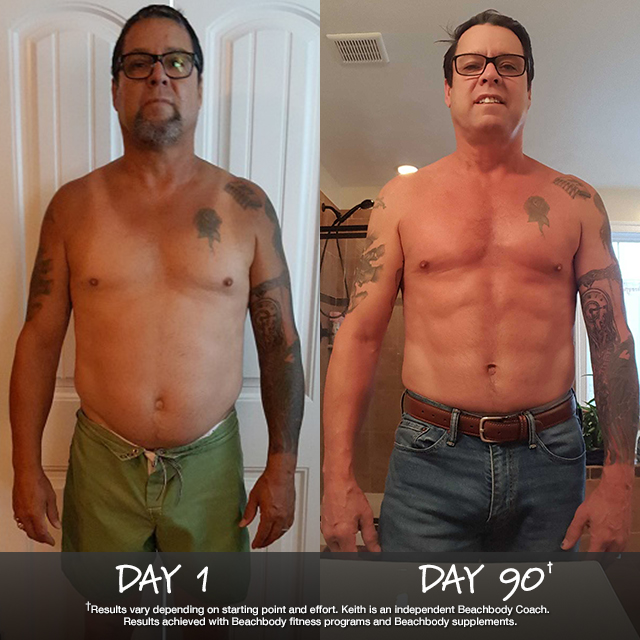 "My size 36 pants were getting too tight, and I knew I wanted to lose some weight, but I was having a hard time getting started.
One night, flipping through channels, I started watching a Body Beast infomercial, and I nearly fell out of my chair when I saw my daughter on the TV.
She was featured in the infomercial and she looked great. I had not seen her in over 12 years. This kicked me into gear to lose weight, get physically fit again, and maybe create some common ground with my daughter to help us reconnect.
I was told by a lot of people that I couldn't get a six-pack in my 50s.
They were wrong.
After three months of the program, I lost over 40 pounds and had the six-pack I had in high school!
On top of that, Beachbody brought my daughter and I back together after 12 years. It became a common ground for us to start a dialogue, and eventually led to us meeting again."